Craft themed events for
Farnham's October Craft Month
Farnham's October Craft Month launches this weekend and UCA is joining in with a variety of craft-themed exhibitions and activities, from glassblowing demos to maker showcases.
28 Sep 2022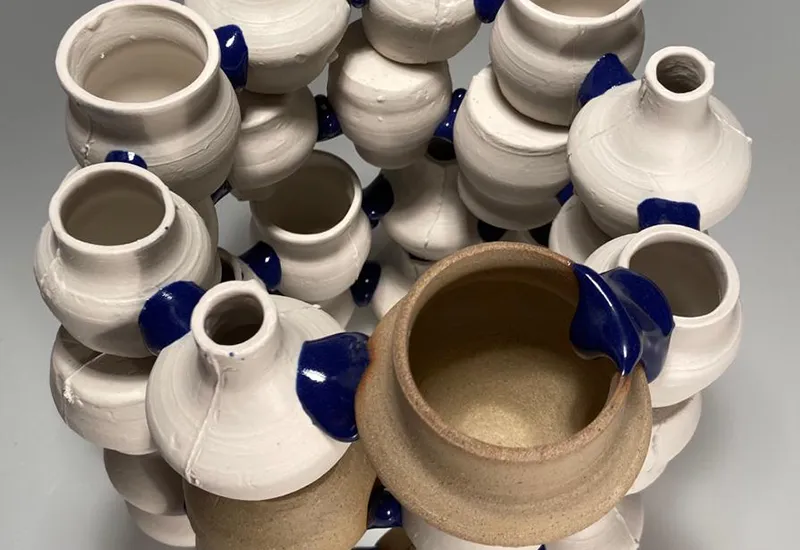 Learning Together | Creating Together ©Rebeca Maxunuic
Farnham's October Craft Month launches this weekend and UCA is joining in with a variety of craft-themed exhibitions and activities, from glassblowing demos to maker showcases.
Farnham is the first World Craft Town in England and this month-long programme of events celebrates this accolade and acknowledges that craft remains as relevant to life in Farnham today as it always has been, "A world of craft on our doorstep".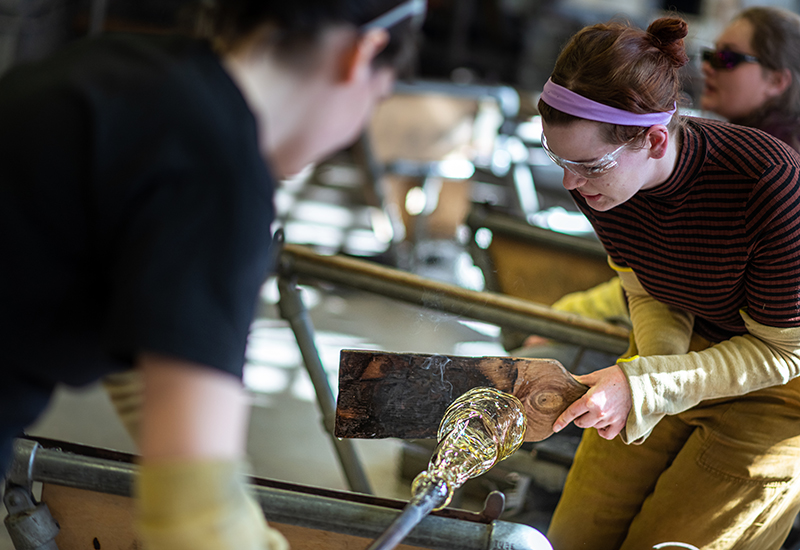 Glass Blowing
Topping the bill is a hot glass demonstration with glass technician, Laura Quinn. To celebrate the UN International Year of Glass, on Friday 21 October, UCA is hosting a live glassblowing demonstration and a tour of UCA's glass, ceramic, and jewellery workshops. So, if you've ever wondered how glass was made, are a craftsperson, or a prospective student, come along to see how we teach the ancient art of glassblowing. Find out more and book your place here.
Launching our exhibitions schedule is Learning Together | Creating Together, showcasing work from staff and students on UCA's BA (Hons) Ceramics & Glass, and BA (Hons) Jewellery & Silversmithing courses. Located in UCA Farnham's Foyer Gallery, the free exhibition –1 – 21 October – celebrates the future and legacy of craft learning at UCA and its diverse approach to teaching crafts – both traditional and contemporary.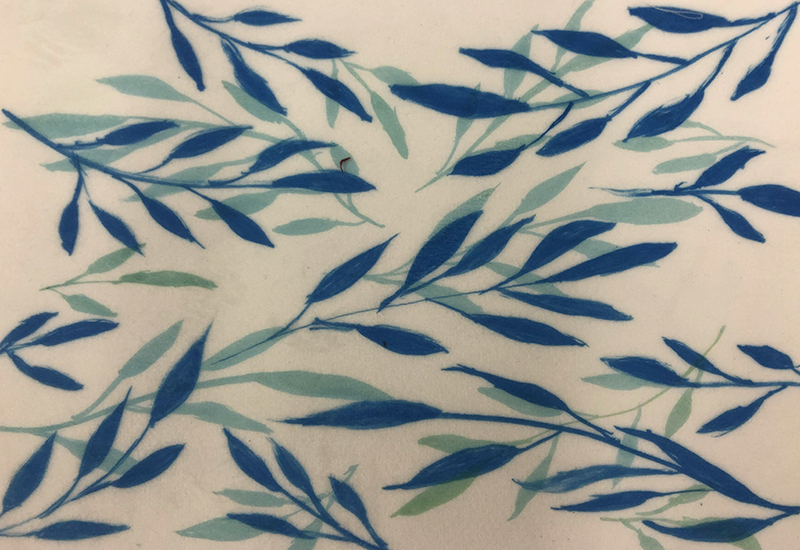 Print workshop
During the exhibition there will be the opportunity to join in a mark-making and print workshop. Taking place on 27 October, the workshop will include a nature walk around Farnham to gather inspiration before participants create transferable designs for a tote bag, using heat transfer paints and papers. You don't need any previous experience.
Further free exhibitions and events will be taking place in UCA's Craft Study Centre (CSC). Nourish will run until 29 October and will feature work by 16 professional willow basket-makers, artists and sculptors. The works will explore the idea of nourishment and what it means to the maker today. And if you want to meet and quiz some of these willow experts, they'll be at the Craft Study Centre's Meet the Makers events every Friday during the month.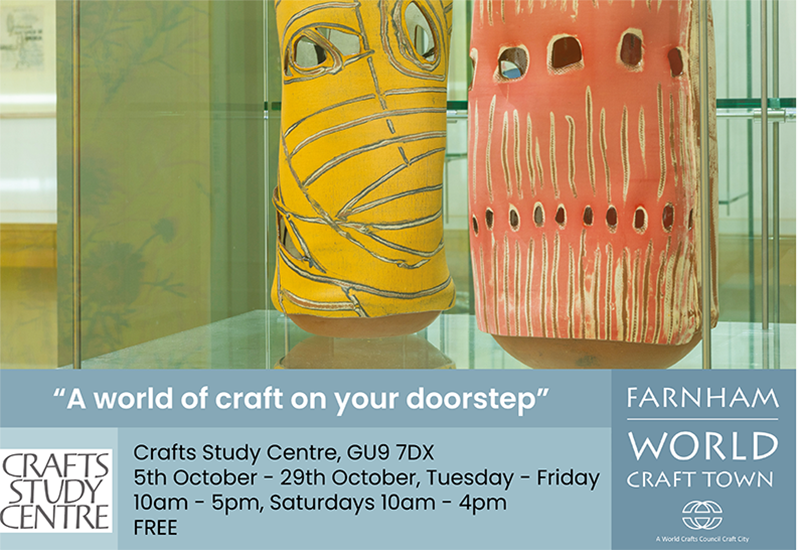 Another exhibition running at the Craft Study Centre is Presence and Absence (5-29 October), organised by independent curators, Deirdre Figueiredo and Dr Stephen Knott, and featuring work from CSC's permanent collections and archives.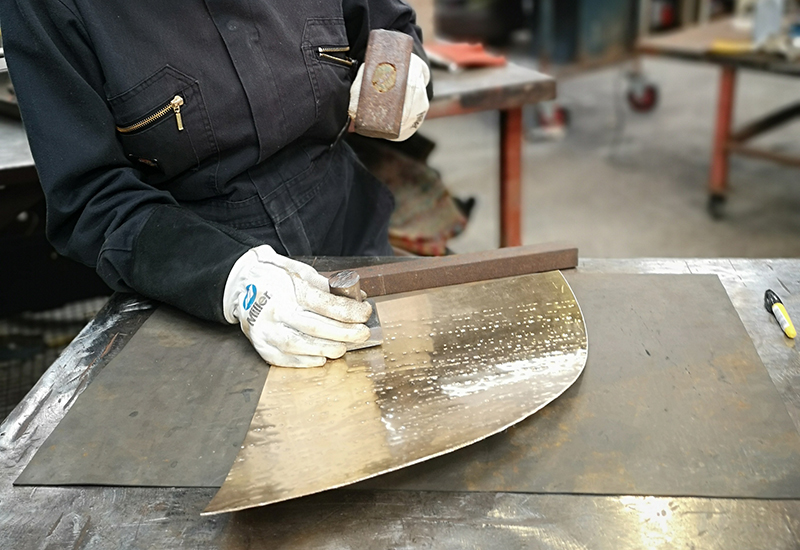 Hammering metal sheets 'Make Your Mark'
Also running on Saturday 8 and 22 October (10am-4pm) will be a community drop-in metal workshops at UCA Farnham. Here, members of the public will be able to hammer metal sheets that will be used in a public art installation to be installed on riverside walk, off Longbridge in Farnham in 2023. This is your chance to contribute and engage with the artwork and 'Make your Mark'.
If it's something outdoors that you are after, then why not visit Farnham Heath, where you'll find craft-themed artworks along a circular trail – that celebrate and respond to the heath – and are created by UCA's emerging makers.
Lastly, creative collective Making Matters – comprising of five UCA lecturers and makers – are running a pop-up shop in Lion and Lamb Yard from 1 October to 6 November. The shop will display contemporary art and crafts and will be opened by UCA Chancellor and renowned ceramicist, Dame Magdalene Odundo, and the Mayor of Farnham.
For more information, dates, opening times, or to book your place, visit farnhamcrafttown.com, check out the Crafts Study Centre website or visit our events page.
Or pick up an events brochure from in and around Farnham Town.