UCA's Chancellor joins group exhibition
celebrating black female ceramicists
UCA Chancellor and Kenyan-born British studio potter, Professor Magdalene Odundo DBE, will take part in a group exhibition titled Body Vessel Clay: Black Women, Ceramics & Contemporary Art later this month in London.
21 Jan 2022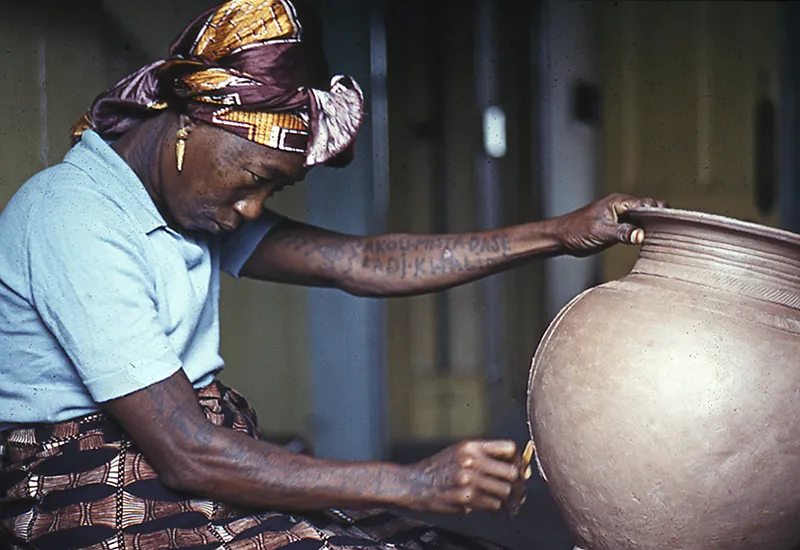 Created in partnership with UCA's Craft Study Centre, the exhibition, which opens on January 29, will explore how ceramics have been disrupted, questioned, and reimagined by Black women over the last 70 years. It will bring together more than 80 works by eight artists - Ladi Kwali, Phoebe Collings-James, Shawanda Corbett, Jade Montserrat, Julia Phillips, Chinasa Vivian Ezugha, Bisila Noha and Dame Magdalene Odundo- who are working with clay in radical new ways.
The show opens with work by the seminal Nigerian potter Ladi Kwali (1925-1984) and will examine the impact she had on her female contemporaries including Odundo, who worked alongside her at the Abuja Pottery Training Centre in Nigeria.
Odundo said, "I met Ladi Dosei Kwali in 1974, when I went to work at the Abuja Pottery Training Centre in Abuja (now Suleja, the capital of Nigeria). I had been introduced to Ladi Kwali by Michael Cardew, the Founder of the Training Centre, whom I met as a student in Farnham that same year. That time influenced my trajectory and my choice to become the potter I am today.

"Kwali was able to work between two traditions effortlessly, bridging the gap between her Nigerian Gbari traditions and British Studio Pottery introduced by Cardew. She had an amazing presence and an aptitude to depict illustrative narratives through her unique style and she continues to inspire me. I am thrilled to be part of this important celebration of work in clay by these women."
Also on display will be a selection of ceramic pots made by Odundo. These demonstrate the traditional Gbari techniques that she learned from Kwali and that have influenced her developing style. This will be accompanied by Odundo's own research and explorations into Kwali's practice and influence."
The curator, Dr Jareh Das added, "Body Vessel Clay recognises a contemporary generation of Black women artists reimagining clay in new ways and attending to its transformative, haptic, malleable and metaphoric potential."
Body Vessel Clay: Black Women, Ceramics & Contemporary Art runs until 24 April at Two Temple Place, London WC2R 3BD.
Find out how you can work with clay at UCA by visiting our course pages.