Banksy to be made an
Honorary Professor of UCA
The University for the Creative Arts (UCA) announces that the street artist and political activist, Banksy, is to be made an Honorary Professor of UCA, in recognition of his humanitarian efforts and the impact he has had on the global arts scene.
28 Jun 2022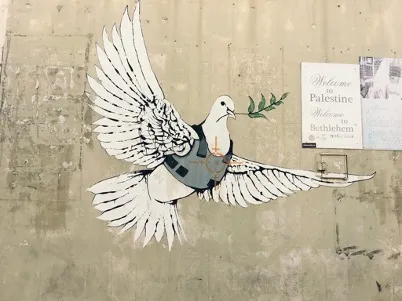 Known for his distinctive stencilling technique that combines humour with graffiti, as well as his 2010 Academy Award-nominated film, "Exit Through the Gift Shop," and numerous projects that highlight other artists and humanitarian causes, Banksy's identity remains a mystery. Therefore, he will not be attending the ceremony and the honour will be conferred upon an empty chair.
Professor Bashir Makhoul, UCA's President & Vice-Chancellor, said: "Joining a long list of illustrious creatives who have received Honorary Awards from the University for the Creative Arts, Banksy is one of the UK's best-known artists, famous throughout the world—an example that UCA students can look up to, who uses his talents to disrupt the status quo, while challenging us all to confront some of the key issues of our time: war and peace, inequality, and art's role as a vehicle of social expression."
Banksy's Honorary Professorship will be conferred during the University for the Creative Arts' Graduation ceremony at the Royal Festival Hall, London, on Wednesday 6 July.