Poetry inspires RSN students
in luxury footwear collaboration
26 Apr 2021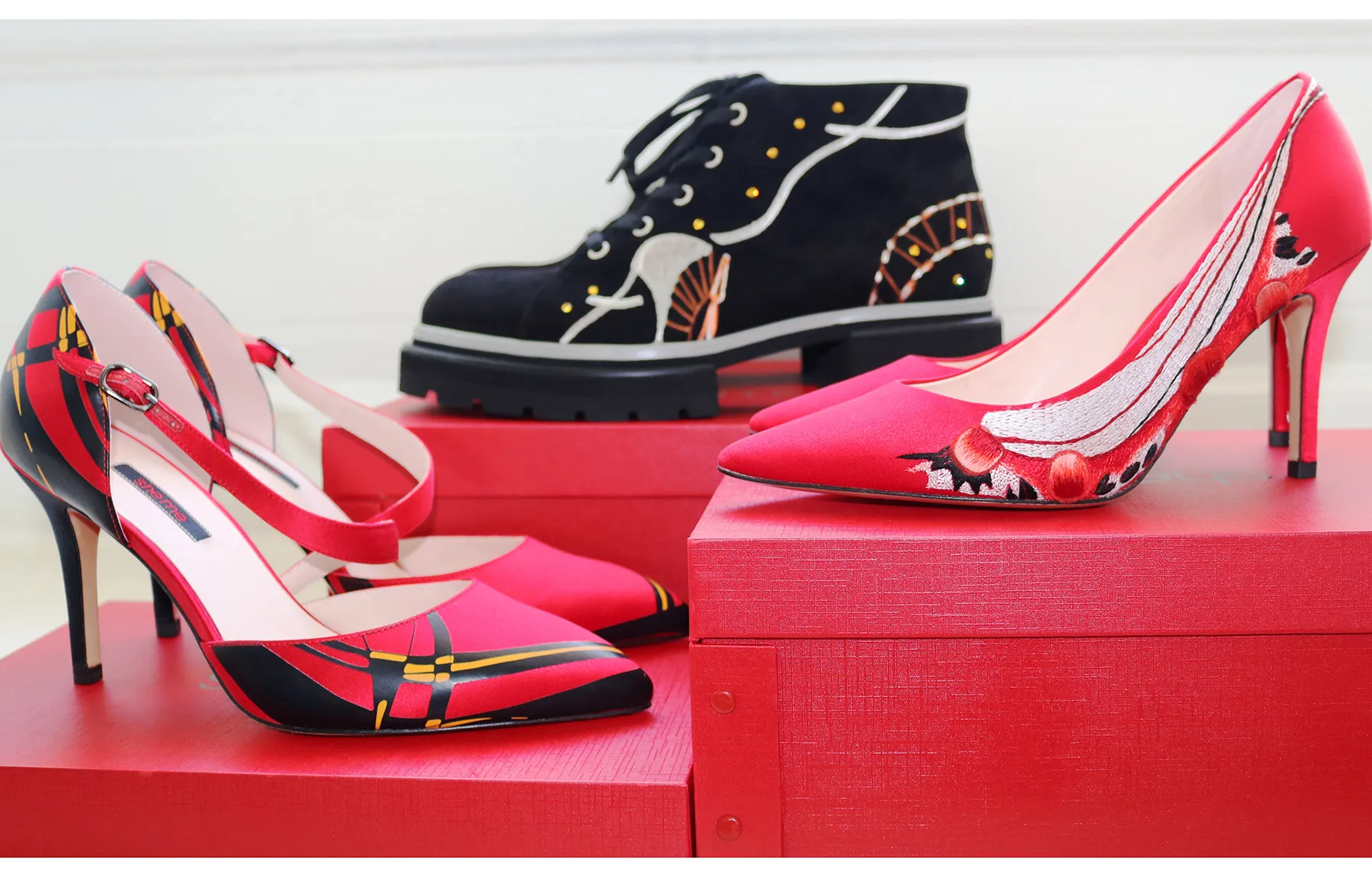 Three Royal School of Needlework (RSN) degree students have put their best foot forward in an exclusive collaboration with luxury Chinese footwear brand Sheme.
Their imaginative designs were selected to go into production and are now on sale as part of Sheme's autumn/winter 2021 collection. The RSN students - Millie Whitehead, Sabina Lima and Erin Ledsom - are studying on the BA (Hons) Hand Embroidery course which is based at Hampton Court Palace and accredited by UCA.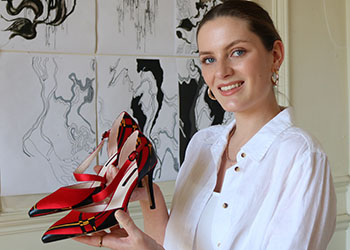 They submitted their designs last year, inspired by imagery of beautiful scenes from the classic 'Book of Poetry', which has been popular in China for over 2,000 years. The spectacular lines of colour and abstract images, combined with rich and passionate shades of red, provided the perfect first step.
Angie Wyman, RSN Degree Course Leader: "We are delighted to have the opportunity to work exclusively with such a prestigious shoe brand as Sheme. Our degree students were able to apply their design and hand embroidery skills to create bespoke designs, which align perfectly with Sheme's design brief."
Millie Whitehead, RSN degree student said: "Taking part in this project was such an honour. I spent many hours sketching and creating a sophisticated design that would be flattering, yet at the same time comfortable and wearable. I couldn't be more pleased with the result."
Linda Liu, founder of Sheme said: "We are very grateful to the Degree Students of the Royal School of Needlework for their design work, inspirational ideas and exquisite work. Their combination of quality with in-depth research on the Sheme brand, really moved us."
The RSN's long established industry links provide opportunities for its students to engage with live projects throughout the year, such as the Sheme collaboration.
Established in 2008, Sheme is a luxury footwear brand, using handmade techniques and original design combining the best materials with traditional artisans and master shoemakers from around the world. Sheme is the first Chinese luxury shoe brand with a presence at London, Paris and New York Fashion Weeks.