Rockwell finds success
with notwoways brand
Former UCA foundation student Rockwell Princely has teamed up with a YouTube sensation to launch notwoways, the latest must-have trainer brand.
02 Sep 2021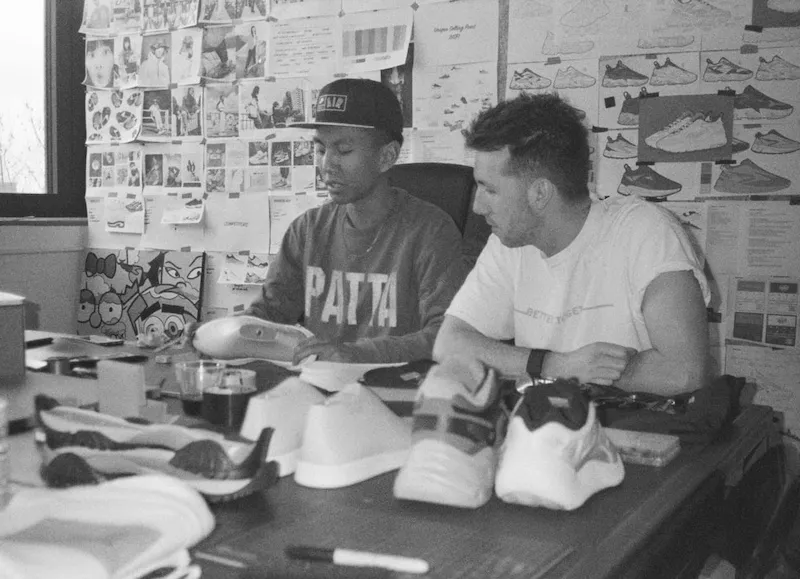 Rockwell Princely, who gained his foundation diploma from UCA in 2015, launched notwoways a year ago in collaboration with Callum McGinley, otherwise known as Callux. The brand concept is simple – produce one type of trainers, in a number of colourways and at an affordable price, then sell them in limited-edition 'drops' each season.
Success came immediately, with their first drop of 750 pairs selling out in 63 seconds. Their second drop was bigger – 2,100 pairs – and sold out in three minutes. It took just 11 minutes for their 5,000-pair third drop to sell out completely. Among their customers are YouTuber KSI, former NBA player Wilson Chandler, and footballers Morgan Gibbs-White, Angel Gomes and Adebayo Akinfenwa.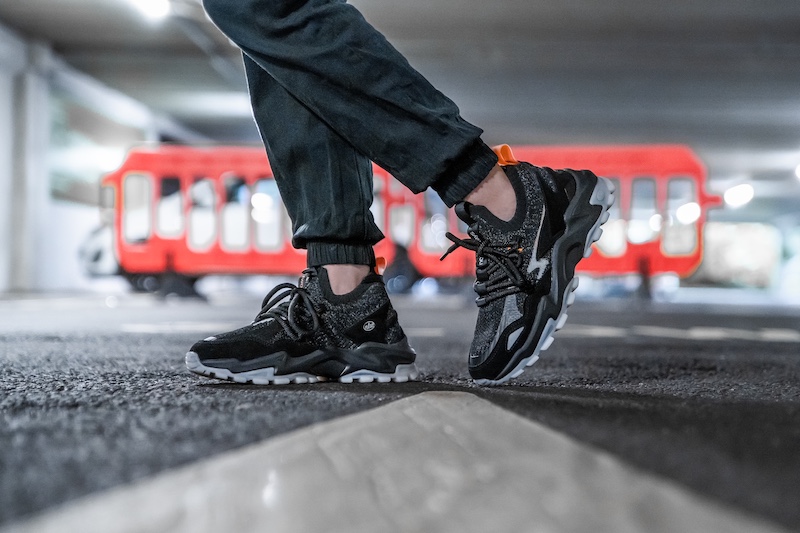 One of Rockwell's designs modelled for notwoways' recent drop
"It's been truly incredible," said Rockwell. "The method of shock drops and then the customer receiving the product the next week has really worked for us. It's risky, as you never know what the true demand is versus a pre-order system. We just don't want the customers to wait months to receive their purchase.
"Reaching out to my friends in the sneaker community and getting their approval helps, especially for the culture. Our audience is a mixture of original sneakerheads, new sneakerheads, resellers, non-sneakerheads, fans and even just family – I love it!"
Rockwell met Callux via his flatmate and they soon realised they wanted to go into the footwear industry.
"A few months in we started talking about the idea of creating our own brand, combining his audience and fame with my expertise in footwear design. It started with four months spent sourcing suppliers, designing concepts and asking industry contacts if they could assist us," he said.
"Callux brings the business mindset and his audience, as well as marketing ideas/content from his other business, Afterpartystudios, which creates documentaries, TV shows and music videos. I'm the head of design and creative director. We're very much a two-man team but we are definitely planning to grow the team in future."
As notwoways prepares for its one-year anniversary, Rockwell and Callux are plotting big things for the brand.
"We have huge plans for the future; notwoways is here to stay. I'd love to do some city exclusive drops around the world, or collaborate with some like-minded people. Oh, and our next drop might just be our most colourful one yet - you heard it here first!"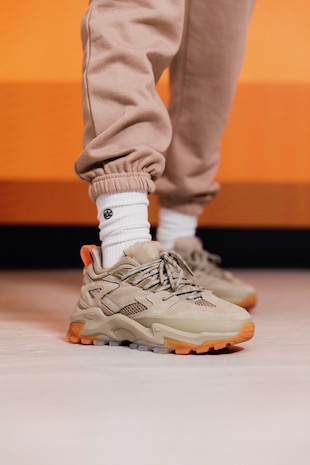 Another of the popular notwoways designs
Rockwell credits UCA with helping him discover his true passions and gain the creative confidence to go for his dream career in footwear design.
"My time at UCA allowed me to really find out what I wanted to do by trying different things. I discovered that I didn't want to do fine art, and that there was such a thing as a footwear design degree. After discovering this, I based all my foundation projects around the aim of creating a portfolio for a footwear degree at UAL. So really, UCA was the start; the first, most important stepping-stone of my career and toward the idea of one day starting my own brand."
His advice to fellow UCA students thinking of starting their own business is to stay humble, and to be ready.
"Staying humble speaks for itself: always be respectful and friendly to everyone around you, be open to criticism, to learning," he said. "Never feel like you are better than anyone else. Respect people's opinions – even if you disagree – and stay calm. This has really helped me get where I am.
"Set your own goals, figure out how to get there, and don't compare yourself to others. Assume that any problem that can happen with your business, will happen, and plan how to avoid it. If you can't, then work out how you'll solve it.
"And if you are starting a business and you want it to be a success, learn everything about your craft first. Put your 10,000 hours in and then establish why you are creating it. Ask yourself: Are you filling a gap in the market for something that doesn't exist? Is there a unique selling point? What impact does it have on the environment/the industry? Do I need more contacts? Where would I find them?
"Finally, don't get disheartened if something doesn't work out the way you had planned. I didn't get into any of my uni choices at first, but imagine if I had gotten a place on a fine art degree. I would never have started notwoways or be where I am now. The universe works in mysterious ways, and setbacks are just detours in the path you are supposed to take."
Find out more about notwoways or explore our pre-degree courses.