Female animators kicking-it
in the animation industry!
Three recent BA (Hons) Animation graduates from UCA Farnham, Ciara Kerr, Zoë Armit and Céline Ufenast, are making waves in the film world with their thought-provoking and industry-recognised animations.
09 Dec 2021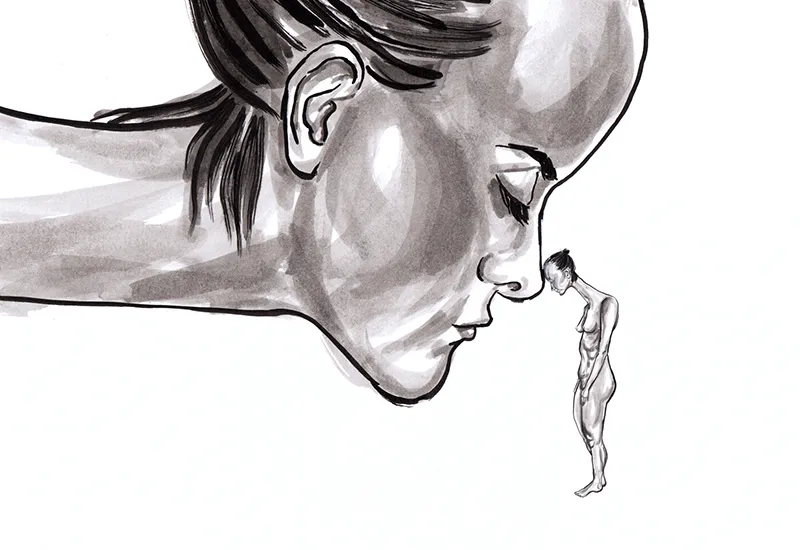 These talented women are thriving in a male-dominated industry, with Women in Animation estimating that only 10% of directors and just 20% of animation creatives are female.
What's more, these women are shining a light on and bringing stories to the big screen that are often ignored or swept under the carpet.
Take Ciara Kerr, who graduated with a First. She has been officially selected to show her animation at more than 20 film festivals including the Bolton International Film Festival, Monstra Festival, and the Festival of Animation Berlin. It has also been nominated for Best Student Film at the Factual Animation Film Festival.
Right Now, I Am Trailer from Ciara Kerr on Vimeo.
With ambitions to become an animation director and set up her own female-led animation studio, Ciara says: "Every director I have worked for so far has been male, so I want to see more women in leadership roles. If I can get my foot in the door, I will hold it open for other women."
Her documentary is both poetic and personal, telling the story of someone moving on from a traumatic event. As part of the animation process, Ciara made thousands of ink and gouache paintings which took her on a cathartic journey through her past and out the other side.
"I used the film to come to terms with an assault I experienced, but this hadn't been my initial intention. It took me on a journey and acknowledged that my experience had changed me, and I was grieving that," explains Ciara.
Ciara's film has not only helped her come to terms with past trauma, but it has also helped others. She has had a lot of women react very strongly to the film.
"After watching the film, one woman approached with tears in her eyes, thanking me for putting it out into the world. We cried and bonded over the fact that while this shouldn't have happened to either of us, we were not alone."
Similarly determined when it comes to pursuing her ambitions, Zoë Armit considers any challenges or problems she may face as a woman in the industry as an opportunity rather than an obstacle – and it seems to be working so far.
Winner of Best Film at the ESG Film Festival, a semi-finalist at the London Indie Short Festival, and a nominee for Best International Animated Short at the UWPG Film Festival. Zoë's powerful film has also been officially selected for numerous film festivals across the globe.
Behind the Jugular (2021) - Trailer from Zoe Armit on Vimeo.
Inspired by countless videos, stories and images showing animal cruelty, Zoë channelled her distress into an animated short that features an ex-abattoir worker recounting his experiences. Zoe hopes that Behind the Jugularwill prompt viewers to reconsider their beliefs and begin to ask questions.
"As a new and curious vegan, I found myself becoming an increasingly passionate advocate for animal rights. The film is part tribute and part obligation, since the more research I did, the more I realised the unwilling sacrifices we are forcing upon others. The film is aimed at anyone willing to listen and if the audience takes one thing away from it, I hope it will be – action," explains Zoë.
While Zoë's animation provokes us to act, Céline Ufenast is hoping to use @scroll_alice to raise awareness and trigger debates about the harming effects of social media, namely the anxieties they instil and the addictions they create.
It is estimated that 210 million people suffer from internet and social media addiction, with most cases among young females.
Céline explains: "My intent was to highlight this idea of artificiality and how we use a 'facade' to depict ourselves on social media. It was also to reveal just how much visual content we consume daily – aimlessly and passively. I hope to one day make a difference to the way we consume digital content by promoting safer approaches particularly from among the young and vulnerable."
Scroll Alice (2021) - Trailer from Céline Ufenast on Vimeo.
As expected, such a relevant animation has already received industry acclaim, picking up the Best Experimental Film award at the Munich Film Awards, Best Student Animation at the Bolton Film Festival, and a nomination for Best Student Short Film at the British Short Film Awards.
If you're interested in joining this talented trio in becoming an animator. and making a difference with your work, check out our subject and course pages.