Chad's ad campaigns
call for positive change
Advertising graduate Chad Brewer wants his work to have a positive impact – from addressing period poverty to highlighting the welfare of Big Issue sellers.
03 Sep 2021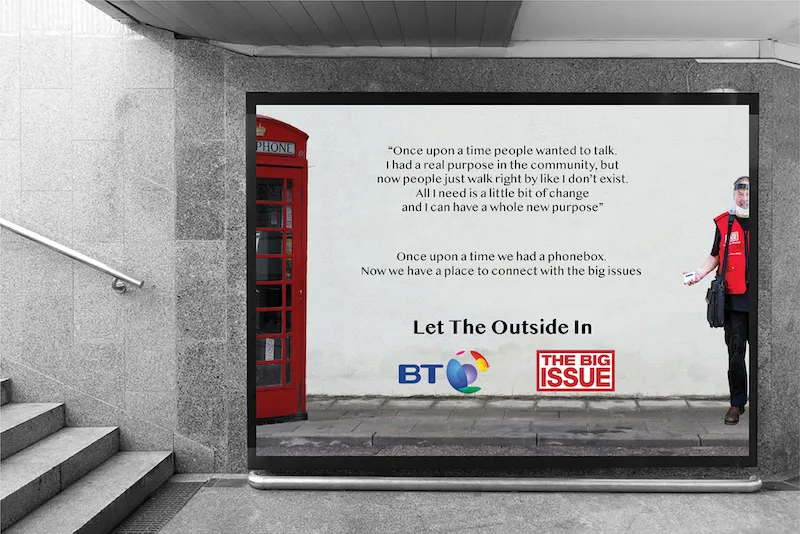 A self-professed countercultural or anti-establishment character, Chad told us: "I take great enjoyment in creative thinking. I don't like the idea of my work negatively affecting people, animals or the planet, so when I can create something that has the potential, even in a small way, to make someone or something better, I generally find my work is more interesting."
He added: "It often feels like there's a lot of negativity and cynicism, especially in the world of advertising. Frequently we see huge corporations turn vast profits at the expense of the less fortunate, and it's normally down to talented people to make them look good. My aim is to learn techniques used by creatives – often for the benefit of large corporations – and to use them to help grow businesses, brands and people who are trying to create a more positive world."
With these thoughts in mind, Chad created final project campaigns to reflect this – firstly a campaign to repurpose red phone boxes as Big Issue Booths, and secondly to raise awareness of period poverty through a competition run by creative agency AdamandEveDDB.
For the Big Issue Booths project, he designed graphic side panels to advertise the magazines' content, while he proposed that whiteboards written by the sellers would encourage more personal interaction with the public.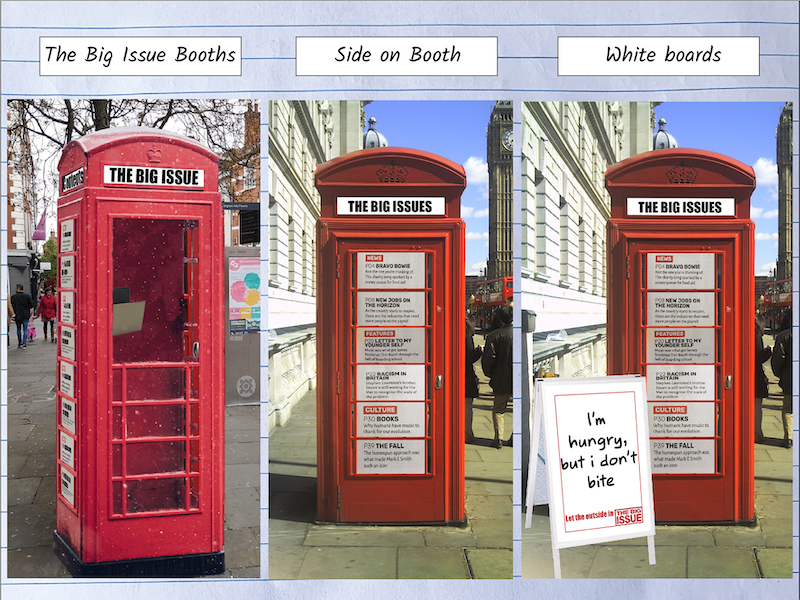 "The message was that the vulnerable and often homeless vendors aren't just looking for money, they're looking to make a living," Chad said. "Buying The Big Issue shouldn't be seen as a charity donation; it should be seen as a worthwhile contribution that offers benefits to the consumer and supplier alike."
Chad's period poverty competition entry was cleverly inspired by UB40's 80s hit One In Ten. He reworked the lyrics to reflect the fact that one in ten people in the UK doesn't have access to sanitary items..
Using freelancers to compose the music and record the vocals, Chad said: "It turned into a big project, so it was pretty challenging I was in constant conversation with the musicians to give creative direction and to make sure they understood what I trying to express. I also created a poster and social media material to launch the song."
A keen writer from youth, Chad studied film production at A level, but until joining UCA, advertising was never on his radar. "When I was younger and I dreamed about being a writer, it was always under the umbrella of being a screenwriter or short story author," he said. "It was actually Mad Men that made me think advertising might be something I'd enjoy. I saw people on the show going on crazy internal journeys and arriving at brilliant ideas, and I thought: if it's anything like that, then I want in.
"I knew the UCA course was right for me once I went for the interview. It was surreal and unexpected and told me everything I wanted to know about what it would be like to learn about creative thinking. The course leader managed to express it in an imaginative way.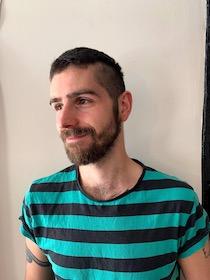 "What I love about advertising is the possibilities. When you set out to solve a problem you have no idea where your thoughts are going to take you and it's exciting, and always surprising. Every brief is an opportunity to do something that's never been done before, to reach into the future and discover a new medium or message. A popular maxim in advertising is that there are no bad ideas, and I think that is true - they are simply stepping-stones towards your best idea yet."
Chad is now approaching advertising agencies, as well as working on self-driven campaigns that he hopes to take directly to brands.
"I'm always looking for ways to push myself, and new directions to take my work," he added. "I feel lucky to have been able to develop skills that are transferable into many different industries. I hope to explore those industries and see what good I can do."
You can find out more about Chad on his website, spectacularadman.co.uk, and explore more work from our Class of 2021 in our online graduation show.