Graduates showcase new talent
at Surface Design Show
07 Feb 2020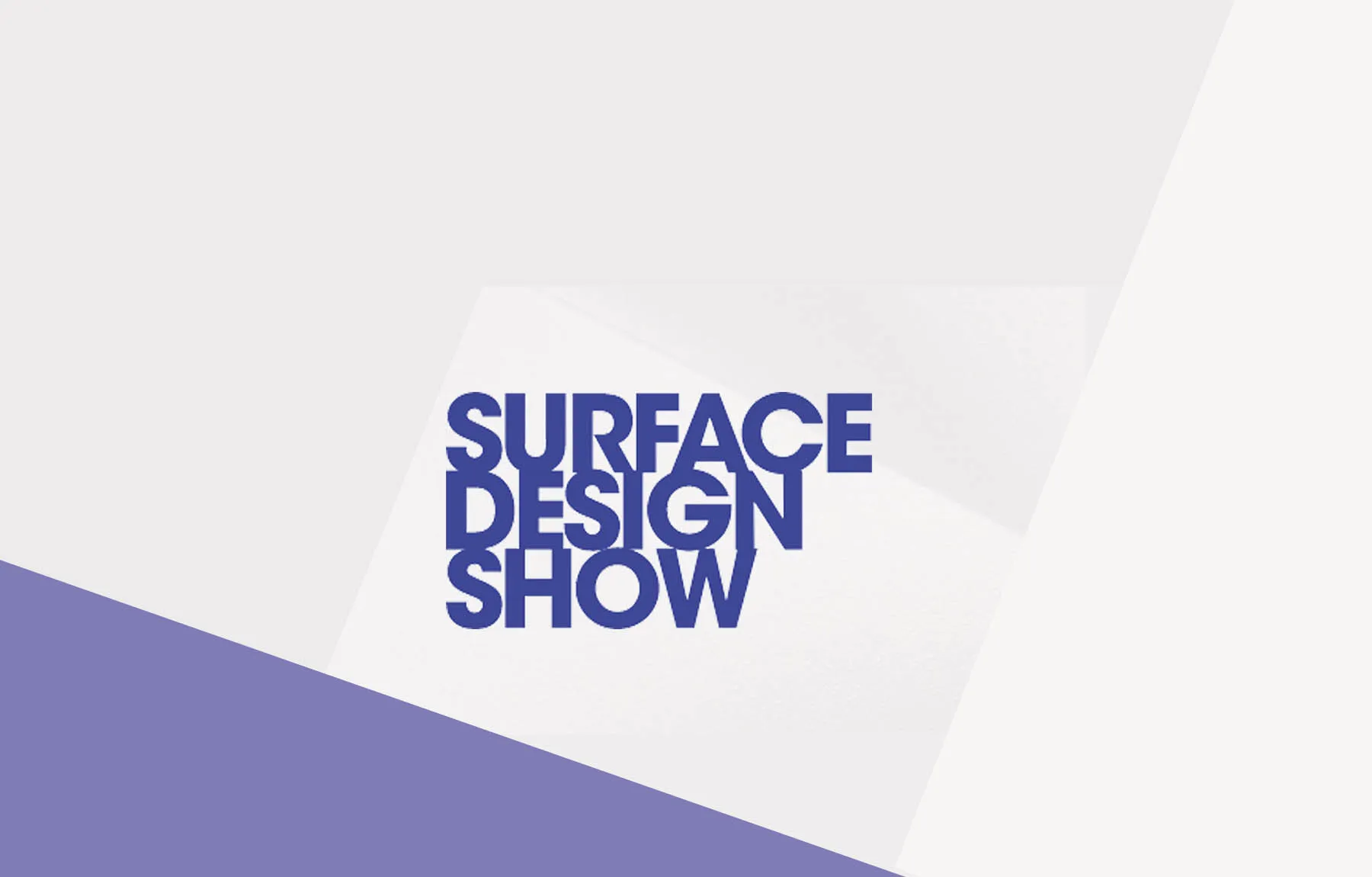 Graduates from the University for the Creative Arts (UCA) are showcasing their work at Surface Design Show 2020's New Talent area.
Taking place from 11 – 13 February at London's Business Design Centre, Surface Design Show's New Talent area will offer attendees the chance to see the next big innovations in surface design.
Many of the exhibitors are using traditional craft techniques and combining them with contemporary design.
Marcia John is a textile artist who graduated from UCA in 2019 with a BA (Hons) Textiles Design. Her woven collection is inspired by her love and passion for sustainable and recycled materials using a combination of raffia, cork and copper wire to create rustic, sculpted finishes.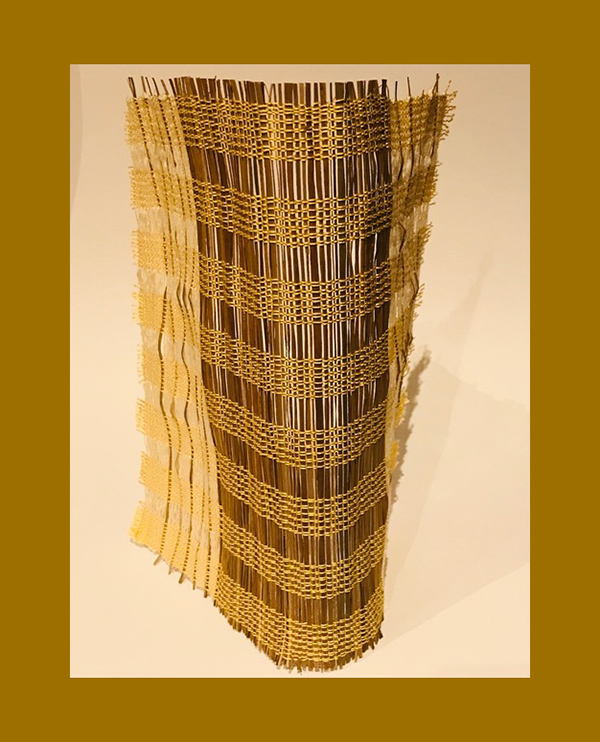 © Marcia John
"Each material has its own unique aesthetics and texture which allows for different outcomes, and all my techniques are all experimental, giving me the scope to explore endless possibilities within my woven collections," she said.
One of Marcia's surface designs is woven with dried Cycads Palm leaves and mercerised cotton – a textile finishing treatment which imparts a silk-like lustre. The design shows off its rustic, organic properties and can be used for both interior or architectural spaces.
Another of Marcia's designs combines the same mercerised cotton with copper wire. This material adds a dynamic quality to the surface, which gives it the potential for both functional and non-functional usage.
BA (Hons) Hand Embroidery graduate Frances Stone is a designer-maker who is exhibiting her visually stunning and bespoke hand embroidered interior accessories, such as cushions and footstools.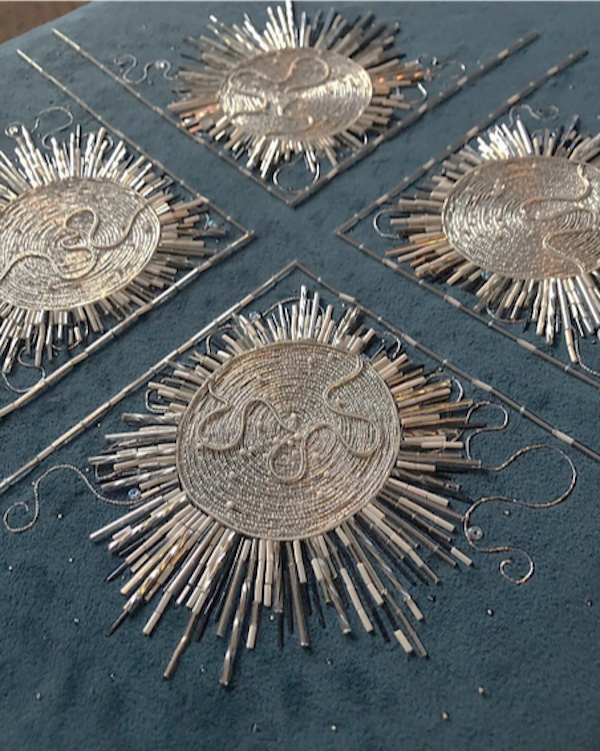 © Frances Stone
"My inspiration comes from the coastal landscape surrounding my home in Kent and the different textures and patterns naturally occurring over time that I use to create geometric and freestyles within my work," explained Frances.
Her range of designs are aimed at the luxury market with the use of such fabrics as silk and velvet, which gives them a feeling of indulgence. But, this is sometimes contrasted with more contemporary materials such as denim.
Sustainability is also starting to play more of a part in Frances' designs, "Instead of buying new or making everything them myself, I have decided to invest in upcycling – buying antique and second-hand furniture and reupholstering them with my own fabrics and designs."
Finally, Atticus Durnell, who graduated in 2018 with a degree in Product Design, will be showcasing his new sustainable material That's Caffeine.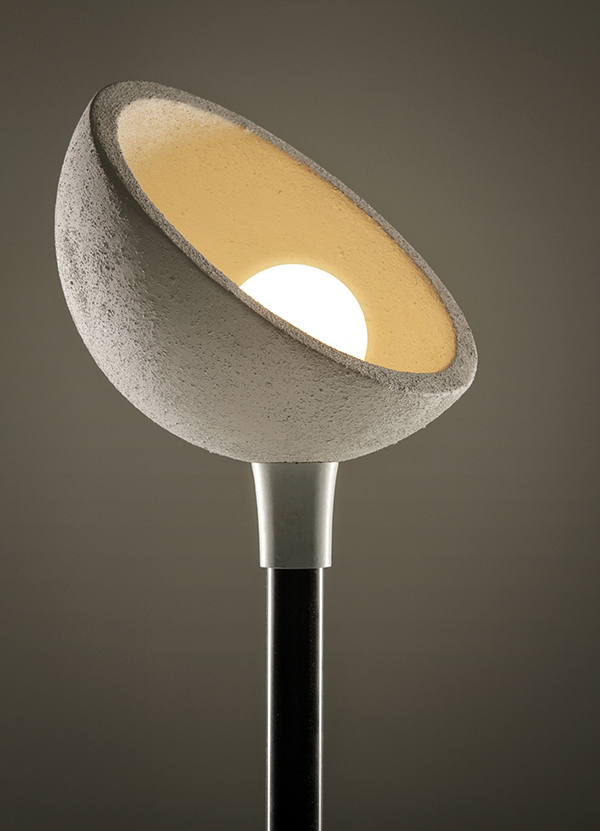 That's Caffeine © Atticus Durnell
Made from coffee waste and a biodegradable, plant-derived resin, That's Caffeine is a material with a finish that resembles granite, and is comparable in structure to non-biodegradable plastics. On top of that, Durnell's material is highly resilient; easily sustaining a drop onto a concrete floor, and unlike marble, is much lighter and less prone to discolouration.
Atticus uses the new material to make desirable, high-end objects and furniture.
"That's Caffeine is a very pliable material, and can be applied in interior fittings, surfaces, furniture, and lighting," said Atticus. "It is also waterproof and heat-resistant so, I would see it as countertops in the kitchen or tiles in the bathrooms."
To learn more about studying at UCA, visit the course pages.