Family and Other Ties Event

The event marks 10 years of the Family Ties Network, a lens-based research group of artists, filmmakers and writers.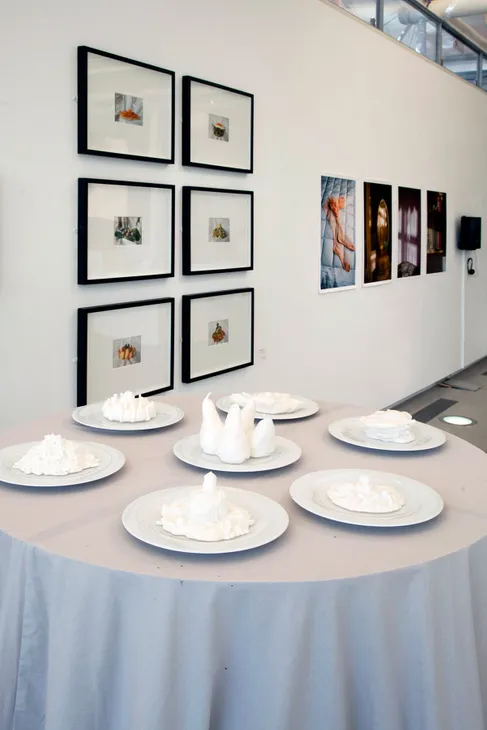 Join the event on Friday 9th December that marks 10 years of the Family Ties Network.
The event is FREE, but booking is essential.
This event celebrates the ten-year anniversary of the Family Ties Network (FTN), a research group of artists, filmmakers and writers who explore memory, space, place, and the family in photography and moving image. It marks the closing of the exhibition Family and Other Ties, with a line-up of guest speakers that reflects upon both past and present FTN involvement, as well as looking forward to future directions for the network. The day include talks by filmmaker, Sarah Pucill, visual anthropologist, Professor Shawn Sobers and photographic artist, Andy Wiener, in addition to contributions from FTN coordinators.  For more about our Guest Speakers and the day's schedule, see below:
10:00-11:25am Registration (Room W612) and Exhibition Viewing (Foyer Gallery)
The show features work by seven FTN co-ordinators alongside photographs and bookworks by nineteen artists, selected from an open call to the wider network. Many of these works reflect on what is meant by family in the aftermath of the global pandemic. Consequently, haunting stories of absence, trauma, and loss are interwoven with notions of cultural identity, feminist revisions of personal histories and the celebrations and challenges of modern family life.
FTN coordinators: Suze Adams, Nicky Bird, Jacqueline Butler, Rosy Martin, Caroline Molloy, Lizzie Thynne and Sally Waterman.
Selected artists: Sara Andersdotter, Eszter Biro, Bethe Bronson, Kate Carpenter, Marysa Dowling, Clare Gallagher, Phil Hill, Miranda Hutton, Rachel Maloney, Celine Marchbank, Heather McDonough, Ines Rae, Dawn Rogers, Assunta Ruocco and Daniel T Wheeler, Mandy Simpson, Mo White, Amanda Whittle and Andy Wiener.
11:25am Welcome (Room W612)
11:30-12:15pm Andy Wiener
Andy will be discussing his book, Visitation Scenes, which is included in the Family and Other Ties exhibition and was published by Dewi Lewis in 2020, as well as his current project, Ancestor Trees (2022). Visitation Scenes explores the lives of members of Andy Wiener's family using photographic masks made from archive images from a family album. Wiener travelled with the masks, to places where his relatives lived many years ago, and asked participants to wear the masks, to lend their identities to these people from the past. Stories concerning Irish politics, Jewish persecution and migration are firmly embedded within this project as Wiener brings the past back into the present moment.
Andy Wiener was born in 1959 and grew up in Edinburgh, Scotland. In the mid 1980's he studied photography at the Royal College of Art in London. His work has been widely exhibited and published and is in the collections of the Victoria and Albert Museum and the Scottish National Portrait Gallery. For over 30 years he has worked in the staged photography genre, often using photographic masks of himself, of dolls, or of his family members.
12:15-13:00pm Shawn Sobers
In his talk, Shawn will be exploring different dynamics of family album photography within a Black British context. He explores the phenomenon of the photowall in Black British homes, often curated by the mother figure in the house in the 70s and 80s. He also looks at how cherished family photographs can stimulate unknown narratives, and make visible unseen lines of connection in later generations. What is deemed 'the focus' and 'the background' of photographs at the point of capture, can shift and change places when seen by different viewers with alternative perspectives. In this talk Sobers gives examples of how family photos continue to have the ability of multiple readings in surprising ways. The content from this talk draws from Shawn's forthcoming book 'Black Everyday Lives, Material Culture and Narrative: Tings in de House', which will be published by Routledge in 2023.
Dr Shawn-Naphtali Sobers is Professor of Cultural Interdisciplinary Practice at the University of the West of England, Bristol. He teaches into the BA and MA photography programmes, and is director of the Critical Race and Culture Research Group. He is a visual anthropologist, photographer, filmmaker and regularly writes about different aspects of Black history and cultural experience.
13:00-14:30pm LUNCH BREAK (Please note lunch is not provided)
Opportunities to view film showreel (G14 cinema) and the exhibition (Foyer Gallery).
14:30-15:15pm Sarah Pucill
Sarah is currently working on a film that re visits through re-staging earlier photographs made 20 years ago with her late partner, the filmmaker Sandra Lahire, through performance with slide projection. Working in a method not dissimilar to the tableaux vivants employed within her past two part Claude Cahun film project, she explores the possibilities of photo film as an intermedial form that crosses and interlaces authorships, time, and perceptions of the living collaboration with an artist no longer here. This film includes out-takes from her earlier celluloid film Stages of Mourning (2004). A forthcoming book (in Spanish and English) will bring together parallels between Pucill and Lahire, and include some of the photographs.
Since completing her MA at the Slade in 1990, Sarah Pucill has been making 16mm films that have been screened and won awards at festivals, and staged in galleries and museums internationally. Her recent long films (Magic Mirror, 2013 and Confessions to the Mirror, 2016) that re-stage photographs and writing by the artist Claude Cahun have been screened widely. Magic Mirror premiered at Tate Modern, was exhibited at Nunnery gallery London with photographs from Pucill and Cahun (2015). Confessions to the Mirror premiered at London Film Festival and was exhibited as a film installation (2019) at Ottawa Art Gallery 2019 and was staged in the exhibition 'Under the Skin' on Claude Cahun at Cobra Art Gallery, Amstelveen which toured to Kunsthal Museum Gallery, Rotterdam 2022 and to Brandts Gallery Museum, Denmark in 2023. Her 16mm film Eye Cut premiered at London Film Festival, won best experimental film at Toronto Women Art Film Festival, and at London New Wave and will also be screened at Danielle Arnaud Gallery in December 2022, Q+A Helen de Witt.
15:15pm-15:30pm BREAK
15:30pm-16:30pm Reflections and Futures
Closing discussion led by the FTN coordinator group, including conversation and feedback with the audience on what the network has meant to the wider network and future directions.
16:30-17:00pm Event close and Gallery viewing
https://en-gb.facebook.com/FamilyTiesNetwork/
https://familytiesnetwork.wordpress.com/news/
@family_ties_network
Event details
9 December 2022 - 9 December 2022

10:00 - 17:00 (GMT)

Foyer Gallery and Room W612, UCA Farnham, Falkner Road, Farnham, Surrey GU9 7DS