Choral Workshops for Kings Hill Public Art Project
with Peter Adjaye
Sound artist Peter Adjaye to run sensory workshops at Kings Hill in April, part of artist in residence Yinka Ilori's public art commission.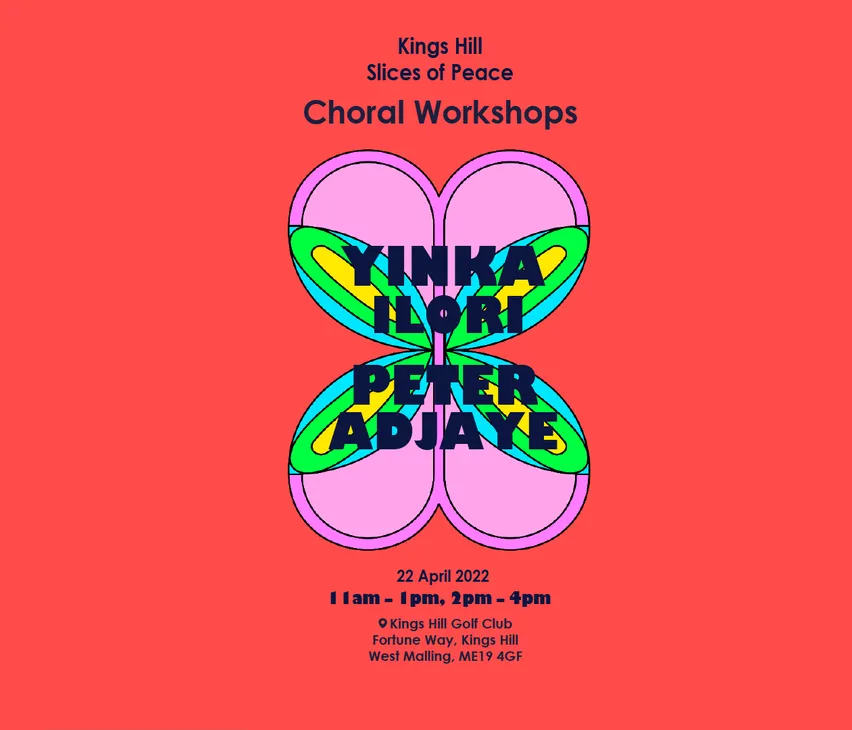 Peter Adjaye, a contemporary conceptual sound artist who specialises in cross disciplinary collaborations, will be holding two workshops in April, linked to Kings Hill artist in residence Yinka Ilori's commission. His specially composed soundscape will form part of Ilori's new sculpture for the park in Kings Hill – 'Slices of Peace'.
Adjaye will be running two choral workshops at Kings Hill Golf Club on 22 April 2022. These workshops will use the West African musical technique of 'Call and Response', bringing participants together in a common language to create a new choral soundscape for Kings Hill.
On the day, participants will be collecting Vox Pops from the community to capture their feelings and aspirations. Participants will also have an opportunity to reflect on the session and network at the end of each workshop.
As part of the installation Adjaye is also putting out a call for people to submit their own sounds of Kings Hill ahead of the workshops. Everyday sounds can include speech, poems or even the sound of the front door opening. They can be recorded on a mobile phone and sent to: musicforarchitecture@gmail.com Please include your name, the audio file and a description of what it contains to the above email address by 4th May if you are a Kings Hill resident or business park employee and would like to be included. Students from UCA will also be taking part in the workshops adding their own voices and sounds to the installation.
When it is completed the soundscape will be accessed by a QR code, which will be displayed next to Ilori's artwork and can be listened to on personal headphones for a full immersive experience. The workshops will encompass the unique experience that Ilori''s residency brings to Kings Hill, now and in the future.
The workshops are free and open to all. Places are limited. To book your place follow this link.
When: 22 April 2022
Where: Kings Hill Golf Club, Fortune Way, Kings Hill, West Malling ME19 4GF
Morning workshop – 11am – 1pm
Afternoon workshop – 2pm – 4pm
Peter Adjaye is a contemporary conceptual sound artist, specialising in cross disciplinary collaborations. Learn more about him at www.peteradjaye.com
Yinka Ilori is a multi-disciplinary artist and designer whose bold visual language draws on his British-Nigerian heritage to convey new narratives through contemporary design. Drawing on Nigerian parables and verbal traditions, Ilori touches on a multitude of themes that resonate with a global audience.
His work is underpinned by the belief that art and design should be accessible to all. Humorous, provocative and playful, his projects demonstrate how design can bring together communities and have a positive impact on society, evoking a sense of joy and optimism. Often using the city as his canvas, he reimagines spaces to encourage a sense of community and invites audiences to engage and participate in his work and its surroundings.
The current project, 'Slices of Peace', is inspired by the rich culture and heritage of Kent, in particular its history of apple growing. The proposed design consists of a series of smaller and bigger installations that encourage the individual to wander, reflect and meditate within the park.
Event details
22 April 2022 - 22 April 2022

11:00 - 16:00 (GMT)

Kings Hill Golf Club, Fortune Way, Kings Hill, West Malling ME19 4GF