Beyond Trauma
by Lynn Hamilton and Tara Kennedy
BEYOND TRAUMA brings together textile artist Tara Kennedy and creative writer Lynn Hamilton to communicate the impact of trauma.
Event details
18 September 2023 - 29 October 2023

10:00 - 17:00 (GMT)

Link Gallery, UCA Epsom, 21 Ashley Rd, Surrey KT18 5BE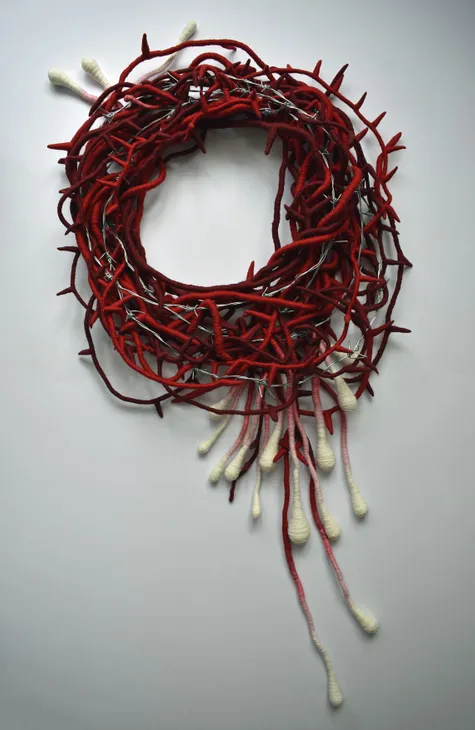 This exhibition attempts to raise the awareness of different manifestations of trauma. It examines how a creative response to trauma, which moves away from the typical PTSD stereotypes, could enable us to imagine a better world with imagination, hope and tenacity.
The exhibition includes existing works ranging from textile sculptures and a film demonstrating the making process, to a 'researcher's desk' that includes personal notes, books, and extracts of short stories and audio recordings. Alongside individual works, the textile artist and creative writer came together to create work responding to each other's practice.

Textiles Tara Kennedy, MA
Tare Kennedy creates soft sculptures and wall hangings as well as detailed drawings. These drawings provide an alternative viewpoint and compliment her 3D work. She is using the imagery of cages, bundles and wrapped forms with knots expressing tension, wrapped bundles conveying unity and cages suggesting protection.
Kennedy's textile work started from a need to express the unity of her mixed cultural heritage. The feeling of despair a result of conflict of different cultures and religions suffering was Kennedy's drive to communicate messages of acceptance, empathy and hope. Her work is about creating expressions of hope emerging from this pain.
The materials are chosen for their tactile quality, seeking to create a comforting feeling. They include yarns, threads and fabrics and involve techniques of knitting, wrapping, felting, knotting and stitch. Process is significant as it references therapeutic, meditative and calming practices, while the coloured yarns provide a metaphor to show the transformation from the blood spilt and pain of suffering through graduated tones to ivory conveying hope.

Creative Writer Lynn Hamilton, MA, PhD
Lynn Hamilton is a writer with 30 years' experience in medical education and an MA and PhD in Creative Writing. In her PhD research project, Hamilton explored how the representation of war neurosis has shifted in fiction: from shell shock playing a part in communicating the impact of trauma on masculinity and the human psyche to PTSD driving stereotypes such as the broken hero. Her short stories, looking at the multidimensional perspectives of PTSD beyond the battlefield, are a creative response to this research.