What a year it's been for UCA!

We look back at 12 months of exciting events and achievements for the university, its staff, its students and its graduates.
03 Jan 2020
It's been another amazing year at UCA, with successes and incredible achievements across the board — as an institution and for our current students, staff and graduates.
We thought it'd be nice to put it all into one blog post, to round-up and celebrate our biggest news of the year as we welcome a new decade.
Everyone here at UCA wishes you a very Merry Christmas and a prosperous and happy 2020!
January
The beginning of 2019 was marked with the news our university campuses were continuing their downward trend in CO2 emissions, significantly exceeding set targets, and further reducing our carbon footprint. We also revealed a new exhibition at our Crafts Study Centre in Farnham, while our Chancellor, Professor Magdalene Odundo, had more than 50 of her own ceramic works featured in an exhibition in West Yorkshire.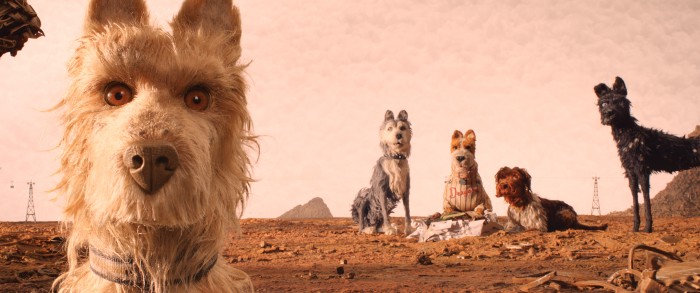 UCA alumnus Mark Waring found out he was nominated for both an Oscar and a BAFTA for Isle of Dogs.
February
There was excitement for UCA Alumnus as they awaited their fate at the Oscars and BAFTA awards. Hand embroiderers Laura Baverstock and Hattie McGill were nominated for their work in making costumes for Mary: Queen of Scots, and animator Mark Waring was also nominated for Isle of Dogs. Meanwhile, another animation graduate, Daisy Fairbairn, had her film, Cage, screened at the Global University Students Film Festival in Hong Kong.
March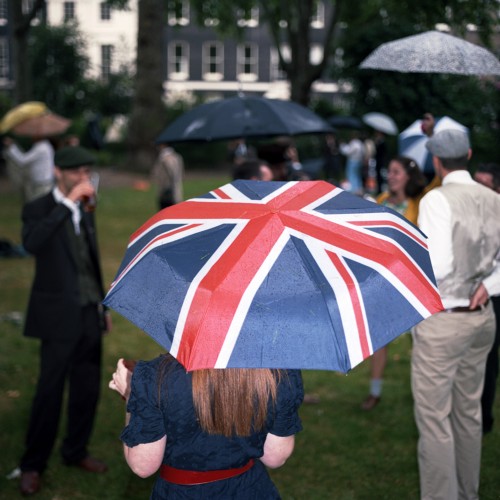 Filmmaking graduate Hayley Dickinson was signed to a directing and writing management team in America and headed to LA to forge her career, after working on a range of high-profile movies, including Bohemian Rhapsody. Meanwhile, the Business School for the Creative Industries hosted the Sustainable Innovation Conference, with guests from more than 20 countries in attendance. There were awards for Fashion Atelier student Edward Jones (Silver Shears Award) and animation graduate Matthew Whitmore (triple win at the White Elephant Film Festival) while photography teacher Edward Thompson was shortlisted in the Brief Category of the Sony World Photography Awards.
April
April was a busy month, with an International Emmy Kids Award win for Grant Orchard's Hey Duggee cartoon series, a Best Thriller win at the National Film Awards for film graduates Ioanna Karavela and Chee Keong Cheung for their movie Redcon-1, and the premiere of an animated short by Computer Animation Arts students for an exhibition in Kent. There was the launch of a new magazine by Graphic Design students in Epsom, and a kickstarter campaign began for a new fashion brand by hand embroidery graduates Charlie Ellis and Abigail Noronha. UCA joined a new EU project to promote the recycling of marine plastic waste, technical manager Tim Savage was nominated for a Papin Prize, an award specifically for university technicians and a dozen members of UCA staff were also congratulated for 20 years' service.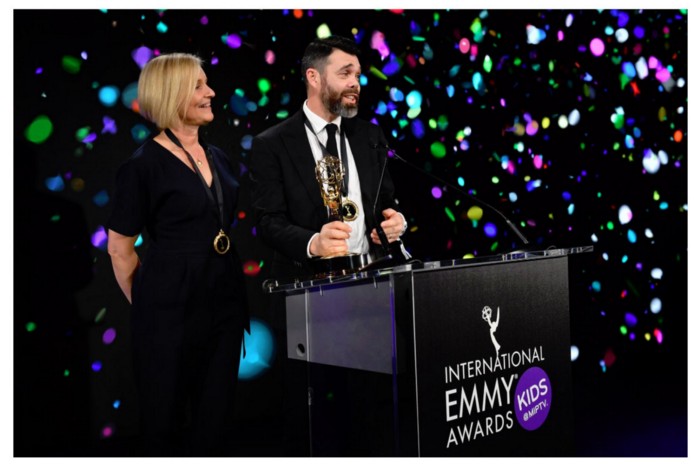 May
UCA students were making waves in film, design and music, with Lauren Sandercock's film Match being shown at the Cannes Film Festival's Short Film Corner, Camille Gaggiotti's The Body Shop store design being commended at the Retail Design Student Awards and music students joining German artist Marcus Kaiser in a live-streamed concert. Jewellery graduate Manuela Kagerbauer's work was exhibited during London Craft Week, and Film Production students benefited from a visit by art director and production designer Christina Moore.
In the second half of the month, Bryan Lim won the Best Concept award at the Nahemi Kodak Student Commercial Awards, Aleksandra Glebocka was shortlisted for the RSA Student Design Awards for her animation Normalised Sexism, while 14 students were nominated for eight different prizes at Graduate Fashion Week.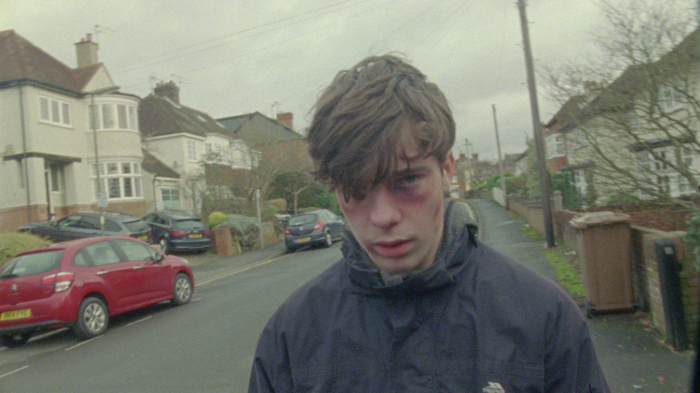 Meanwhile, the Complete University Guide named UCA the top creative specialist in the UK, Foreign Secretary Jeremy Hunt visited the Farnham campus and Simon Macklin was appointed director of the Business School for the Creative Industries.
June
June was an INCREDIBLE month for UCA. The university earned TEF Gold status, and was placed 13th overall in The Guardian's 2020 university league table — making UCA the country's top creative specialist — while Business of Fashion named UCA one of the best places to study the industry in the world.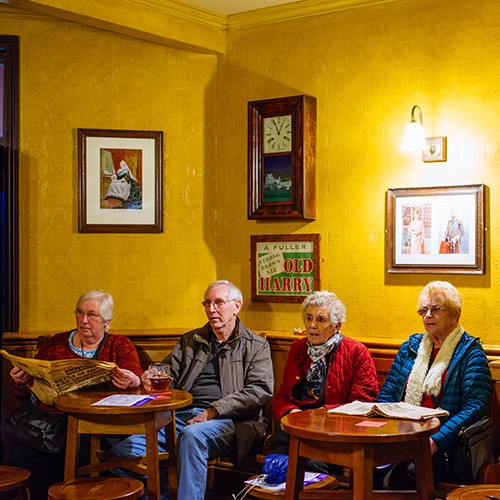 For students, the month was a time to shine, with Graduate Shows across the four campuses, and catwalk shows for Fashion students at Graduate Fashion Week. Jimmy Lee, an MFA graduate, won the EIZO Student Award, of which Photography (Rochester) student Grace Elliott was also shortlisted, while Graphic Design (Epsom) student Robert Hall was shortlisted for a prize in the Penguin Random House Student Design Award. Interior Architecture and Design graduate Helena Masat was named in Mixology's annual 30 under 30 listings, while Film Production graduate Anthony Woodley released his first feature film, The Flood.
And at the end of the month, our Class of 2019 graduated from UCA at Royal Festival Hall, London. Honorary awards were granted to Pan Hu, Morag Myerscough, Will McGregor and Holly Knower.
July
More awards came in for our current and former students, with Yang Sio Maan winning the Advertising New Talent prize at the AOI World Illustration Awards, Harriet Frances joining the Worshipful Company of Gold and Silver Wyre Drawers as a Trade Freeman, and Master of Architecture graduate Chris Johnson coming third in the Fentress Global Challenge. Emily Sabine won a commendation at the Interior Educators Awards, with six other graduates taking part in its summer exhibition, while Graphic Design (Canterbury) graduate Jasmine MacLeod had her portfolio selected to be exhibited at the Squarespace digital showcase at the D&AD New Blood Festival.
Student work was commended at the New Designers event in London, and graduate work was also on display at Dapdune Wharf, Guildford, and at Arles photography festival in France.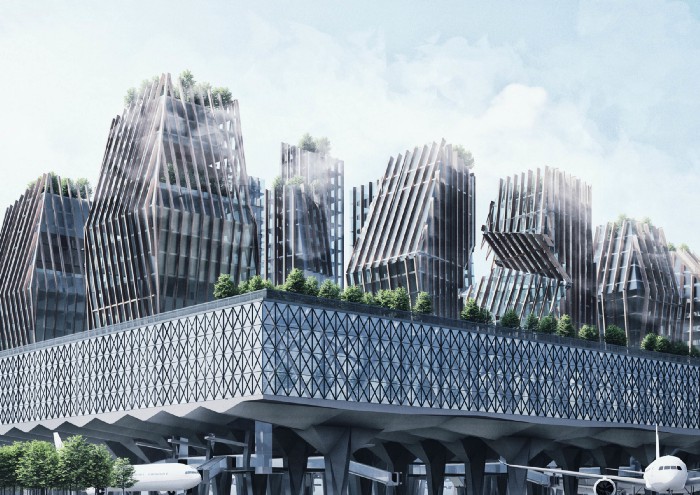 August
More prizes and achievements came the way of UCA students and staff in August. Elliot Afoke was awarded a prize for excellence from the Royal Institute of British Architects for his project work, while Alessio Giustarini and Maciej Gniadek's game, Project: SAM, was picked to be part of a talent programme called Tranzfuser. Acting graduate Harry Evans was picked to be an assessor for the Total Theatre Awards at the Edinburgh Fringe, while Chancellor Magdalene Odundo had her work exhibited at the Sainsbury Centre for Visual Arts.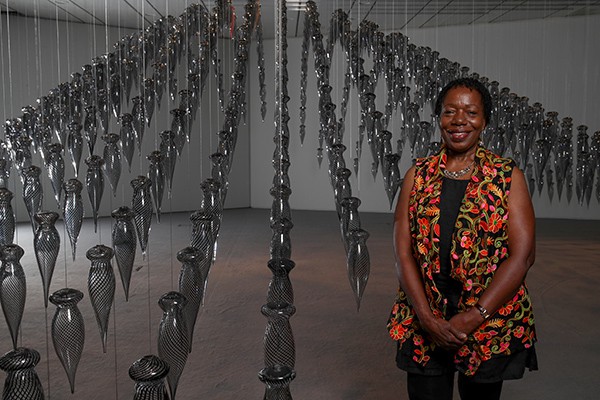 Product Design graduate Atticus Durnell won a Design Guild Mark for his sustainable material, That's Caffeine, which is made from coffee grounds, while Fashion Design student Erin Hayhow showcased her talents at BareFashion UK's Vegan Fashion Show. Hand Embroidery students also had their work showcased at the R Space Gallery in Northern Ireland for a special exhibition.
September
UCA graduates were part of some major exhibitions and productions in September, with Tracey Emin having a sculpture installed as part of the 2019 Frieze London Sculpture Park and Chancellor Emerita Zandra Rhodes — who also appeared on Celebrity Masterchef — having her illustrious career showcased at the Fashion and Textile Museum. Fashion Textiles programme director Neil Bottle's 30-year career was also exhibited at the Contemporary Applied Arts Gallery, while Further Education Programme Director Stephen Featherstone had his film, Stopgap in Stop Motion, shown at two film festivals.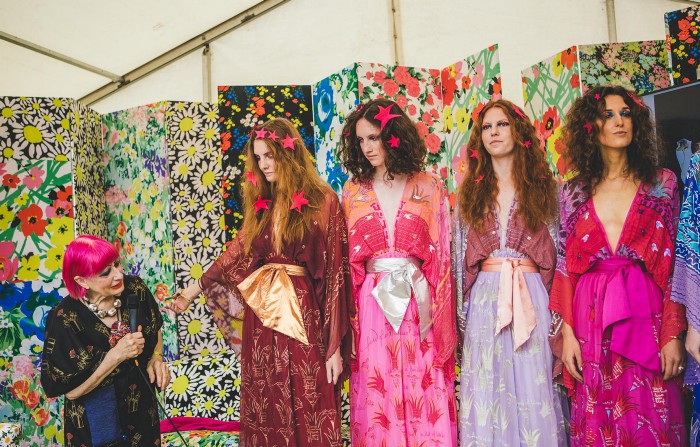 In television, Fine Art alumnus and concept artist Tim Napper put his artistic stamp on the highly-anticipated Netflix series The Dark Crystal: Age of Resistance, while MA graduates from the School of Crafts and Design had their work exhibited at the OXO Tower Wharf Gallery, and Fashion Textiles graduate Sally Mankee took part in GFW Presents… at London Fashion Week. Closer to home, our technicians had their time to shine with their own exhibition at each of our four campuses.
Professor of Photography Anna Fox was awarded an Honorary Fellowship by the Royal Photographic Society, while UCA celebrated coming top in the South East for student satisfaction in The Times and Sunday Times Good University Guide 2020.
October
In October, scholarships were awarded to BA/BSc (Hons) Music Composition & Technology enrolees Eleanor Hobby, Rael Koiv and Alison Wade-Gudgin for the Women in Music Scholarship, while the Chevening Scholarship went to Danso D. Sakyi who joined the Business School for the Creative Industries for his MA studies.
Fine Art graduates Jaz Bartlett, Sara Jackson, Wren Moat and Katherine Smith were nominated for the Platform Graduate Award run by the Contemporary Visual Arts Network, while Journalism and Creative Writing graduate Ellora Sutton was longlisted in the 2019 Winchester Poetry Prize. Five Graphic Design (Epsom) students had their designs for Nescafé Azera accepted and are now on sale in Tesco and Waitrose, while architecture graduate Morgan Hone won the Sustainability Award in the Architect's Journal (AJ) Student Prize 2019.
UCA welcomed eight new Professorial Fellows — Dr Ellen Sampson, Dr Jan-Noël Thon, Professor Dominic Janes, Dr Glenn Adamson, Professor Anne Massey, Dr Sunil Gupta, Catherine Yass and Gordon Hon — to its ranks, and also celebrated as it held its first Postgraduate Graduation Ceremony at Westminster Central Hall.
It also signed up to a landmark renewable energy deal alongside 19 other leading UK universities, and hosted a celebration of Chinese culture, film and television.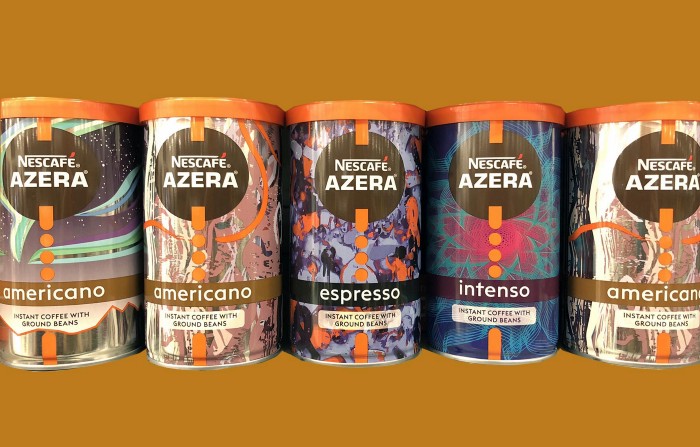 November
Students and graduates had their work showcased at major festivals and exhibitions in November. Taylor Freshwater and Megan Earls had their animated shorts screened at the Manchester Animation Festival, while Jordan Buckner's //_sleeper was screened at the London International Animation Festival (LIAF). On the other side of the fence, Professor Lyndsay Duthie, Head of School for Film, Media & Performing Arts was named a member of the Grand Jury for the 2019 Big Syn International Film Festival.
Photographer Vikram Kushwah had two photographs on display at the National Portrait Gallery's Taylor Wessing Photographic Portrait Prize exhibition, while Emily Light had her pictures featured in Vogue Italia and alumna Nicky Hirst was announced as the official artist of the General Election by the Speaker's Advisory Committee on Works of Art.
In film and television, Will McGregor announced he was be part of the crew behind BBC One's epic new drama His Dark Materials, while MA Filmmaking graduate Anita Pico was selected for a New Creatives commission, a scheme run by BBC Arts and Arts Council England, in partnership with Screen South.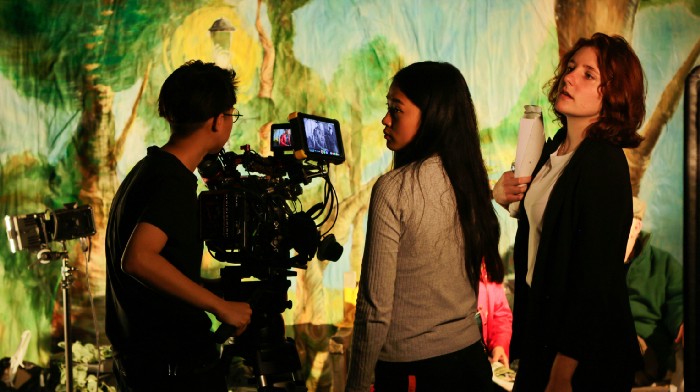 Fashion Design student Elizabeth Whibley had her Oxfam Collection on sale at a charity pop-up in London, and Epsom Graphic Design students made bespoke Christmas card designs for an Epsom and Ewell charity.
In UCA news, the university rose to 25th in The Times' Higher Education Table of Tables 2020, the highest position it's held to date, reaffirmed its three-year agreement with the New Ashgate Gallery in Farnham and two professors were awarded funding from The British Council for their textiles research project.
December
Remember we told you back in August about Project: SAM being picked for Tranzfuser? Well, this month it was revealed games designers Alessio Giustarini and Maciej Gniadek were the winners, receiving grant funding of around £25,000 to continue developing their concept.
Elsewhere, Games Arts student Roman Agapov's project Final Run was nominated for the Unity Awards 2019 Best Student Project, while Fine Art graduate Chloe Johnson was selected for the Mall Galleries' FBA Futures 2020 exhibition.
The Design Museum, London launched its latest exhibition, Designing Duggee, in conjunction with its creator, alumnus Grant Orchard, while a sculpture concept by Manuela Kagerbauer was shortlisted for a Craft Town Public Art commission in Farnham town centre.
On the eve of the General Election, two Graphic Design (Epsom) graduates, Rory Stiff and Casey Highfield, created a non-biased newspaper comparing political policies. Around 10,000 copies were distributed around London.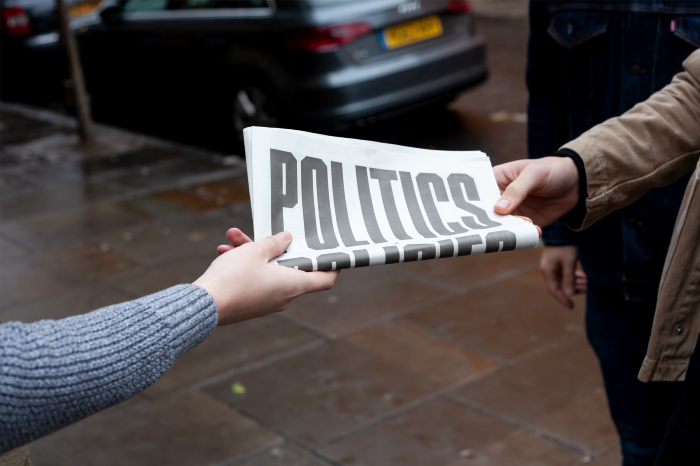 Two fashion graduates, Sally Mankee and Sophie Robinson, played their part alongside Chancellor Emerita Zandra Rhodes in a video promoting the British Fashion Industry. Dream Big, released as part of the GREAT Britain campaign, was filmed at the Foreign Office.
And to cap an incredible year, our Chancellor, Magdalene Odundo, was awarded a Damehood in The Queen's New Year Honours list.