UCA technician Jamie
launches first fashion collection
Sometimes, you need to balance your creative dreams with real life pressures, and often the best way to do this is to find a job that not only keeps you in touch with your field of interest but also gives you time to indulge in it. We spoke to UCA technician Jamie Backshall, who has been able to achieve just that.
27 Jun 2022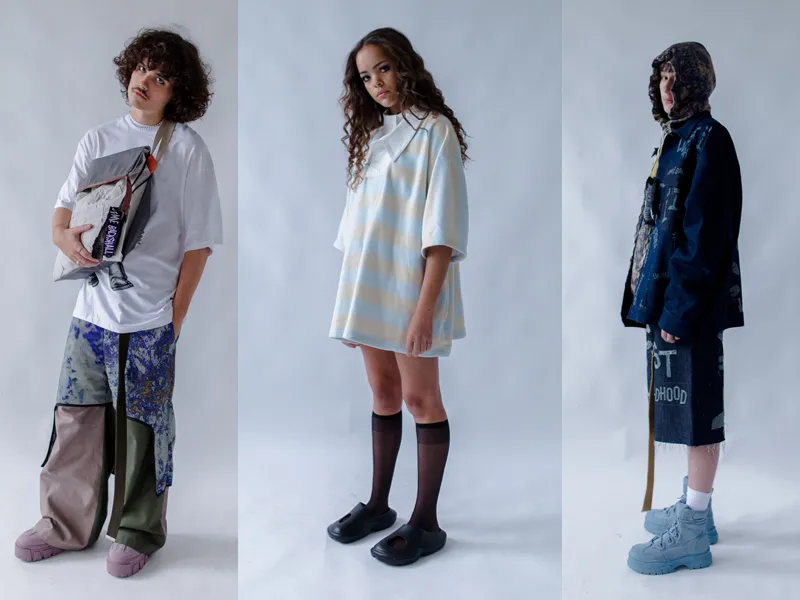 Three looks from the new Jamie Backshall collection, A Croydon Facelift PHASE 1
Jamie, who graduated from UCA in Fashion Design in 2018, has been working as a technician at UCA for two years, after spending time working for Dr Martens. Jamie's eponymous fashion brand has launched his first collection, entitled A Croydon Facelift PHASE 1. Jamie says the aim of the collection and the brand is "to create a world for the bold yet sensitive souls."
"I'm a true believer that any form of art should always spark an emotion for the viewer/consumer, and that's what we strive to achieve here."
Hi Jamie, how did you come to return to UCA and what is it about the job you love most?
"I've been here for two years now - time has flown by, but it's been great! It was a bit of fate as to how it came about to be honest. I had just left Dr Martens and was looking for a job that was more suited to do my own collections on the side as well as work. Then, my old technician, who is now one of my best friends, reached out and said there's a technician role going here at UCA would I be interested, and the rest was history! So, it works perfectly now, I get to teach and then work on my own collections.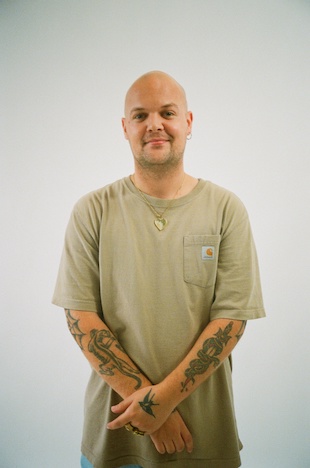 Jamie Backshall
"I think the best thing about working here is teaching the students. No two days are the same, which I love, I get to constantly problem solve and work out ways to construct garments when students are working on their individual projects. As well as teaching them, the role has also taught me a great deal which then allows me to take that into my own work. I work with some amazing people who also push and teach me things to improve my own skills for which I'm so grateful. For me, it's a very rewarding job, knowing I'm helping people grow and develop them in the field they want to go on and pursue a career in, really inspires me."
What can you tell us about Jamie Backshall the brand – its history and what statement you want it to make.
So, our label has had a crazy journey already, and we are only just getting started. I knew I wanted to start the label as soon as I finished interning in my second year of university, I showed my final collection at Graduate Fashion Week in my final year, and with that got a great deal of press and exposure which was great. However, straight out of UCA, I landed a design role, so my time was then focused on that, and not so much my own collections, even though the goal was to always have my own label.
"I was very fortunate enough to have gained the industry experience I did, both at internship and full-time employment level, it taught me a great deal of things which allowed me to implement them into my own work. It's been a rollercoaster of a journey so far if I'm honest. It's been very stop start, and really, up until now I hadn't put much effort into it, I almost neglected it at one stage. However, when I got the job at UCA, it allowed me to put all my focus back on that and work towards our debut collection, and other smaller projects we have going on that tie in with it. As a brand, we always want to be very open and raw, almost vulnerable. We strive to address real issues through our collections, mental health being one very close to us, and work with initiatives/charities and groups of people to try and help within that sector. To create a world for the bold yet sensitive souls.
You speak as an "us" – who are you collaborating with on it? Can you tell us more about any partnerships?
"When I say 'us', I am referring to me and my team who I worked on the collection with. For our debut collection we didn't have any collaborators, it was just myself and my team as I wanted to show our aesthetic, and our story for the first collection we released. In terms of any collaborations/partnerships coming up, there is one that's in early conversations, however unfortunately I can't say much more than that on it for now!
In the short documentary that accompanies the collection, you outline your inspirations. Can you elaborate on how you turned those inspirations into clothes? What's the process?
"So, for every collection we do, there will always be a story to tell, issues to talk about or address how I'm feeling at the time of working on it. I'm a true believer that any form of art should always spark an emotion for the viewer and/or consumer, and that's what we strive to achieve here.
"I always start with the base theme if you like of the research or the undertone if you like, for example if it's a political issue I want to address, or a social issue, then I will start with that and then dive headfirst into the research phase. We like to do in-depth research, explore all avenues and really go as wide as we can while remaining under the overriding theme's roof. I was always taught how important research is, it's the main source of the story you're trying to tell through the collections so why only look at one thing?
"Then we go into the sketching/experimental phase. Sketching rough ideas, playing with silhouette and looks, while always remembering there must be references in there to traditional garments as well as show pieces. While sketching, we are also playing around with different techniques we could use; prints, textiles, construction methods, stand work etc., all to help tell the story the most honest and real way possible.
"This is also when the fabric gets introduced, we source the fabrics and start forming the collection. I love the process - you can get really lost in everything which is such an emotional journey, immersing yourself in every element, in order to find the best way to tell the story of the collection."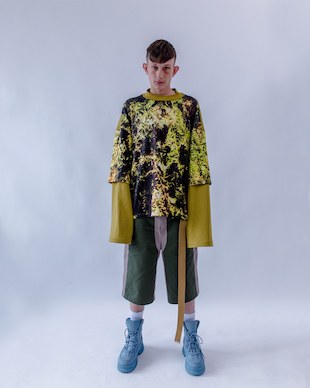 A look from A Croydon Facelift PHASE 1
So what is next for Jamie Backshall?
"A Croydon Facelift" PHASE 1 is our debut collection, it's funny - we actually had around 18-20 looks for it, but then we needed to split it because we wanted to show on season. So, we decided on two phases, which worked perfectly. Currently now we are working on Phase 2. Again, I don't want to say too much into what's going to come, it's nice to just disappear for a while and work on the next phase, whether that be the collection, projects and film, and then reappear when the time is right. There definitely will be more to come with the short documentary series, too.
What's the best piece of advice you've ever been given that you can pass on to other fashion designers?
"That's a hard one. If I'm honest, I'm lucky enough to have met some great people along the way who have given me some great advice but also have a great family behind me, who support me through everything. I think the most recent piece of advice that really resonated with me was from a friend who is currently a menswear designer. We were catching up and he told me to always remember that you don't have to always do things the 'traditional' way.
"By that what he meant was, sometimes we all get caught up in comparing ourselves to others, what other people are doing or have, and how they got to where they are, which route they took.
"However, everyone is on their own journey, so just because you might not do things the traditional way or get to where you want to go the traditional way, doesn't mean you're failing. Even though it's so simple, it really hit home for me. It inspired me more, I gained more focus on what we are doing here at Jamie Backshall, to just have tunnel vision and focus on our own journey."
If you want to find out more about Jamie's work you can see it at @jamie_backshall on Instagram, and to order pieces from the collection, email jamiebackshallstudio@gmail.com