Students' vision of a
post-apocalyptic future
Many of this year's MA graduates have been reflecting on the state of our world. If an apocalypse is coming, how might we reinvent ourselves successfully?
07 Oct 2021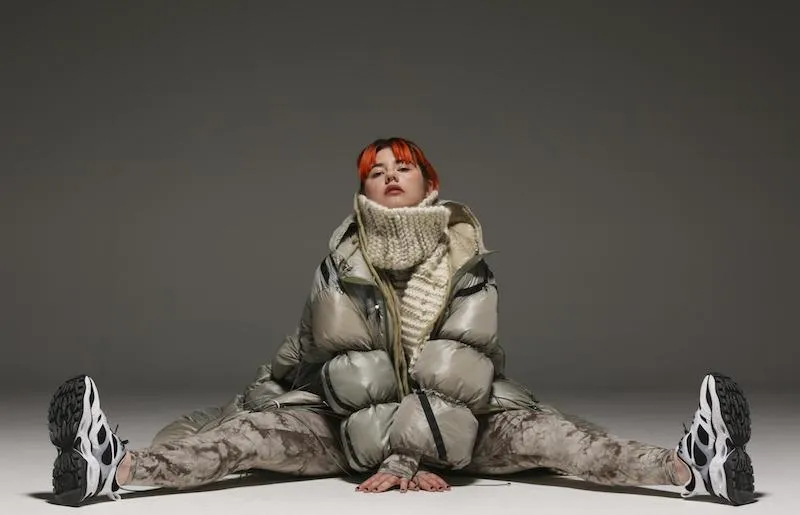 In this feature, we spoke to four graduates across fine art, fashion and architecture to find out how a post-apocalyptic world inspired their final projects.
The Museum of Post-Apocalyptic Evolution
Fine Art graduate Kate Madden's final project, The Museum of Post-apocalyptic Evolution, is born out of frustration with the world, its politics and the impact the pandemic and the rich-poor divide is having on society.
"It seemed that so much was broken that the only way to have a level playing field for everyone was to tear everything down and begin again," she said. Her "museum" features a series of found objects repurposed into different things, like a dinner plate and fork transformed into a shield.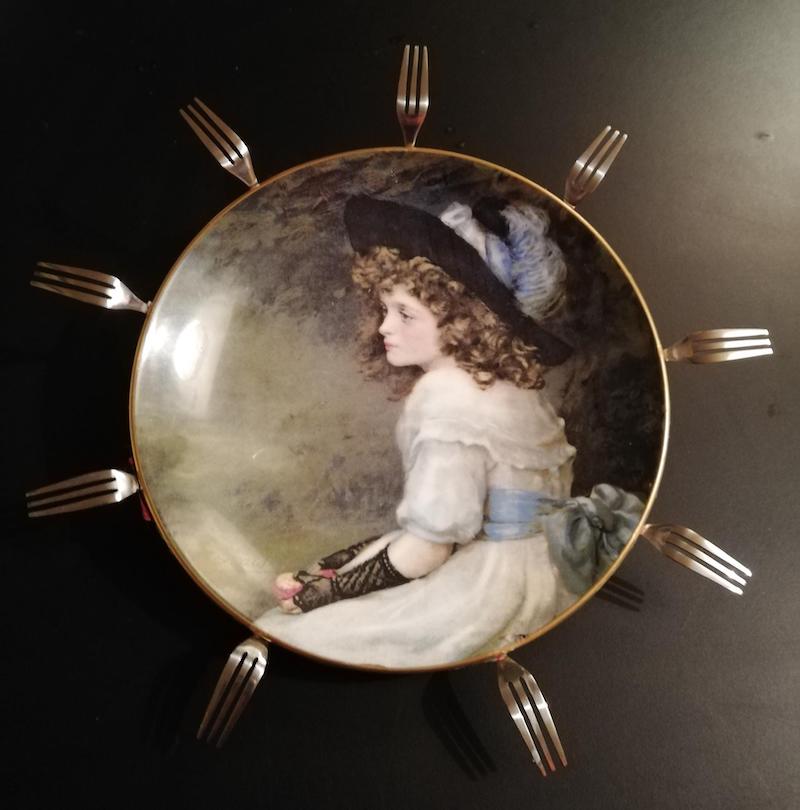 Kate Madden's shield, made from a dinner plate and forks.
"I have always worked with objects, the older and more battered the better," she says. "Often the objects themselves suggest what they could be, and I go along with it. It was only when I began to picture the imaginary world, the community within it, the geography, that I began to see what I needed to make. That world, its laws, language, history, games, pretty much took over.
"I wondered what a post-apocalyptic world might look like once simple survival had already been achieved. Would we make the same mistakes? Is competitiveness, the lust for power, the determination to be part of that 1%, inherent in humans, or could we achieve a truly fair, peaceful environment?"
Kate hopes that, through her exhibition, people will consider the world differently, and consider what other uses objects might have.
"How much chaos can we accept before we act? I'm not talking about massive actions, simply people being kinder, more awake. Apathy, complacency – these things terrify me far more than the idea of an apocalypse!"
The Prepared Farm
MA Architecture graduate Komal Hayat has used her year at UCA to further her research into sustainable and green architecture and through her studies came upon the idea of creating a Prepared Farm, a proposal that would allow the planet and its ecological system time and space to heal.
Prepared Architecture, as she calls it, is a chance to future-proof buildings and projects in order to prevent an apocalyptic scenario.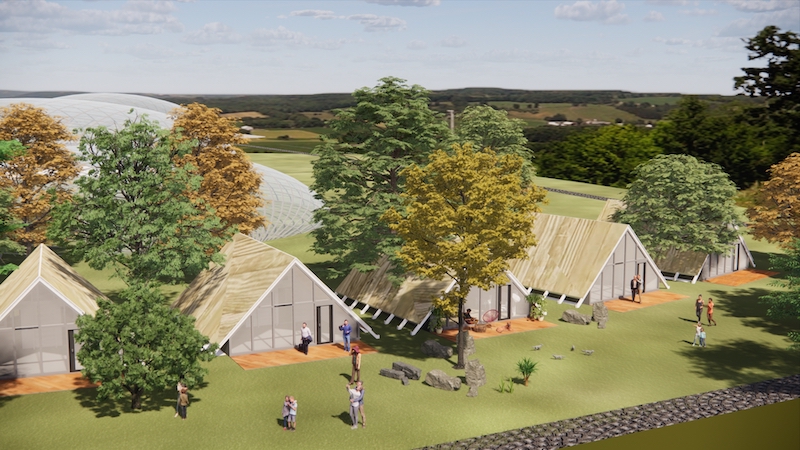 Komal Hayat's vision of her Prepared Farm
"Looking at the current adverse effects of global warming, I feel it is high time we start taking care of our planet. The big fires, unpredictable and extreme weather conditions, floods, storms, tsunamis, hurricanes, melting poles are all becoming the new normal. The apocalypse seems almost knocking on our doors," she says. "My project uses aeroponics and bio-domes in the farming industry to minimize the hazards we are bringing on ourselves. It offers a pre-apocalyptic approach which would subsequently create a sanctuary for the post-apocalyptic planet."
She hopes it will create awareness and show that it is possible for businesses and individuals to change behaviours. "I want to remind people that we need to make amends in our lives, especially professional practices, vis-à-vis industry norms," she says.
Komal wants to take this concept through into her architectural practice while furthering her research via a PhD.
ЯAW UTILITY – fashion of the future
Lockdown and its impact on our everyday lives gave Chloe Newman a vision of what a deserted, post-apocalyptic world could look like.
And she incorporated this into her final fashion collection – a sustainable and utilitarian series of garments made from repurposed military fabrics, like parachutes and tents. Called ЯAW UTILITY, Chloe wants her clothes to stand the test of time.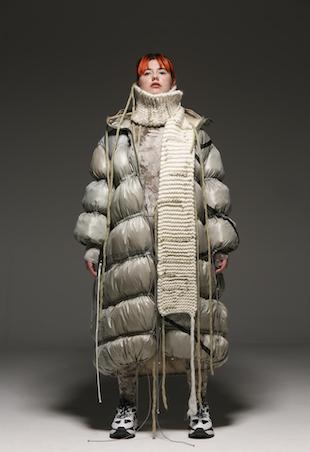 Chloe used old military parachutes to make her garments.
"My MA collection concentrated on the terms 'isolated, abandoned and neglected'. Over the second lockdown, I took some astonishing and incredible photographs of London – a normally crowded, buzzy and energetic city – completely vacant," she says. "The fantasy of an abandoned world is an exercise in ultimate freedom, where we would be able to escape from technology and money couldn't buy you anything. I also find nature calming, seeing the natural world thrive again without humans destroying it would be an amazing sight."
Chloe developed her collection by sketching out dozens of ideas, narrowing them down and then creating cut-outs to build each look. "This allows me to experiment with styling and moulding new, improved outfits," she says. "Next, I continuously develop these outfits by changing minor shapes, details and experiment with colour and fabric choice until I end up with a complete outfit that I am entirely happy with."
She hopes people who see her collection are inspired to find beauty in abandoned or old things and to think more about sustainability in their work. "There are so many different, powerful ways of creating sustainable garments, such as upcycling old materials or using plant-based dyes that will positively impact the fashion industry," she adds.
Is there life on Mars?
Fellow Architecture graduate Longlin Gong took a very different approach for her post-apocalyptic vision, imagining a future where the human race is forced to abandon life on Earth and start a new existence on Mars.
Part of her project is not only to visualise a Mars-based colony, but also to create an immersive space where the memories of life on Earth live forever.
"There are great ups and downs in human mood changes," she says. "There are many issues that we are thinking about and reflecting on after recent events. This is why I chose 'Emotions and Memory' as the theme of my project.
"I believe that people can only create a better existence if they remember their history. Life on Mars, in particular, would be a completely new experience and focusing on the important events that happened to humans on Earth can make life on Mars more of a reality in the future," she added. "I want humanity to think about the future model of human existence while focusing on life in the present."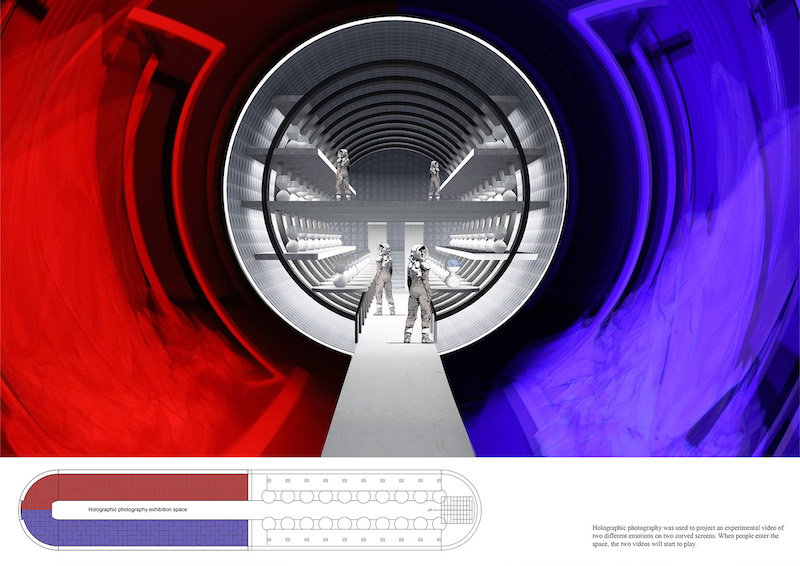 Longlin Gong's memory capsule for life on Mars.
You can see more amazing work by our postgraduate students on our Online Graduate Showcase.