UCA lecturers name their
top Christmas movies!
It's Christmas – and as well as all the usual traditions, it also means the advent of the Christmas movie! For most, there's a family favourite that's watched every year without fail – in fact it just isn't Christmas without it. But what do our Film & TV experts at UCA have on their own "must-watch" lists? Read on to find out!
19 Dec 2022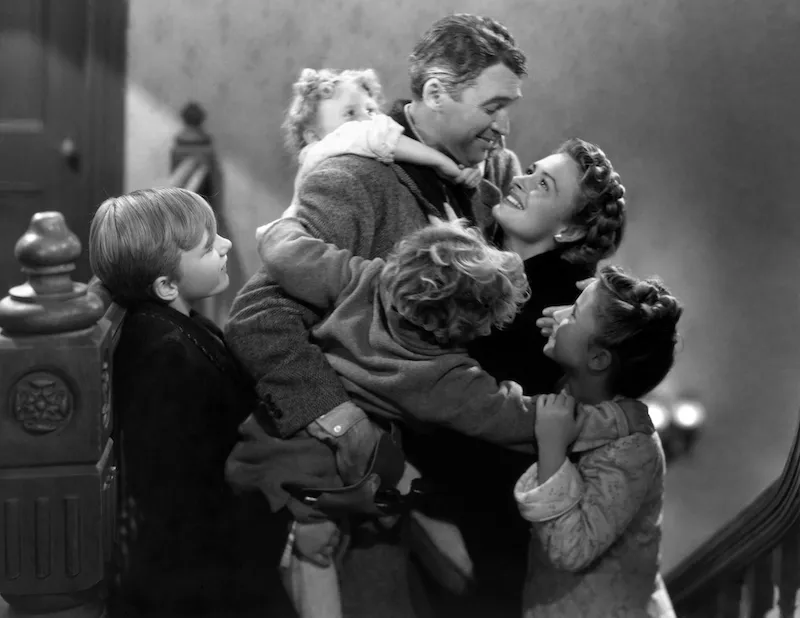 We chatted to BA (Hons) Television Production programme director Mike Rymer, and senior lecturer Katarina Sengstaken about the festive flicks that really invoke the season.
The Muppet Christmas Carol – This is a festive romp through a classic adaptation of Dickens - and in a world of remakes, this is one of the best. It is apparently one of the truest adaptations of Charles Dickens' classic Christmas tale, and Michael Caine is one of the best Scrooges to grace the screen. The 1992 film was the directorial debut of Brian Henson (Jim Henson's son) and the first film released after Jim Henson's passing in 1990. The juxtaposition of genres from horror through to joyous period piece intertwined with goofy muppets makes this a must watch every year. Excitingly, this year the once thought lost scene featuring the song "When Love is Gone," was found by a Disney archivist and has been added to the version on Disney+, so even if you have seen it before, there's now a little extra bit of muppet magic!
It's a Wonderful Life – The Christmas classic that almost never was, and through failure became a success. Frank Capra's 1946 film featuring Hollywood A-lister James Stewart as a businessman who wants to end his life after some bad deals, was supposed to be a box office success for the studios but ended up being a huge dud. It was nominated for five Oscars, including Best Picture, and Liberty Pictures had hoped that the film would help it into the black, but it instead plunged the studio into bankruptcy, and ended the director's career.
The film's story could have ended there, and it could have sat in the back of some film archive, but because the renewal of its copyright protection lapsed in 1974, it fell back into the public domain, where TV networks could air it for free and onto VHS cassettes without costing a penny. In the 1990s it was broadcast for 24 hours on repeat on American Television networks to fill airtime on Christmas Day, and as such, people started associating the film with Christmas and has become part of the popular lexicon with lines such as, "every time a bell rings, an angel gets its wings!"
Edward Scissorhands - With the recent success of Wednesday, breaking Netflix's record for most hours watched in a week, the time is ripe to revisit Tim Burton's back catalogue. This master of Gothic Fantasy wrote and produced the notable stop-motion animation The Nightmare Before Christmas (1993), but our pick is the earlier Edward Scissorhands (1990). Burton wrote and directed this commentary on consumerism and social conformity in US suburbia. Edward, played by Johnny Depp, is constructed with scissors for hands and feared for his difference. Banished to his maker's mansion he turns his 'hands' to sculpting ice, providing a flurry of festive snow beneath which Winona Ryder dances in one of the film's enduringly iconic scenes.
Tokyo Godfathers – you may not associate anime with classic Christmas movie fayre but this 2003 Japanese movie, based on the 1948 American film 3 Godfathers, might be a new international classic to add to your list. It follows the fortunes of three homeless people who find an abandoned baby among the rubbish. And with a 91% critic and audience score on Rotten Tomatoes, the consensus is that this Christmas animation is worth the watch.
Elf - Another fish-out-of-water is Will Ferrell's oversized Buddy the Elf, who journeys to New York city to find his father in this 2003 comedy, directed by Jon Favreau. Full of fantastically festive set-pieces, it brings seasonal magic together with heart-warming hilarity. Fun for all the family.
Little Women - This delightful 2019 retelling of Louisa May Alcott's novel won both the Oscar and BAFTA for its costume design. Saoirse Ronan and Florence Pugh received nominations from both academies for their performances in an all-star cast that includes Emma Watson, Meryl Streep and Laura Dern. Among the men supporting this female tour-de-force is Timothée Chalamet and watch out for Breaking Bad and Better Call Saul's Bob Odenkirk. The story's fluid approach to time is written and directed with skill by Greta Gerwig (Lady Bird), taking in a number of wintery holiday scenes in this technically and creatively accomplished film with sumptuous design.
Joyeux Noel – Not many Christmas films attract the attention of the major awards but this retelling of the Christmas Truce of 1914, from the perspective of French, German and British soldiers, was nominated for Best Foreign Language Film by the Oscars, BAFTAs and Golden Globes. It's a touching film, capturing a rare moment of humanity in a brutal war.
New in 2022
Every year brings a clutch of new Christmas films to enjoy and 2022 is no different. There's comedy-musical Spirited on Apple TV+ with Ryan Reynolds and Will Ferrell, or for a gory mix between Die Hard and Home Alone, check out Violent Night, with David Harbour. And, if you just need that extra Marvel fix, then the Guardians of the Galaxy Holiday Special on Disney+ provides a 45-minute dose of your favourite heroes attempting to kidnap Kevin Bacon.