Through the eyes of...
a Fashion Atelier student
We've been asking our students about their UCA experience and what they get up to in a typical day, to show you what it's like to study here. This week, meet Tim Dodd, who spoke to during his final year of his BA (Hons) Fashion Atelier degree and has big plans for his future!
05 Aug 2022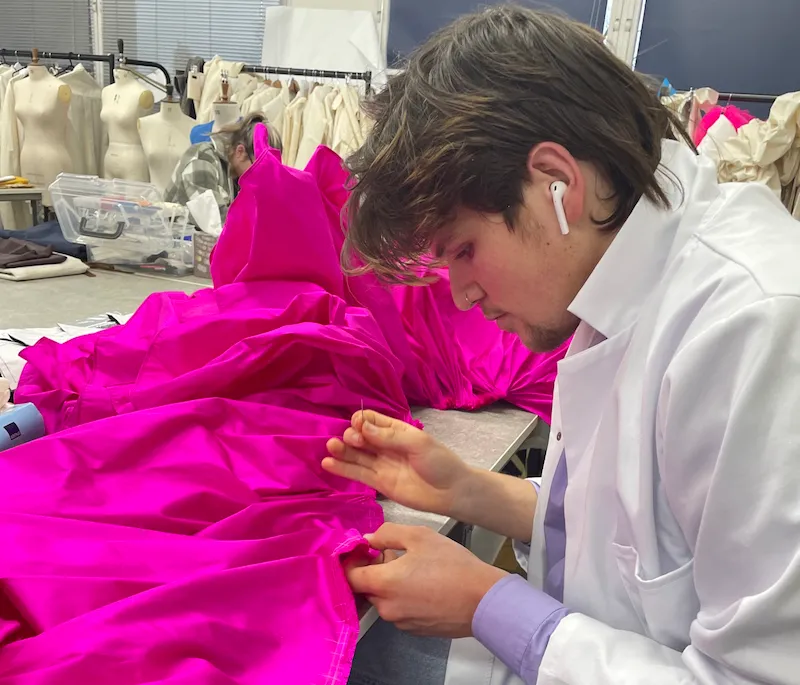 "Hi! My name is Tim and I'm currently in my final year studying the one-of-a-kind, Fashion Atelier course.
"When looking at prospective universities and courses, it was important I found a course that tailored to all my wants and needs. I have a strong interest in couture and bespoke fashion, along with the aspiration to one day create my own brand. I discovered UCA and the Fashion Atelier course and immediately fell in love with it. The extensive detailing of the course – learning bespoke tailoring techniques, taught by tutors directly from Savile Row, discovering new ways to drape elegant gowns and learning other key skills such as corsetry and shirting, were all standouts to me and set apart UCA and the course from other Universities I had looked into.
"A typical day on campus begins around 9.45am. I head to campus and straight to the designated third year base-room, which we are very fortunate to have – allowing each third year to have their own space to develop, design and create their final collections. I will begin working on current garments that need developing/finishing – whether this be altering patterns, hand-sewing, machine sewing, basting, cutting, draping – the list is endless! I take my lunch break at 1pm, socialising with my fellow classmates, taking a nice break away from our work. At 2pm, I start again, carrying on with my work and if need be, asking for help from the amazing set of tutors on hand. Normally, my day would finish around 5pm and I would walk back home, yet some days I have been known to be in the studio until 8pm, preparing garments and fabric ready for the next day."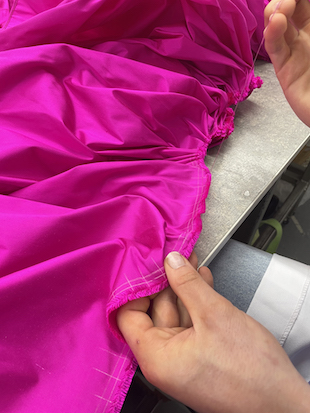 "One of the main things I recommend to future students when choosing the right course and university for them is that they feel comfortable where they are and feel as if they are going to enjoy the next three years in that specific place. When I stepped into UCA, it felt homely, and I immediately knew I would feel a part of a community here and enjoy the next three years.
"My favourite UCA memory has to be gaining my Atelier White Coat with my fellow classmates. It's almost an inauguration ceremony. Gaining your white coat means you've officially made it to Third Year and is a symbol of the atelier – almost your uniform!
"The piece(s) of work I am most proud of since joining the course are definitely the garments I made throughout the Flou Project in second year. The Flou explores how the use of bias can be used within garments and I challenged myself to create two dresses, exploring the theme of Tarot. The dresses were a labour of love yet I was so happy with the outcome of them and managed to develop my skills. However, I am also in the middle of curating my final collection and, well, I am very proud of it.
"After I graduate, I have the ambition to travel out to Paris and hopefully work in a couturier, learning key skills and further developing my own skillset. In the future, like mentioned, I do aim to open my own brand, creating the "Timothy Dodd" experience and presenting at Fashion Week. My one goal is to dress Lady Gaga – she is my icon and role model in life – I won't stop until then.
"The one thing no-one told me before I started University - how expensive circuit laundry is! (Bit of a side note – washing your pants and socks in the sink works just as well. On another note – my go-to-meal when cooking at University ranges. I have recently been obsessed with making stews – there so simple and you really can throw whatever you want in them! I also LOVE Ramen! Put a hard-boiled egg on top and voila – we're cooking fancy!"
"To conclude my little blog post, the biggest lesson I've learned at UCA is to never give up. As tough is times might get, deep down you always have the determination and mind space to carry on. I've also learnt to give myself more time for myself, learning when I need to give myself a break, go grab a Starbucks, have a laugh and then carry on."
If you're interested in finding out about our BA (Hons) Fashion Atelier & Tailoring course - or any of our other creative courses - check out our dedicated page.