Support and friendship
help Umma find her place
Being an international student is an exciting, but daunting experience, especially if you're going to a new country! But thankfully, the UK is a melting pot of people and opportunities – so you'll be feeling at home in no time. We've been chatting with five of our international students to find out more about what it's like to study at UCA when you're from overseas.
11 Oct 2022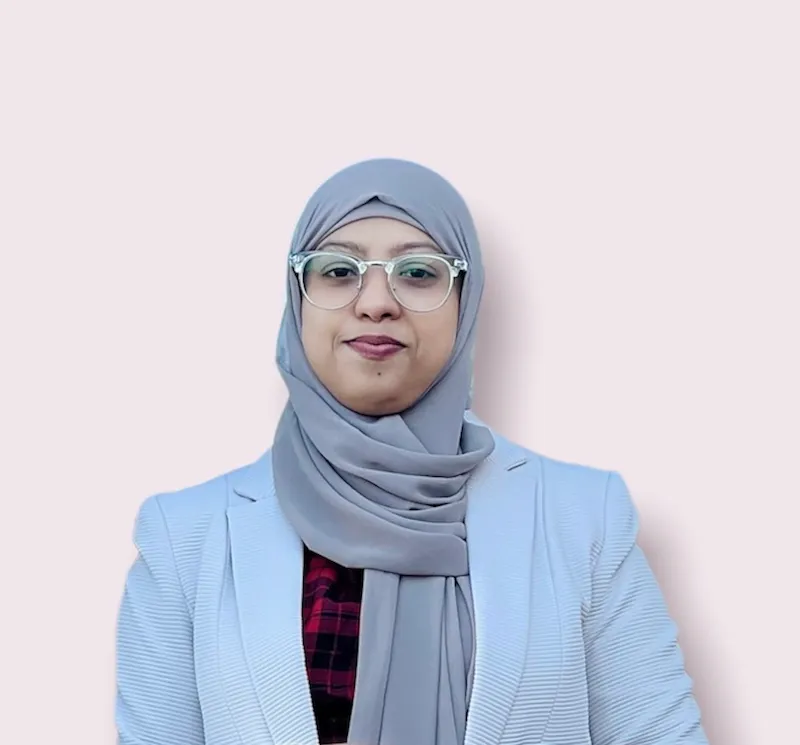 In the final instalment of our series, we asked Umme Salma, picture above, who travelled from Bangladesh to study MSc Global Marketing and Communications at UCA Epsom, to tell us about her experience studying here.
"My university experience so far has been amazing. I have learned and experienced so many new things in such a short period of time and developed good relationships with both classmates and teachers.
"The UK is an exciting place to study and build a career in the creative industry, and UCA is not only one of the largest specialist creative arts universities in Europe, but it is so close to London, which helps me with building contacts and gaining industry experience.
"Life at UCA is all about creating, collaborating, and sharing incredible experiences. However, when I started my time at UCA, I felt I needed some support to help get ahead in my studies and social life, as everything was so new for me. I was delighted when I heard about the Students' Union (UCASU) and how they to help make your UCA experience even better - supporting you, representing you and providing awesome social opportunities.
"I have always interest in exploring new culture, and people from all over the world live here in the UK. It is the same for UCA – it has such a vibrant international community, and diversity is important in all aspects of learning. I do miss my homeland, my family and friends, but studying in a different country has forced me to be more open to new surroundings, to new people, and to a new culture.
"Coming to UCA on the global marketing and communications course has been the best decision for my career, and I've had so much fun living here and making new friends. The course is popular because a career in marketing appeals to a lot of people – plus every company or brand needs a marketing team so there will always be a demand for skilled marketing graduates!
"For my course and some others, you can also choose an area of industry to specialise in, including fashion, fine art, luxury, beauty, and games. This means I have been able to gain a deeper understanding of the sector I want to work in and, I think, gives me a springboard into my dream career.
"The course is challenging, and it can be very difficult at times, but my tutors are very happy to help and answer questions in person or via email, and that's a big part of what kept me going. This course also taught me about teamwork, leadership skills, professionalism, and the right attitude for dealing with various kinds of projects. I really enjoyed my final project, which taught me how to create value for myself at a strategic level and many more. Even during term time, I got opportunity to attend seminars, where many successful entrepreneurs shared their career journey, in-depth knowledge, and experience. I attended various sessions and events which helped me a lot to progress my own plans, and now I can look forward to expanding my knowledge, and preparing for an eventual career within the marketing, PR, and advertising industries.
"My advice to anyone thinking of coming to UCA to study is to just make the most of your course's opportunities, as well as all the opportunities UCA gives you – it's all valuable experience you won't regret. Just put in the work and you'll get loads out of it."
If you're interested in studying at UCA as an international student, visit our dedicated page to find out more.