Rachel has designs
on tackling hunger
Discovering the rising levels of local food poverty brought on by the Covid-19 pandemic prompted Rachel Carabine-Clarke to reimagine an iconic Canterbury building to offer a solution.
12 Aug 2021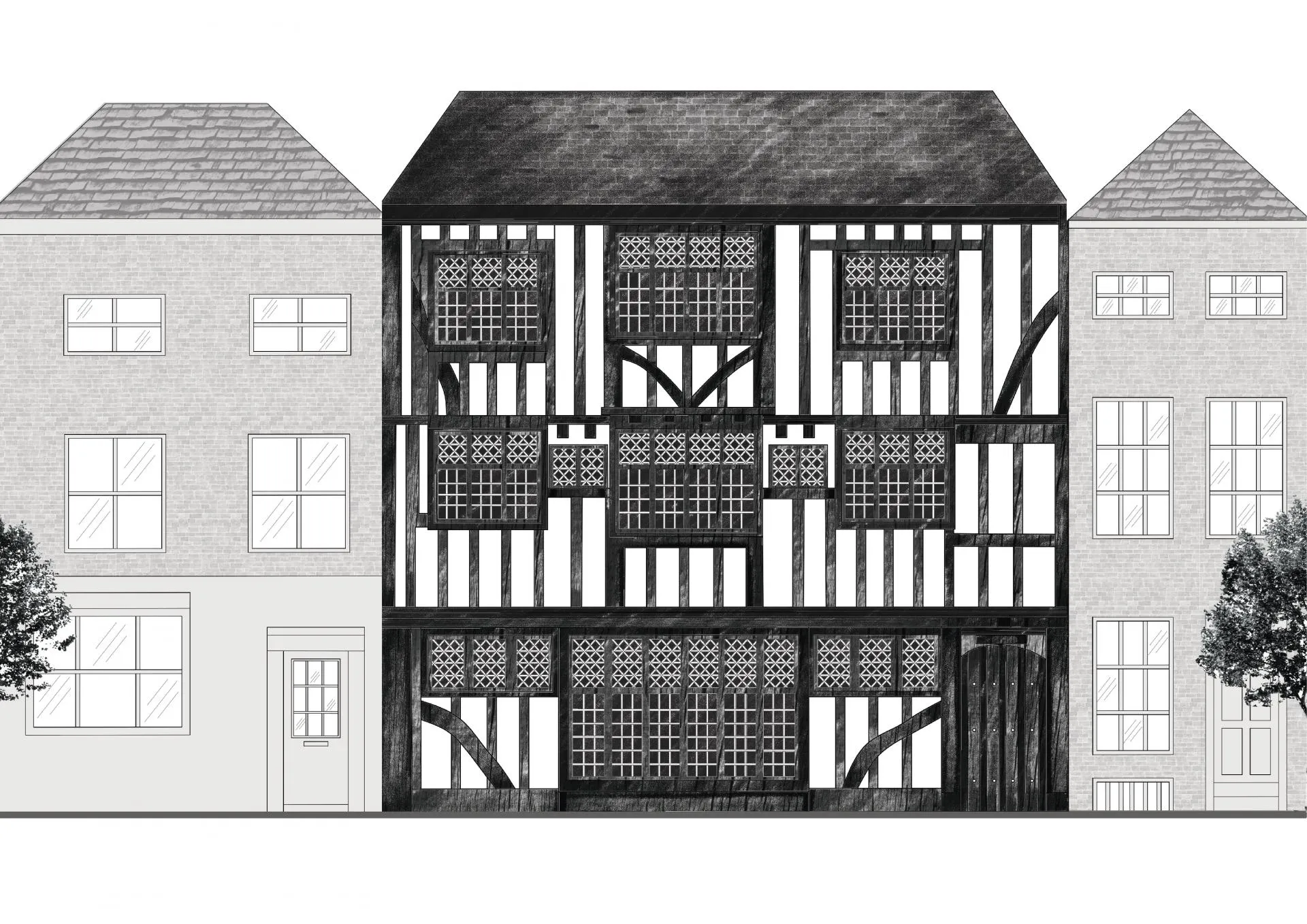 "Of all the problems that arose from the pandemic, one that really stuck with me was food poverty," says UCA Canterbury Interior Architecture and Design graduate Rachel Carabine-Clarke. "I researched the areas local to the university – including Margate and Thanet District, Folkestone and Hythe and Dover – and was shocked to see how many people were suffering. I wanted my proposal to help tackle this, and to create a safe community in the local area."
Rachel's response is the Conquest House Project, an idea that centres around a community-based in the medieval building of the same name that stands in the middle of Canterbury city centre, dating back to 1107.
"The initial idea came from a group project to create a pack containing ingredients and instructions on how to make bread," explains Rachel. From there, she and her classmates developed a brief that focused on lockdown and the future of hospitality in a post-Covid world.
"My response to the brief is based around the narrative of a Conquest House Society - a safe space where people experiencing poverty and the after-effects of lockdown, such as loneliness, could come for support without prejudice or societal status," she says. "It would also be somewhere they could learn to mill flour and bake bread. The society creates jobs by selling the bread to the public at its in-house market, with funds going back into the community to tackle food poverty."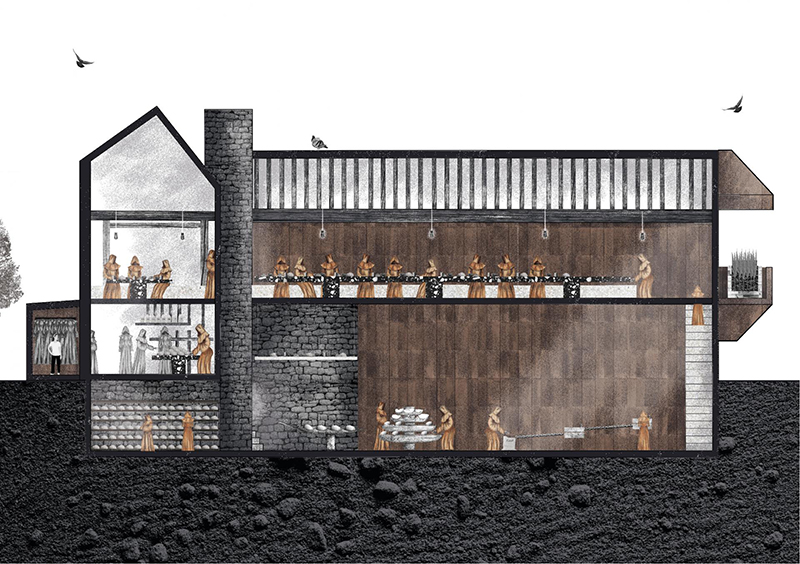 Rachel's design includes large tables for the community to sit around while eating and socialising
Inspired by the history of this iconic structure, Rachel's design features a banquet floor with benches built into the walls and large tables designed for the community to sit around while eating and socialising. She also designed bespoke furniture to assist with the bread baking process, including a flour milling machine, a table for mixing ingredients and kneading dough, a table to punch out air from the dough and an oven peel to place dough safely in the oven.
"As the building I was developing is Grade II-listed, I kept a lot of the existing features such as the timber, roof beams, stone walls and Tudoresque façade," she says. "I also wanted to use contrasting, contemporary materials, such as terrazzo and weathered steel, to create interesting combinations, marrying the old and the new.
"The terrazzo is used for the benches, tables and flooring and gives the building a more modern feel, and the contrast is seen mainly in the side sections, where the new design introduces a 10-metre extension."
"As a designer who's interested in narrative, I really enjoyed this project. Although it's theatrical, it has a very real and important meaning behind it. I'm proud of its uniqueness, and the fact that it tackles a problem that affects far too many people."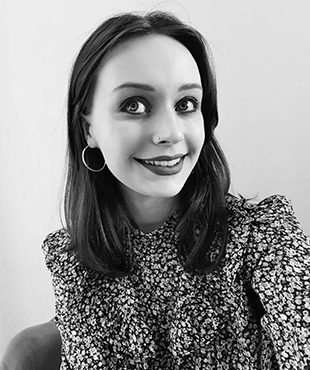 Before coming to UCA, Rachel studied A-Levels in Art, English Literature and Classical Civilisation before completing a Foundation Diploma in Art and Design at UCA Rochester.
"After my foundation, I studied fashion design at UCA Rochester for a year," she says. "It was a great course, but not right for me, so I switched to Interior Architecture and Design. I've always loved visiting heritage sites and found myself inspired by the interiors. My love for the subject was always there – it just took time to realise that this was what I want to do."
"This project has a very real and important meaning behind it. I'm proud of its uniqueness, and the fact that it tackles a problem that affects far too many people."
"The thing I love about interior design is that you are giving new life to a space. We spend so much time inside buildings, and they can have a huge impact on how we behave and feel. Designing something that makes a difference is really rewarding."
Rachel's next goal is to complete a Master's Degree in a related field, before gaining more industry experience. "In the future, I'd love to freelance and start my own studio," she says. "I am very excited about the adventure ahead!"
You can find more work by Rachel at @rachel_cclarke_designs on Instagram and see more from the UCA Class of 2021 at gradshows.uca.ac.uk