Making it as a designer -
UCA alumni's top tips
Graphic designer Greg Findley graduated from UCA 14 years ago and, after a long career as a freelancer, has set up his own agency. We chatted to him to find out more about what it's like as a freelancer, and how to make it as a graphic designer.
26 Jan 2022
Hi Greg, thanks for sharing your experiences with us. How was your UCA experience and what skills did you gain that you perhaps still use today?
"I studied Graphic Media at the Maidstone Campus. I think both the course and campus are now defunct, which certainly makes me feel old! I thoroughly enjoyed my time at UCA though. The course was designed to be vocational, so there were a lot of practical elements to the coursework. I was very fortunate that my portfolio from UCA helped me land a junior designer role at a local agency, the same summer I graduated.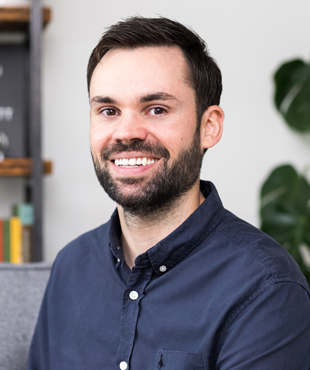 Greg Findley
"I think the single, most valuable lesson I learned was to focus on ideas on paper first. A blank page in your sketchbook can be daunting after receiving a tricky brief, but it's often the most important step in the design process. Getting your initial ideas down quickly, no matter how bad some of them might be, really helps to bring clarity to your thinking."
You were a freelancer for a long time, can you tell us more about that?
"Following a year with an agency in Ashford, I decided to go it alone as a freelancer. I freelanced for 12 years, working for clients as varied as billionaire businessman John Caudwell to the RAC in Australia.
"Working with a wide range of clients and budgets over the years, I learned my favourite projects were for startups and entrepreneurs, where I could work directly with the owner/founder. Being able to have that direct relationship was the best thing about being a freelancer - there was no middleman and I could really share in their passion for the business."
What drove you to set up your agency and how is it all going so far?
"The agency, Mantra, started in April 2021 with the goal of creating a small team to work on exciting projects together. For the moment, that's in the form of online collaboration with freelancers, but I hope Mantra can start an in-house team this year. We got off to a great start, the launch coincided with a lot of people getting back to work following the lockdowns, so I think there was some pent-up demand for creativity.
"Another ambition I have for Mantra, is to give back to meaningful causes each year. We are planting 250 trees for each new website we launch (through Ecologi) and we'll soon be offering a free website redesign and development to a local charity each quarter."
What do you find are the main challenges facing the design industry today?
"I think it's communicating value to clients. The growth of low-cost freelance marketplaces, online publishing tools, and a greater focus on the analytics of marketing, mean it's more important than ever that clients know why good design is so valuable.
"It can transform the narrative of a brand to its potential customers, can lead to a change in company culture and can deliver a return on investment beyond the numbers."
What advice would you give to design students who are seeking a career in the industry?
"My biggest tip for getting into the industry is to focus on your ideas. How you generate ideas, how you refine them, and how you explain your thinking behind your design decisions. Anyone can learn the software and tools, but I like to think that ideas are a precious commodity unique to the individual. If you can show a potential employer that you're full of creativity and enthusiasm for any design brief, you will have a great chance of being hired.
"For freelancing, my tip would be to create case studies showing how your work has helped the client fulfil their brief beyond the aesthetics. With more and more cheap design tools (like Canva and Squarespace) launching each year, clients can often get a simple design together themselves. If you can communicate your added value to the clients' business, and how hiring you impacts their bottom line, you are sure to be in demand."
To find out more about our Graphic Design courses, see our course pages.