There is something about clay that is deeply familiar," says Professor Simon Olding, reflecting on his longstanding love affair with pottery.
"It forms part of our daily round, as it has done for millennia. There is something about its permanence, its adaptability, its approachability and its ability to be used both functionally and metaphorically."
Over the past 19 years, as Director of the Crafts Study Centre at UCA Farnham, Olding's interest in British studio pottery, in particular, has been brought into sharp focus.
But the origins of his passion can be traced back to his youth in Exeter. It was there, in the 1960s, that he first became acquainted with the work of English potter Bernard Leach, a man regarded as the Father of British studio pottery.
"Quite often I would find myself going to the exhibitions of the craftsmen at the Devon Guild of Craftsmen in Bovey Tracey," recalls Olding, who has since served as a Trustee and then Chair of The Leach Pottery. "I was in the terrain of the Leaches through my proximity to Dartington [where Leach made pottery between 1932 and 1940] — David Leach's [Bernard's eldest son, also a potter] Lowerdown studio was just up the road, and The Leach Pottery in St Ives was not that far away."
Championing Pottery
Olding began his professional career doing voluntary work in the local Exeter Museum, where he researched modern craft and ceramics before heading to Fitzwilliam College in Cambridge for his undergraduate degree in English literature and on to the University of Edinburgh for his PhD. Since then, he has spent his career either working directly with art museums or associated organisations — he was Director of Policy and Research at the Heritage Lottery Fund, and, before that, Head of Arts and Museums at Bournemouth Borough Council.
In 2002 he took up his position as Director of the Crafts Study Centre in Farnham, Surrey, where his passion for British studio pottery has been channelled into exhibitions, books, papers and essays that have helped to develop scholarly and public understanding of important ceramic artists, past and present.
Olding has curated exhibitions on ceramic artists including UCA Chancellor Magdalene Odundo, Richard Slee, Emmanuel Cooper, Takeshi Yasuda, Nicholas Arroyave-Portela, Bernard Leach, Ladi Kwali, Nao Matsunaga and Michael OBrien.
He has also written numerous essays for the international magazine Ceramic Review, sharing his research with an interested, non-academic, audience.
"It's clay's everyday-ness, its ordinary-ness, as well as its artistic potential and possibilities, that fascinate me," he explains. "It straddles everything from the finely made plate that you might have on the dinner table, through to conceptual and installation work."
Things of Beauty Growing
At the heart of Olding's extensive body of research are the major exhibition and book Things of Beauty Growing. This critically acclaimed showcase tells the story of studio ceramics in Britain, from the 1920s to the present, through the evolution of the vessel form. It opened in 2017 at the Yale Center for British Art in New Haven, Connecticut, USA, and later moved to the Fitzwilliam Museum in Cambridge, England. Olding describes it as "a huge long-term project — but a very, very exciting one".
Olding co-curated the show with curator and writer Glenn Adamson (currently a professorial fellow at UCA), and the Yale Center's Deputy Director and Chief Curator Martina Droth. "It was an innovative move for the Center because they had never had a show of British studio pottery before," remembers Olding. "We think it was probably the most comprehensive show of British studio pottery in America ever, which was a remarkable thing."
The Things of Beauty Growing exhibition attracted a total of 67,203 visitors in its showings in the USA and UK and was accompanied by a major Yale publication co-authored and co-edited by the three curators with contributions from other important figures in the field.
The book, which Olding describes as a "kind of testament to the show that lives on once the pots have been packed up and sent back home", was recognised with two prizes: the 2018 American Ceramic Circle Book Award, and 2019 Historians of British Art Award.
The ripple effects of the show have been long-lasting, and it continues to inspire new work further afield. Inspired by Akiko Hirai's Moon Jar in the Yale exhibition, American glass artist Andrew Erdos made a new series of Moon Jars during a residency at Alfred University, and these new pieces have been exhibited at The Chimney and John Hardy galleries in New York.
For Jennifer Lee, involvement in Things of Beauty Growing contributed to the award of the prestigious Loewe Foundation Craft Prize, which recognises artists' talent and 'fundamentally important contributions to the development of contemporary craft'.
A new era
"I think Things of Beauty Growing was one of those exhibitions that helped to create a landscape for what is now a continued and strong interest in British studio pottery," reflects Olding. "Ceramics are a really vital creative movement, and I think that's reflected by the significant numbers of people making pots, and reflecting on their value and importance as cultural artefacts, as well as domestic ones. The presence of clay is important for life, really."
Despite the pandemic, Olding managed to curate an exhibition of little-known two-dimensional works by Bernard Leach and publish an accompanying book in 2020. Titled Bernard Leach: Discovered Archives, the show was inspired by the Crafts Study Centre's 2019 acquisition of a previously unknown collection of the British potter's early works on paper.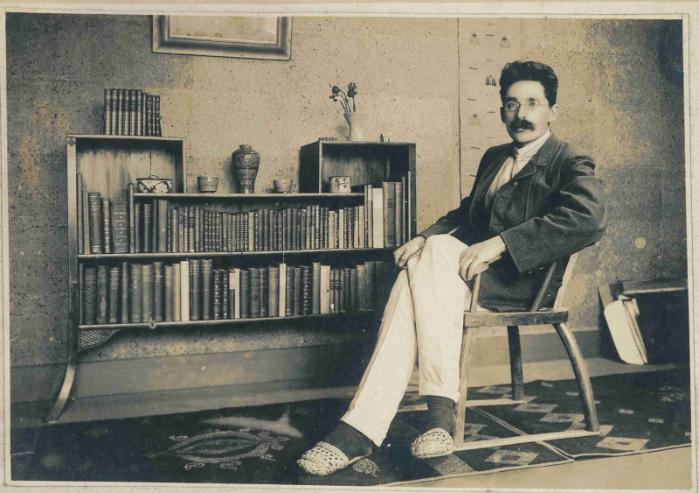 The exhibition was held at the Crafts Study Centre in October last year during Farnham's Craft Month — an important component in the branding of Farnham as a World Craft Town. Olding is now working with the Mashiko Museum of Ceramic Art in Japan to create an exhibition based on the archival material, which includes etchings, drawings and paintings that are rarely seen in public.
Going forward, he is hopeful that the Crafts Study Centre can reopen in April and begin to welcome back its much-loved community.
"It's not impossible to operate online, but I think it's a poor replacement for sitting together in a room and not just seeing and hearing, but having a sense of the humanity of the person who is talking about their practice," he reflects.
"We like to think of the Crafts Study Centre as a citizen of Farnham, so to speak. It's a very specific museum with a very specific purpose; we are a university museum of modern craft, we have a sort of uniqueness in that respect — but we see ourselves just as equal partners with all the other arts and crafts organisations situated in Farnham.
"Our strength is due to our participatory activities and our togetherness and that's a long-term project; it's about engaging people's interest in the field."