International applications –
your questions answered
Are you applying to us as an International Student? Find answers to the most common questions from students in your situation.
01 Aug 2023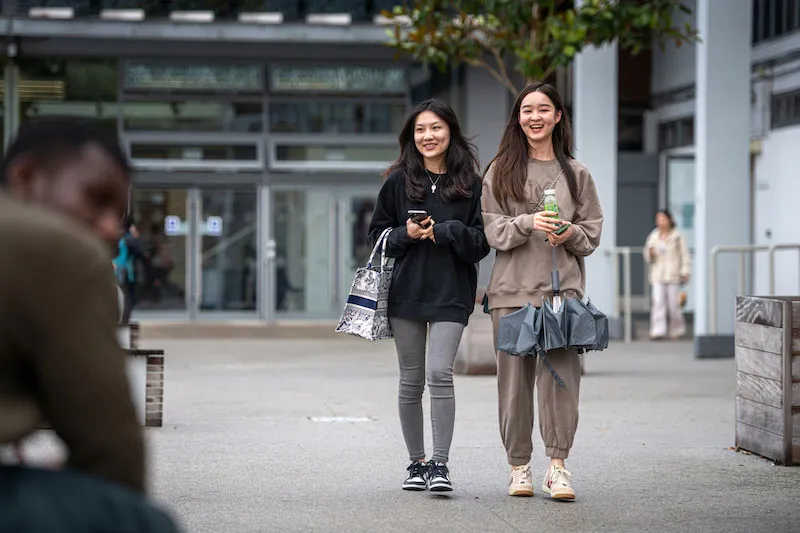 Applying for a place at university can be a little daunting – especially as an international student who plans to relocate for your studies.We know you will have a lot factors to consider, and a lot of questions!
Below we have brought together the questions we receive most often from International applicants, with answers from Isha Gurung, International Admissions Officer.

We hope to see you in the new Academic Year!
How can I apply?
As a prospective applicant, there are two different ways to apply to UCA:
For undergraduate courses, you can apply directly via UCAS – this is a centralised system that allows you to submit a single application to up to five different UK universities. Please note that a fee (£27 for September 2023 entry) will be charged by UCAS. You can find more information about this on the UCAS website.


For all undergraduate and postgraduate courses, you can apply directly to UCA for free via our website. Please find your chosen course page and select the 'Apply Now' option to apply directly, using the online application form. We have more guidance on this on our dedicated international applications page.
Once we receive your application, you will receive a unique UCA Student ID number. Tell us this number in any enquiries (email or telephone) so we can identify you.
Next, you will need to create an account on the UCA Applicant Portal. This is a place where you can upload any documents we may need to review for your application. Documents we might need to progress your application include: your certificates, transcripts, English language tests, CV, references and/or your portfolio of work.
How can I get my CAS letter?
A Confirmation of Acceptance for Studies (CAS) can only be issued a maximum of six months before the start of your course. We cannot give you a CAS until you meet all of the following conditions:
You have an unconditional offer to study at UCA
You have firmly accepted your offer to study at UCA
You have paid your deposit. The deposit amount will vary depending on where you are applying from - this value can be found on your offer letter.
Once you have met these conditions, you will be contacted by our partner Enroly to create a CAS Shield profile online. To do this, you will need to fill out a questionnaire. You might be asked to provide other documents, like bank statements.
When will I get my CAS letter?
It can take a significant amount of time to complete the CAS issuing process after you have applied, so it is important to act quickly.
We strongly encourage you to pay any deposit/tuition fee payments and upload any requested information as soon as possible. This will create more time for us to process your CAS and for you to apply for a visa before the term starts.
Please note: Your CAS number will be emailed to you - you will not receive a physical letter. When applying for a visa with UKVI, only the reference number generated must be presented.
When/how can I pay my deposit?
You can pay a deposit towards your tuition fees when you have a conditional offer - you do not need to wait until an unconditional offer is issued. You can find out more on our fees and finance page.
As an international student, we advise you to pay your tuition fees in full before you enrol. Depending on where you are from, you might be asked to pay all or 50% of your fees before you get your CAS number.
There are advantages to paying early and/or in full. This includes an Early Bird Discount, or a 4% full fee payment discount on your tuition fees.
You can pay your fees by bank transfer using our secure bank transfer portal, which allows you to pay in your local currency with a favourable exchange rate compared to most banks, and no transaction charges. You can also choose to pay by credit or debit card using our Online Payment System.
What scholarships are available to international applicants?
For the full list of UCA scholarships available to our students and to check if you are eligible for these, please refer to our scholarships page.
You may be able to secure further scholarships or bursaries – although these might be external to UCA, so you will have to research them independently.
You cannot combine two UCA scholarships.
Scholarships may be awarded based on your nationality or country of domicile. Criteria varies between scholarships ao please read the conditions for each scholarship on our website. Our colleagues in the finance department can help with any questions: just email internationalscholarship@uca.ac.uk
What are UCA's entry requirements if I didn't study in the UK?
Like all higher education institutions in the UK, we must follow UK government guidelines. This means all applicants to UCA need to have certain levels of academic qualifications and English language skills. You will need to provide evidence of these before you can be accepted by UCA – we cannot issue an unconditional offer and a CAS number (for you to apply for a student visa) until we receive proof of your qualifications. Visit our international entry requirements page to see what's required for your country.
Can I apply without an IELTS, and do you accept Medium of Instruction Letters (MOI)?
An IELTS is the most widely accepted English test for admission to UK universities but is not the only one. Some examples of commonly seen English tests include the PTE, TOEFL and LanguageCert and there are more on our English Language Requirements page.
Medium of Instruction Letters (MOI) confirming the instruction and assessment of teaching for English may be considered for certain courses depending on where and when you completed your studies.
Unfortunately, we are unable to accept MOI from South Asia for our postgraduate business courses.
How much will my course fees cost per year?
You can find full tuition fee information on our fees and finance page. The costs vary depending on the level of study you're looking to undertake.
I have a different question: how can I contact you?
For any other questions, you can always contact us at internationaladmissions@uca.ac.uk