Inspired by art and design –
Mariana's international UCA story
Studying a creative subject in the UK is a great opportunity to learn from some of the best in the field, alongside getting to sample British culture, food, history, and countryside. So, it's not a surprise that students from more than 90 countries come to study with us at UCA. We chatted to five of our undergraduate and postgraduate students to find out what its like to come to the UK and study.
12 Sep 2022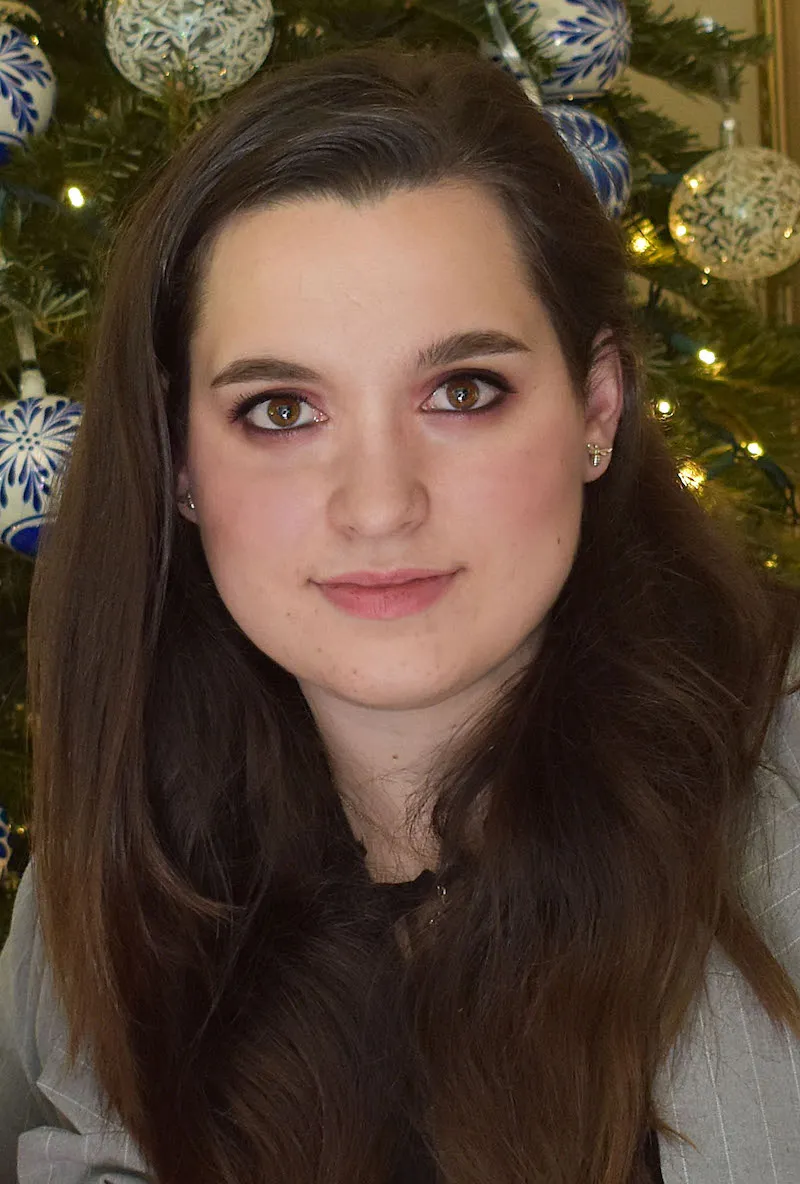 In the second of our series, we spoke to second-year BA (Hons) Fashion Design student Mariana Maass Diaz Lozano, from Mexico, about her experience so far.
Hi Mariana, nice to chat with you! What made you decide to study abroad, and choose the UK?
"Moving to the UK was a very easy step for me. I studied at a COBIS certified school in Mexico, so I had the opportunity of receiving a multicultural education. After interacting and learning about different cultures (particularly British culture) it felt like a very natural next step to continue my education abroad.
"I was drawn towards Europe because of the immense access to art and design. In my case, I was so excited about travelling. Instead of sitting on a plane for ten hours, I'm now so much closer to Paris and Milan. I have so much more access to art, and that helps me grow and find inspiration.
"I love the art and culture here in the UK. There's so much to draw inspiration from – especially the Victoria & Albert Museum, where I spend a lot of time! Also, I've found some magical places by hopping on a train and exploring.
"The diversity here is amazing as well."
And why did you choose to study Fashion Design at UCA?
"I did a lot of research, and I loved that UCA was so focused on art and design. Before coming here, I studied Makeup Design for Film and Television in Vancouver Film School. From that experience, I realised I loved having the chance to collaborate with other creatives within the same industry. UCA has that same dynamic, you have the chance to collaborate countless students.
Another wow factor for me was UCA's facilities – they're huge and up to date with the latest technology."
How did you find your move to the UK and how did UCA help?
"I moved during the pandemic, so that added a bit of stress to the situation. Nevertheless, settling in was quite easy. The accommodations team at UCA were really understanding and helpful, which made things a lot smoother, and the Uni Kits they recommended were so useful.
"The UCA webinars were incredibly helpful with preparing for the big move, too. And if you had any issues, the UCA international team can answer any questions about the process of applying, visa, moving and so on."
What do you miss most about your home country?
"I'm very close to my family, so being away from them is hard at time. I miss the food – being so far away from home makes it a bit hard to find ingredients or restaurants with authentic Mexican food. And probably my language – sometimes I miss speaking Spanish!"
You're mid-way through your Fashion Design degree – how are you finding it?
"Working with the tutors is amazing. It is so interesting to see them work and to hear their lectures. I really enjoy bouncing ideas with them because they are always truly helpful and constructive. Tutors often have interesting ideas or takes that you haven't thought of.
"The teaching modules are very well structured. I feel like things get progressively harder, but it never feels disjointed to what you get taught in the lectures. Everything is introduced smoothly and just in time for you to use it on projects.
"It's a very project-based course, and all the lectures link together so you can create work that applies to everything. This is one of my favourite things in the course because it always feels like you are working towards one goal with different components that make it come alive."
How do you find the facilities available at UCA?
"I love the facilities here – they're enjoyable to work in and are always up to date. The library is also open during weekends which really helps with staying on top of your work."
What are the key skills you've learned during your course, so far?
"In my course I have learned so many skills - sewing, pattern making, draping as well as Adobe Photoshop, InDesign and Illustrator. With each project, I have also learned perseverance, patience, communication skills, time management and problem solving."
Finally, what are the benefits you've found studying at a specialist creative arts university?
"I would say that the biggest benefit would be the chance to collaborate and network between courses. The amazing thing about this is that by working together, we all have the chance to produce amazing content for each of our portfolios, and build relationships for the future, too."
If you're interested in studying at UCA as an international student, visit our dedicated page to find out more.