You called we came — how Windrush inspired Tihara's style

The story of the Windrush Generation inspired UCA graduate and designer Tihara Smith to produce a stunning final collection — which two years later is still shaping the way she designs and makes.
17 Jul 2020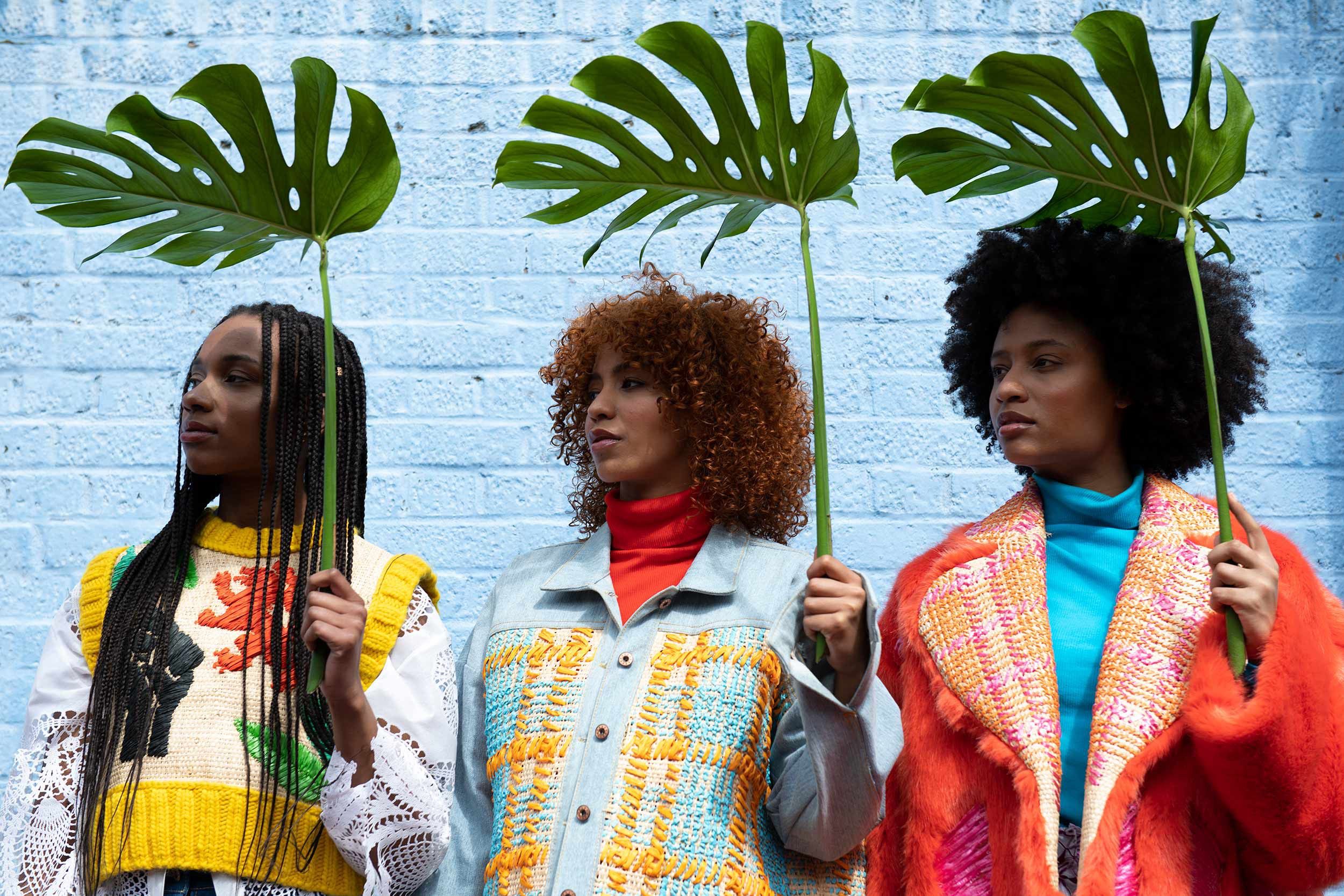 South London-based Tihara studied at UCA Epsom between 2015 and 2018, and when challenged to come up with a concept for her final project and collection, found the spark at an exhibition at Tate Britain, called Stan Firm Inna Inglan: Black Diaspora in London. This photographic exhibition with work by photographers like Neil Kenlock and Raphael Albert looked at Black society in London during the 1960s and 70s. These striking images, together with the experiences of her grandparents, arriving from the Caribbean 1950s and 60s, provided the backbone of her work.
As it happened, while she was working on her project, the Windrush scandal began to make news headlines.
"I wasn't necessarily intending on it being 'political'," she said. "I was just excited to create work that reflected my heritage and identity and celebrated the Caribbean. Towards the middle of my third year, the Windrush Scandal started to be reported on the news which added a political edge to my work, so I did want to make some statements in my work at that point with slogans like 'Black and British' and 'You Called We Came', in support of the Windrush Generation. But overall, I just wanted to create work that highlighted the positive contribution of the Windrush Generation, like my grandparents, and celebrate the islands of the Caribbean."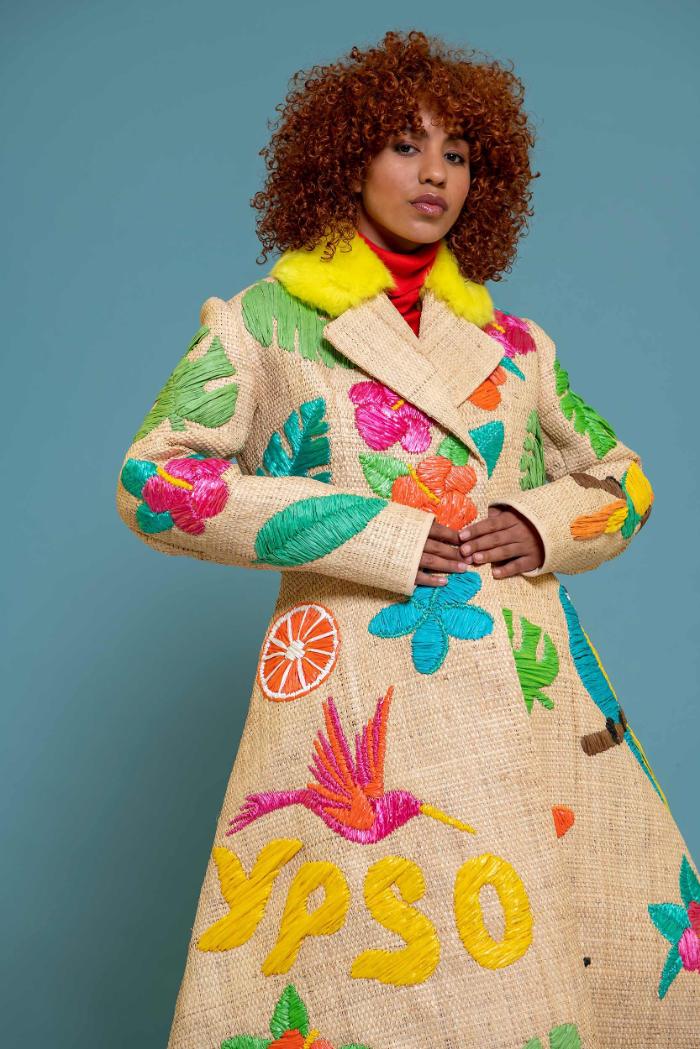 For Tihara's designs, she took inspiration from the clothing worn by people photographed in the exhibition, as well as family photographs. She also incorporated interior design choices into the collection, gaining insight from the book 'The Front Room: Migrant Aesthetics in the Home,' by Michael McMillan.
This book noted the use of straw-embroidered souvenirs in home décor, and it was these designs and materials which provided the basis for much of her work, using raffia and embroidery throughout.
After graduation, Tihara entered the fashion industry gaining some exciting roles — a work experience programme with Better Bankside (where she gained an event planning qualification), and then working for jewellery and accessories company Estella Bartlett, first as a Wholsesale Assistant and then assisting with the buying and merchandising of products.
But the call of her graduation collection continued — she uploaded her work onto her Instagram account, had her collection photographed in collaboration with Kayleigh Pace, a student at Speos Photography School in London, and decided created some spin-off products — art prints, stationery, bags and pins — to sell on Etsy. That work was noticed by the organiser of a Windrush market for Windrush Day 2019, and she was invited to have a stand.
"From that point I really began to see the potential of what I was creating, so decided to invest more time and energy into it, keeping my social media up to date and taking part in other events such as Black Girl Festival 2019, Sample Christmas 2019 and Most Curious Wedding Fair 2020," she said.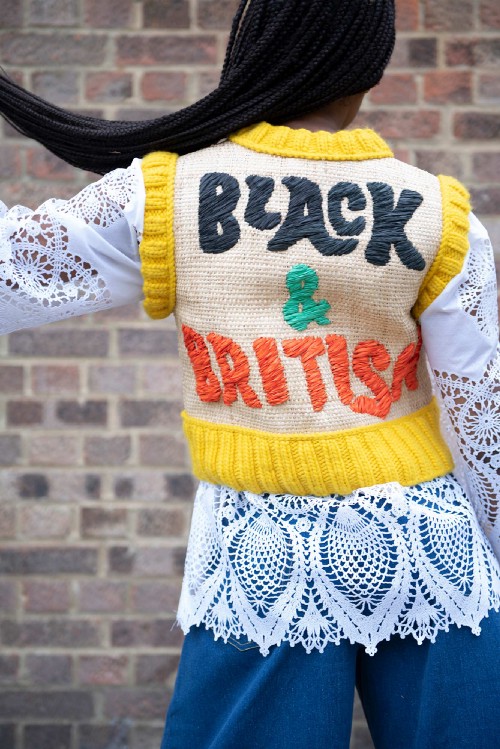 Things were going well — so well that she decided to leave her job to focus on her own projects. Since October last year, she's expanded her range into bridal accessories, greeting cards and more art prints.
"It's been really exciting to see it grow and I'm excited about where it could go next," she said.
Tihara's advice for other students going into their final year and thinking about their graduate collections is to find something that resonates.
"If you want to use fashion to make a statement, you should try to stick to something you're passionate about, something that speaks to you personally.
"It means you'll really enjoy working on creating your collection, and you'll make something that's genuine and authentic.
"I think some of the best collections are created from real stories and themes that are personal to you," she added.
To find out more about fashion courses at UCA, visit the course pages.