How textiles create
connections across cultures
Lesley Millar MBE, Director of UCA's International Textile Research Centre at UCA, discusses her work bringing together textiles from across the globe.
09 Apr 2021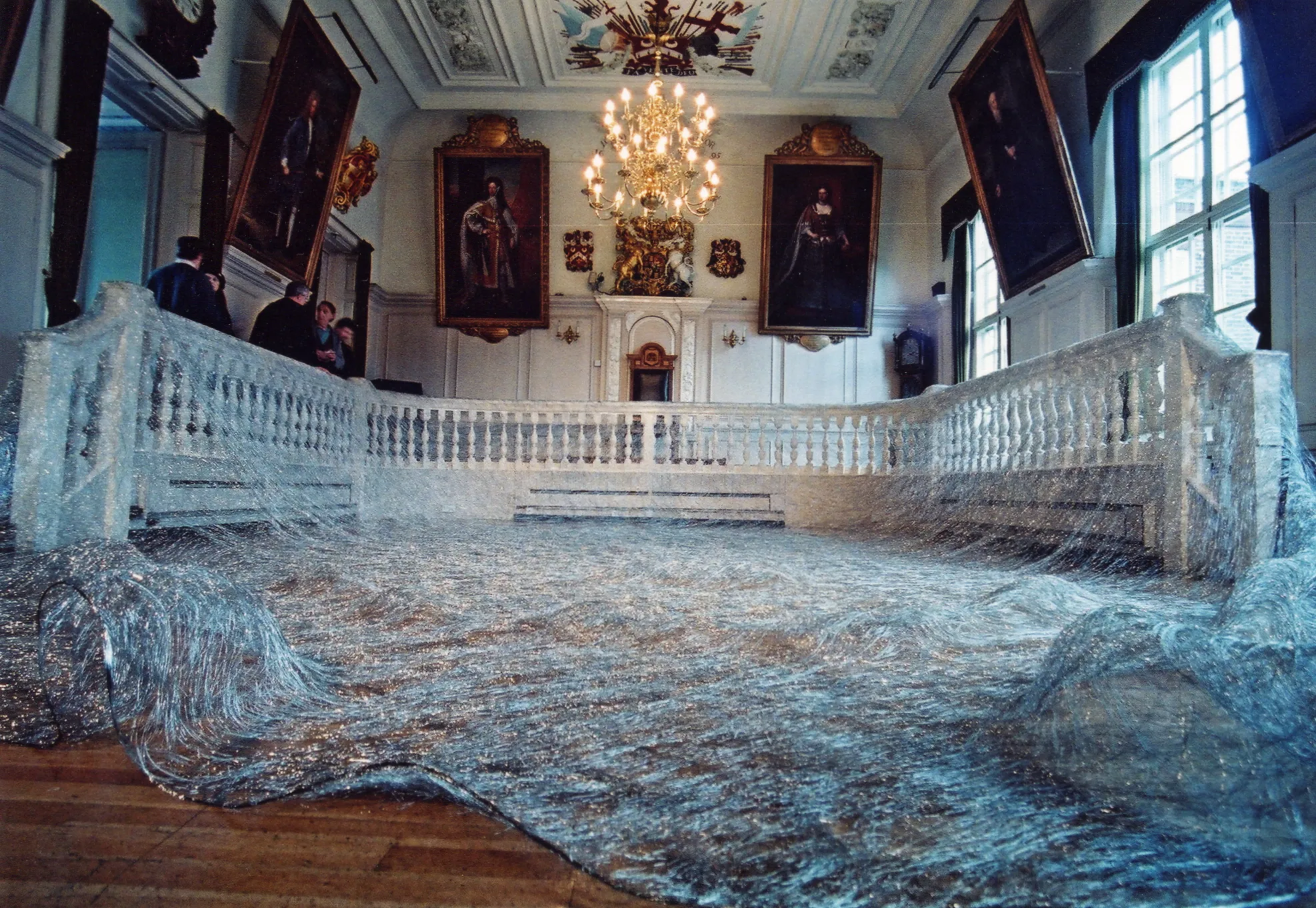 "Textiles speak a language that crosses cultures, but also goes underneath them," says Professor Lesley Millar MBE, director of the International Textile Research Centre at UCA. "The discipline provides opportunities to say things that you can't say in any other medium."
Millar has been curating textile exhibitions for over 25 years but began her career as an artist by setting up her own weave studio. For almost 30 years, she challenged and commented on current affairs through the subversive tapestries she created. She believes that textiles have the power to tell stories and the ability to connect people across countries and cultures. And this core belief has been at the heart of her work since the very beginning.
Maker to curator
During her career, Millar has curated 14 exhibitions that have attracted an estimated 820,000 visitors across six countries. She made the step from maker to curator in 1996, when she was invited to present and talk about her work at the Maidstone Gallery. She ended up presenting not only her own work but that of contemporaries who were unable to attend on the day. Through this unplanned exercise, she discovered that she had a talent for bringing textile works to life through her words, and was subsequently invited by the gallery to create an exhibition of issue-based textiles by an international cohort of artists.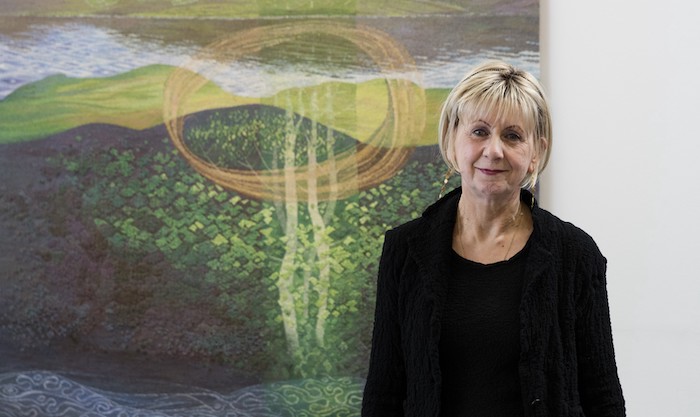 Lesley Millar MBE
The show, Revelation, was picked up by the Barbican and went on to tour eight other UK venues and Japan's National Museum of Modern Art in Kyoto. It was here that Millar met some extraordinary Japanese textile artists who were, at the time, unknown in the UK.
After returning home, Millar decided to put together an exhibition of these artists work. Textural Space highlighted the artists' relationship with space, place and environment. It was the opening exhibition of the Japan 2001 Festival — a year-long event celebrating Japanese culture in the UK — and was later shown at The Whitworth in Manchester and The Sainsbury Centre in Norwich.
This work kickstarted what was to become an enduring interest in Japanese textiles, and a focus for much of Millar's work. Her interest just so happened to align with UCA's strategic plans, and in 2004 Millar set up and became the director of our Anglo-Japanese Textile Research Centre with AHRC funding.
In 2015, the centre was renamed the International Textile Research Centre to reflect its global reach and the breadth of Millar's work, although research into Japanese textiles remained at its core. "I became interested more broadly in places that had a tradition of textiles carrying the narrative of the local culture, but were also creating contemporary textiles, not just repeating tradition," she explains.
Crossing cultures and eras
Millar's ability to place contemporary and historic textile works in dialogue with each other has become a distinguishing mark of her work that has influenced and enhanced curatorial and critical practice. In Erotic Cloth, a three-year research project by Millar and fellow textile professor Alice Kettle from Manchester Metropolitan University, cloth is explored as an erotic substrate and surface. The research sees Millar and Kettle act as detectives, examining the use of cloth in sculpture and paintings, and using it to reveal additional layers of information about the subjects' statuses and stories. "For instance," Millar explains, "in Titian's 16th-century oil painting Bacchus and Ariadne, the textiles help form the narrative. Bacchus leaps from his chariot, pulling away from the cloth wrapping around him, leaving it only partially covering his hips, drawing attention to his genitals. At the same time, Ariadne's silk falls from her upper torso — in both cases, the cloth indicates the erotic encounter that is about to unfold."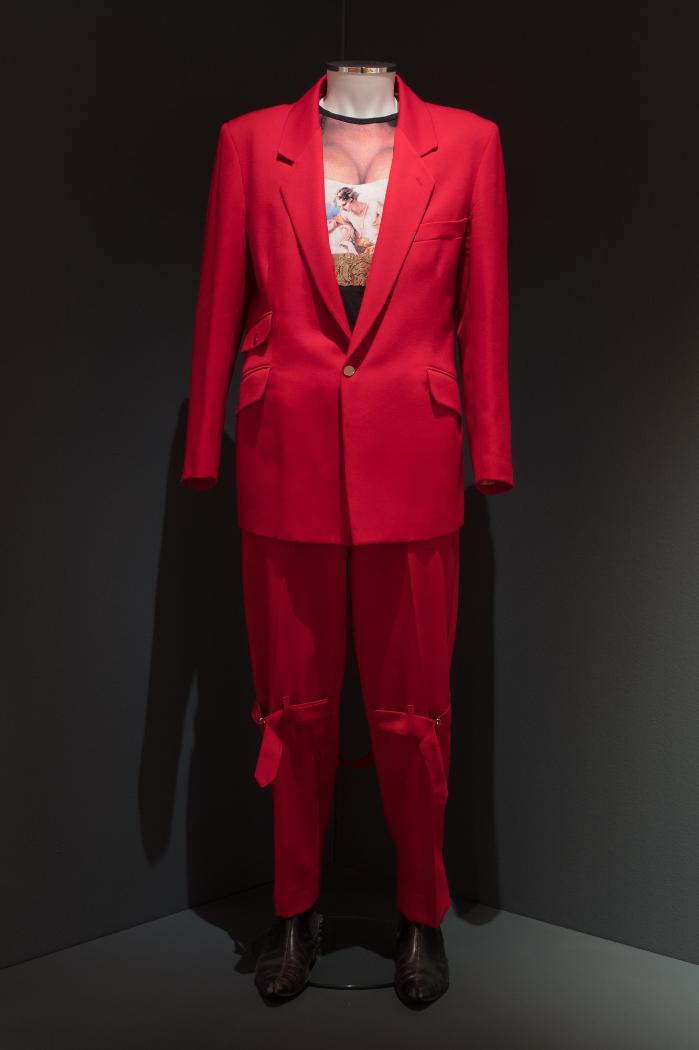 Vivienne Westwood: Fabric Touch and Identity © Compton Verney, photography Jamie Woodley
The project resulted in a book of the same name, and later developed into a playful and provocative exhibition at Compton Verney entitled Fabric: Touch & Identity. Featuring important historical works as well as newly commissioned textile works by artists from several cultures — including an oil painting by Joshua Reynolds from 1782 and a Vivienne Westwood suit made in 1980 — the showcase invited visitors to ponder the use of cloth and the way it can seduce, conceal and reveal.
Exploring space
Exploring textiles as architectural interventions is another strand that ties Millar's work together. She works very closely with venues, often asking artists to respond to the physical spaces that the work is displayed in. For her seminal 2001 show Textural Space, 13 exceptional textile artists from Japan explored the link between art, design and architecture through monumental site-specific works made from unexpected materials such as woven steel, fishing wire and polypropylene. Each piece was developed as a personal response to a particular place.
In 2011, for an exhibition titled Lost in Lace at the Birmingham Museum, artists were asked to create large-scale works in response to the museum building's Gas Hall. The result of a three-year research project concerned with how we move through the built environment, the showcase included immersive works such as Japanese artist Chiharu Shiota's 'After the dream', in which five oversized, ghostly white dresses were trapped in a tangled web of black threads.
Similarly, for her ambitious Cloth and Memory exhibition in 2013, Millar asked an international group of artists to respond to the UNESCO World Heritage site of Salts Mill, a former textile mill in Yorkshire. Artists were invited to consider the relationship between the making and use of cloth and its role in memory. Held in the mill's huge, 168 metre-long nineteenth-century spinning room, the work of 23 artists from the UK, Japan, Norway and Germany was brought into juxtaposition with a site where traces of manufacture are embedded in the floors and walls.
"Salts Mill was a dream to work with because the whole place is just full of cloth, memories and stories," remembers Millar. "The space that we were invited to create the exhibition for was unrenovated. In the summer, when we were installing the show, it was so hot, the oil from the machinery seeped back up through the floor. The work took on the dust from the people who had worked there and the fabric of the building. It was the most extraordinary setting."
Building communities
Consistently praised for her unique ability to bring together textile artists from diverse cultures and enable them to exchange ideas, Millar says that people are at the heart of everything that she does. Her favourite aspect of the job is the interaction with the artists and the various communities that form around her work. "Although I'm always looking for new artists, I do have a group that I have worked with more than once who I've built up very strong relationships with," she explains. "I also really believe in involving students in all the things that I do, whether it's by showcasing their work in an exhibition or working with them to put books together. It's really important."
Community participation played a central role in the show Transparent Boundaries, which ran between 2012 and 2014. To help change perspectives on the role of older people in our society, Millar brought together a network of European organisations that collaborated in textile-related workshops, performances and exhibitions. "For me, it was a very important project," she says. "Since 1996 I had been having conversations about my generation and how we've become invisible. I wanted to find a way of empowering older people to make themselves visible."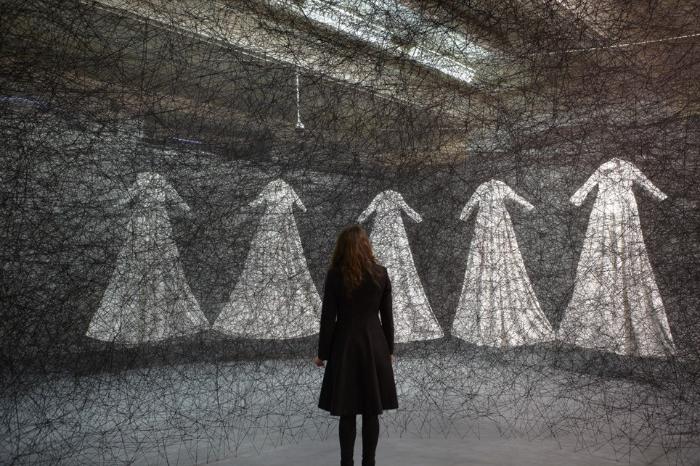 Lost in Lace, Chiharu Shiota
Unlike much discourse around older people, Transparent Boundaries framed older citizens as an overlooked but vital part of society, celebrating their contribution through textiles, performance and poetry.
Weaving new narratives
Tying all of the various strands of her work together, Millar is currently working on a book proposal called For the Record: Cloth and the threads of communication. Working with Alice Kettle, she hopes to explore how textiles cross cultures, boundaries, borders and disciplines.
Although the global pandemic has interrupted research work and thrown gallery schedules into disarray, Millar is hopeful for the future and believes that people's interest in the medium is only set to grow. "There is such a hunger there for texture, " she says. "And at a time like this, when we retreat into the digital, the more we crave the sense of touch and human connection."
Upcoming exhibitions include Tansa: Japanese threads of influence, which will showcase miniature textile art created by British and Japanese artists. Set to show at our own Crafts Study Centre, in Kyoto and potentially Nagoya in Japan, the pieces were created following a 2019 research trip organised by Millar. Also in the planning stages is The Red Thread, an exhibition for the Midland Arts Centre. Millar says the showcase will encompass performing arts, cinema, theatre and installation art, proving her theory that cloth really is the thread that links all disciplines.