Hijjab's Hazara-inspired collection
picked for London Fashion Week
Exciting opportunities for UCA students aren't limited to our UK campuses – they can be truly global too. Take designer Hijjab Waqar Hussain, who completed one of our courses at The Millennium Universal College in Pakistan – whose work is being showcased at this month's London Fashion Week!
15 Sep 2022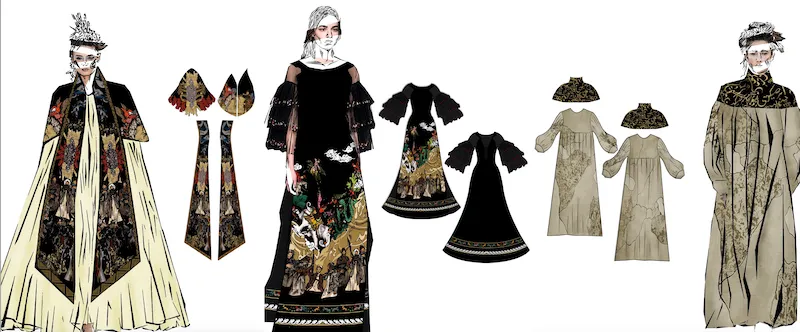 Hijjab, who studied BA (Hons) Fashion Textiles at the university's Lahore base, was chosen to represent Pakistan at The Indus Collection during London Fashion Week from September 15 onwards. We caught up with her to find out what it's like to study a UCA degree in an overseas institution, her work, and what it's like to be selected for such a large event.
Hi Hijjab, congratulations on being selected! Tell us how you came to be chosen?
"The selection for London Fashion Week was done by Sam Dada, the president of Women's Chamber of Commerce. She critically evaluated and reviewed the final year projects of all students at the college and finally selected my work to be presented at the upcoming London Fashion Week.
"I feel blessed for having this great honour of representing my country and being able to be exhibit my thesis collection, which encapsulates the journey of eight months full of struggle, dedication, failures and success."
If you were describing your work to someone who had never seen it, what would you say was your "signature style"?
"Shahr-i-Ghulghilah - City of Silence or Scream, which is inspired by the Hazara tribe, is the theme for my collection. It is connected to the history of Bamyan, Afghanistan (1st Century to today). This theme revolves around the struggles endured by Afghan Hazara community over the years, from religious conflicts, political dispute and seemingly never-ending war.
"The collection calls people to experience the narrative of Hazara heritage through my imagination, using historical philosophies, visual abstraction, and realistic artwork. The figurines who portray the Hazara community in the drawings are depicted as demons and angels, since their characters in the real world are often described as rebellious, fierce, and ambitious. My signature style reflects the portrayal and resurgence of history and culture of lost norms and communities, elevating them into modern world.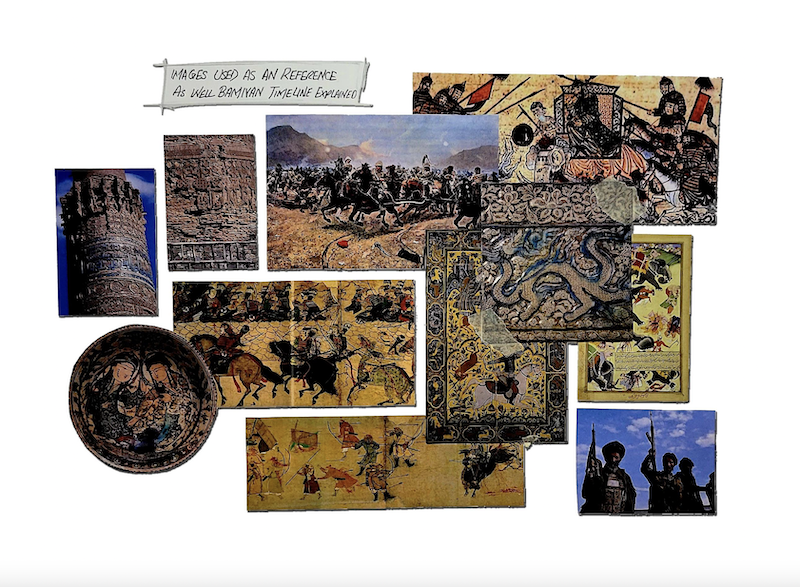 A collage of images Hijjab used for her final project
And when people see your work at London Fashion Week, what do you hope they'll feel about it?
"What more eloquently encapsulates the history of heritage and events that have shaped the modern world than a piece of cloth?"
Tell me about your course at the Millennium Universal College? What were the most valuable skills you learned?
"The most valuable thing I have learned at university is the significance of having a narrative in your work and more importantly the need for in-depth research to figure out the development of theme. This also helps in channelling the creative process, from an idea to a comprehensible notion. Considering the tangible learning in this curriculum, such as pattern making and digital aspect of CAD design, I believe these skills are extremely integral and essential in the technical side of fashion industry."
What made you choose to study Fashion Textiles there?
"To enjoy the amazing opportunity of studying in one of the world's most prestigious art universities. That too, without having to leave my homeland."
What are your career ambitions after graduation?
"I hope to work as a textile designer for a renowned brand that shares the same ideology as mine, to be able to learn, explore and progress as an haute couture designer."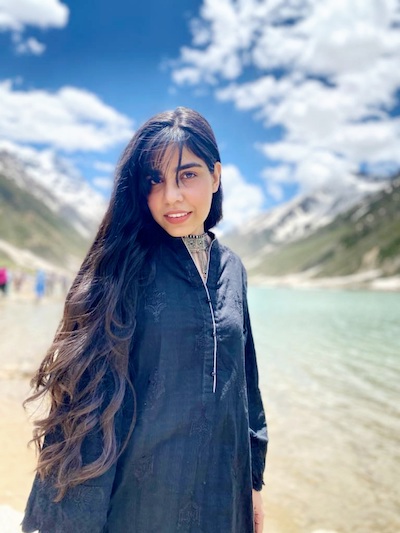 Hijjab Waqar Hussain
What advice would you give to international students so they can achieve success through a creative course?
"Rene Magritte says, 'The mind loves the unknown. It loves images whose meaning is unknown, since the meaning of the mind itself is unknown'.
"I believe art evokes ambiguity without which the beauty of the world would be non-existent. Students should explore the boundaries of their creativity and never be afraid of failure or other people's opinions. Make every moment count and achievement will follow!"