Giving back credit to
heritage textile communities
This month sees the celebration of Cultural Fashion Day (22 June) – an opportunity to appreciate the rich fashion traditions and practices of cultures worldwide. Fran Sheldon, Senior Lecturer in Fashion Futures at the Business School for the Creative Industries, has examined how the fashion industry should appreciate fashion cultures and not appropriate them.
22 Jun 2022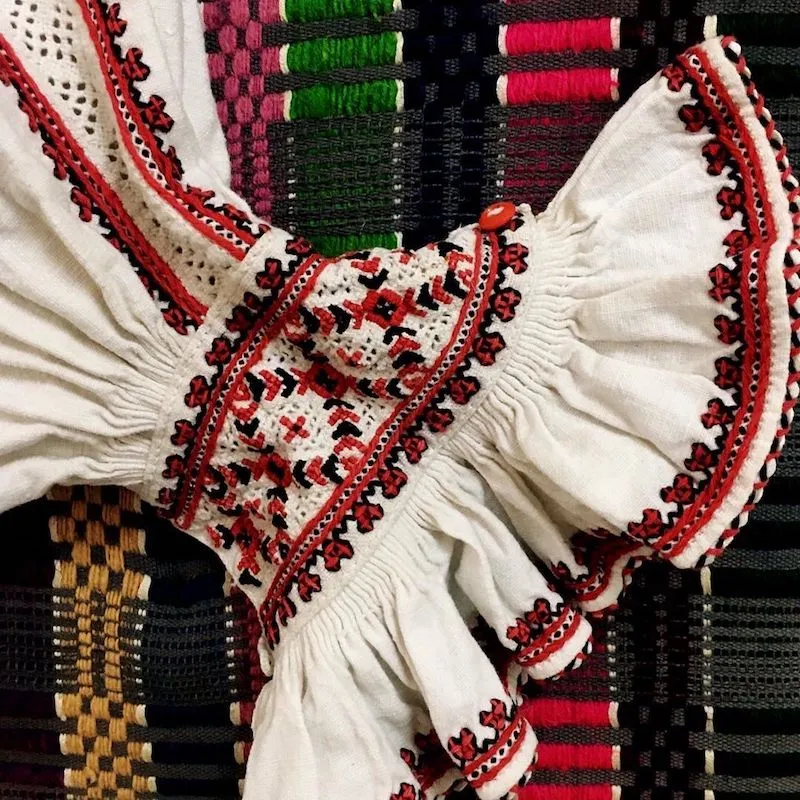 Above, detail of a Romanian blouse from Bihor on show at the Museum of Beius. Photo credit Andreea Tănăsescu
Earlier this year the long-awaited revisions on misleading environmental claims were released by the UK's Competition & Markets Authority (CMA) Green Claims Code and also a similar focus on consumer rights was incorporated into the EU's Textile Strategy. These proposals take a direct aim at greenwashing and acknowledge transparency and education as central to empowering consumers in making considered choices. A long overdue and urgent development when we consider '40% of green claims made online could be misleading consumers.'(CMA, 2020).
Sharing this arena of concern is the rise in craftwashing and cultural appropriation. A similar practice where brands '[…]co-opt terminology like craft, small-batch, home-made, and artisanal' (Alfoldy, 2018). These expressions are equally as misleading as 'eco' and 'green' and 'environmentally friendly' but have gained less concern. For heritage textile communities whose local supply chains are faltering due to combined environmental, social, and economic pressures; the added devaluation of their livelihoods and appropriation of their heritage means they are impacted two-fold. Yet rather than assuming these artisans need our pity or protection, on really listening to them, you understand very quickly these craftspeople deserve visibility and empowerment. The lack of respect and credit afforded to these communities is astounding considering they are custodians of qualities that the fashion industry invests millions trying to create. It's not just the ability to design and create products that are durable, low impact (and beautiful!) in a reliable and integrated supply chain, these communities have established a narrative, authenticity, and purpose.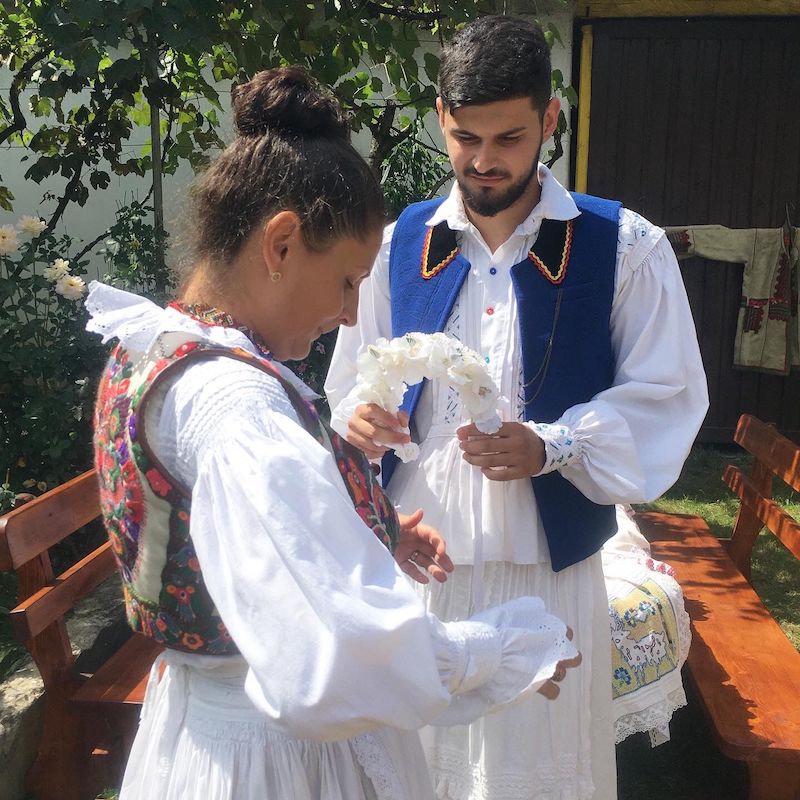 Razvan Fericean, a young artisan and custodian of tradition from Lunca village, Bihor, helping his mother Adriana to dress up during a practical demonstration of the structure and functionality of the traditional clothing from his ethnographical region. Photo by Andreea Tănăsescu
These qualities have long proven appealing to the fashion industry, and we continue to witness cultural appropriation from budget to luxury brands. In recent years corporations planning to side-step cultural appropriation have opted for collaborations with community-based artisans. This approach might seem harmless or considered 'cultural appreciation' but there is little to no understanding or guidance on how to work appropriately and respectfully with heritage communities as demonstrated in the Sézane controversy earlier this year. Fashion brands are accustomed to transactional relationships where they have full control. This tired model is entirely unsuitable for working with heritage and indigenous communities because there is a difference between taking and crediting and collaborating and amplifying.
Over the past two years, the Give (back) Credit to the Heritage Communities project has been responding to this issue by working directly with artisans in the Scottish Highlands, and Bihor, Romania, to investigate the function of designer residencies and how to use this mechanism to nurture deeper relationships, rebalance control in the collaboration, and elongate the creative process. The study funded by the Creative Europe programme of the European Union evolved from the principle of connecting designers with the intangible heritage not just the aesthetics by spending adequate time with artisans, witnessing the development of products, and talking at length with the community. Andreea Tănăsescu who developed the project, notes: "if you take just the aesthetics from a community, you are the loser, you have not gained from the experience."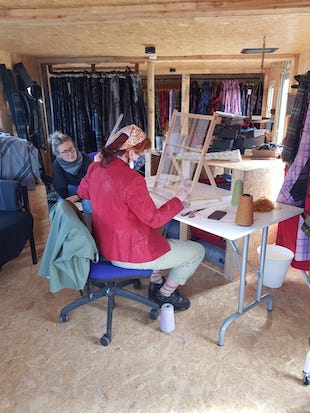 Prickly Thistle Founder Clare Campbell and designer Ciara Courtney. Photo by Fran Sheldon
By tackling the lack of guidance on collaborations the project seeks to reunite creative people with the creative process by situating artisans as educators rather than suppliers. The resulting collections are in the final stages of production, but the relationships have only just begun to thrive. Authentic co-creation requires long-term development of trust and discussion, and a willingness from both sides to be uncomfortable and be open to the process. By encouraging more designers and creatives to engage with artisans in this way, it will serve as a much-needed education program to demonstrate that heritage is not for sale.
Alongside increased awareness of craft washing, more can be done to empower communities and protect endangered crafts. In design education, a stronger focus on research and responsible inspiration practices is required, including embedding design residencies into the curriculum. Also, a call to empower consumers to be wary of craft washing and to seek out genuine heritage textiles and celebrate their own heritage crafts. This Cultural Fashion Season (22 June – 22 September) the @givebackcredit_ movement is contributing to this awareness by encouraging people to celebrate by:
Wear/photograph your heritage, traditional textiles, or your own craft work.
Post a picture or video on social media using #wearyourstory #givecredit and tag @givebackcfredit_
#GiveCredit by indicating the origins and the tale of what you're wearing.
Support global artisans. Buy and promote their work.
The @givebackcredit_ community celebrates and gives credit to the artisans of Bihor, Romania, and the team of weavers and engineers at the Prickly Thistle tartan mill, Scotland, and designers Monica Miller and Ciara Courtney.