Georgina's thrilling life
in the fast lane
It's fair to say that the big thing in sport right now is Formula 1. It's got a bigger fanbase than ever before, and after the drama of the final race of the 2021-22 season in Abu Dhabi, it shows no signs of slowing. But what's it like to be part of the sport itself? UCA Graphic Design graduate Georgina Sadler is able to tell us – thanks to her exciting job with Sky Sports.
26 Aug 2022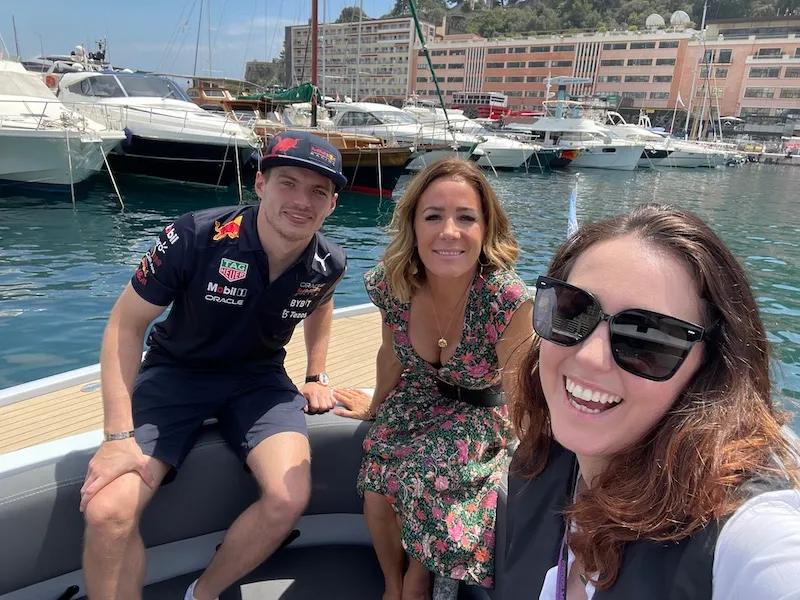 Above, from left, F1 world champion Max Verstappen, presenter Natalie Pinkham and Georgina Sadler
Georgina has been working with Sky Sports F1 as an assistant producer since 2020, and previously held roles at Budweiser, Arsenal FC and Polocam TV. We caught up with her during the championship's summer break to find out about her time at UCA and what it's like to be part of the action in the paddock.
Hi Georgina, thanks for chatting to us! What was your time like at UCA, and what skills did you pick up during your course, that you still use today?
"Doing Graphic Design at UCA was highly enriching, learning a plethora of skills from screen-printing to bookbinding, photography and video-editing. The skills I learned proved vital in developing my role as a Producer today. Working with typography for example, is something I do very often in my role, as well as use Adobe's creative apps like Premier Pro, After Effects, Photoshop and much more."
How did you land your job with Sky Sports F1, and what's it like working for a large company like Sky?
"I applied for this job as assistant producer for Sky Sports Formula One through LinkedIn. However, it wasn't until a whole year later after the job post was advertised that I heard back. Sky's HR team kept a copy of my CV, and even though the job wasn't filled when first advertised, they still had my details on record. It goes to show that, even though you may not get the job right away, there could always be the possibility of that door opening again in the future.
"Working for such a big company like Sky was incredibly daunting at first. All the different buildings, departments, people, and systems was overwhelming to start with, but there is so much training and support given, so all my fears were quickly washed away. There are also so many opportunities to expand and grow your career too. For example, I told my line manager that I wanted to produce a show, and I immediately got that opportunity and training, and have now been the producer for our Monday night show, Any Driven Monday, several times now. Everyone is always keen to help, and there is a great sense of belonging and support."
So, what's a typical day like during the season, and especially on a race weekend?
"The world of Formula One certainly is crazy (in a great way that is!). It's fast-paced, high-octane, gets the heart pumping and your feet stomping! You must have a can-do attitude, and a fire in your belly to produce the best of the rest, and being an extrovert and a high-energy person, it ticks all the boxes for me.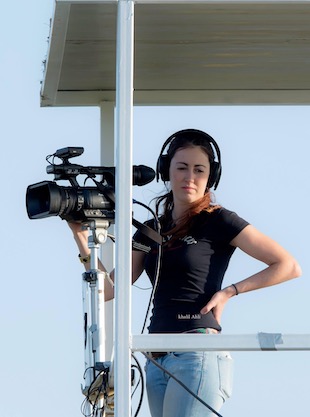 "Being an assistant Producer over a race weekend on the road means organising shoots and directing them, logging and transcribing footage to then pass onto an editor and have youp work be brought to life. Sometimes you're running up and down the paddock with microphones, cameras, tripods and more, helping the floor manager with the busy schedule of the day's shows and pre-records that need to be done. Other times you're locked in a booth in the TV compound with your editor, making tweaks to an interview you shot the day before.
"During race weekends where I am not at the race, I will be back at Sky Studios in Osterley, planning the next shoot, logging footage to use in the next 'Best Bits' video or listening to the press conference and pen interviews that are happening live at the race destination, so I can then tell the producer in the gallery any key editorial that might have been said by a driver or team principal.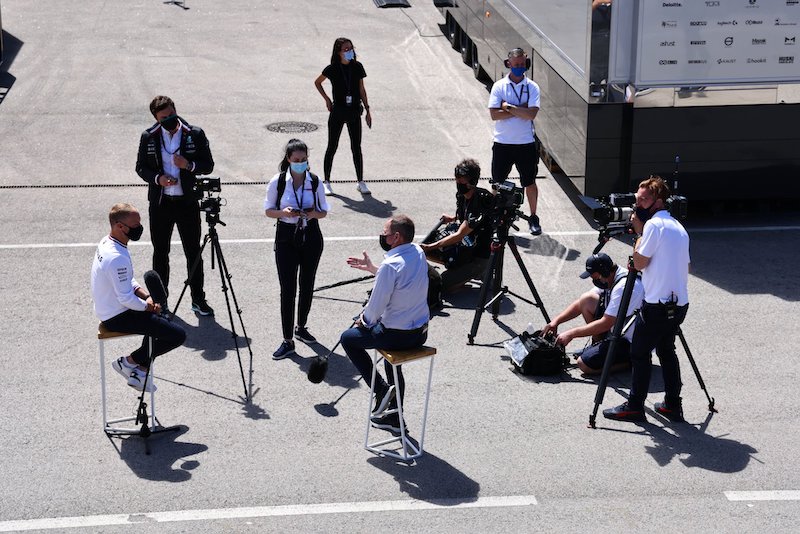 Georgina Sadler, centre, overseeing an interview between Martin Brundle and 2021 Mercedes driver Valtteri Bottas
"When there is no race weekend, my team of five other assistant producers and myself will be conjuring up all sorts of creative ideas to throw at our producers of fun and engaging things we can do for our broadcast production. Finding voice-over artists to create moody openers for the races, or street performers that could creatively help tell a story, obtaining clearance and usage rights for music tracks, there's always something different."
What's your most memorable F1 moment so far?
"My most memorable moment has to be from the Monaco Grand Prix – I was producing an interview with 2021 World Champion Max Verstappen and our presenter Natalie Pinkham on a Red Bull speed boat in the Monaco Harbour. After we finished filming the interview, Max said we could all take the boat for a bit of a spin with him, and we all went really fast around the open water, laughing and being slightly terrified at the same time. It was such a cool memory!"
There's been a definite shift in the number of women involved in the presenting side of F1. How does it feel to be a woman in such a male-dominated industry and what advice would you have for female students who might want to get involved in future?
"We now have three incredibly talented women on screen at Sky Sports F1 – Natalie Pinkham, Rachel Brookes, and former W-Series Driver Naomi Schiff. Having more women on screen means more role-models for the younger generation which I think is key in inspiring younger women to come into Motorsport. The Formula 1 grid may be 20 male drivers, but behind every team and organisation in the paddock are so many females, and I have seen more and more of them since joining Formula One just over two years ago. The rise of W-Series has really helped in pushing women into motorsport too.
"My advice for younger women wanting to get into Formula 1 is believe in yourself, and be confident in the amazing, skilled and vibrant person that you are. I had so much to learn when I got the job at Sky as assistant producer but proving I had the courage and confidence to take on any challenge really helped in my interview process. If you really want a job, go above and beyond, do the unexpected and think outside the box. Look out for the openings for the Graduate Programmes at Sky too. They always feed into many other sports that helps give you the experience needed in broadcast. Show your passion and don't be afraid to say you don't know something – as long as you are keen, and show willingness to learn, a company like Sky will be sure to nurture you. I knew very little about Formula 1 when I first joined Sky Sports, but I loved producing content, and was very enthusiastic about the challenge ahead.
"There is also a fantastic social media platform called Females In Motorsport, who post fantastic career opportunities in motorsport, as well as inspiring articles, stories and more that young people can follow."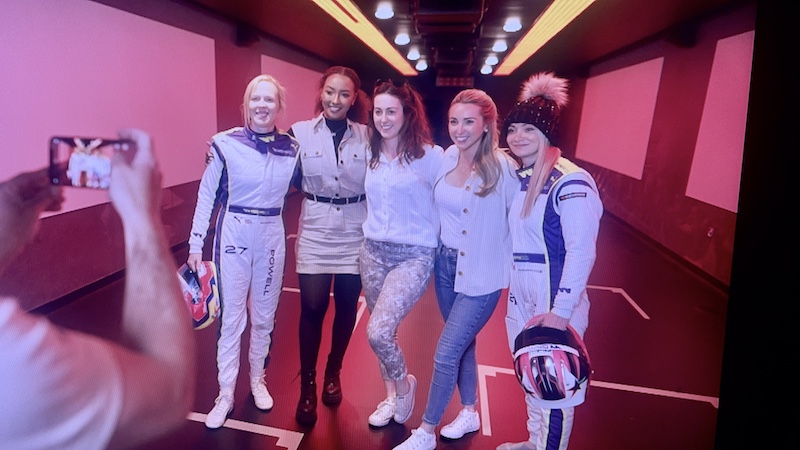 From left, W series driver Alice Powell, Naomi Schiff, Georgina Sadler, Sky Digital Advocacy Executive Alexandra Horton and W series driver Jess Hawkins.
Finally, what's the best piece of advice you've ever been given, that we can pass on to our current UCA students?
"The best piece of advice I have been given is to believe in the positive feedback you get. That includes colleagues, friends, clients, family, everyone. It's easy to focus on the negatives and I think there is sometimes this drive to keep doing better, and that's great, but just remember to give yourself that pat on the back that you're doing well, you're doing really well, and smile.
"Also drink more water! I don't do it enough, and I should, everyone should!"