Dressed for success:
Emma Harding on costuming blockbuster movies
UCA graduate Emma Harding explains how she built a career that involves dressing the casts of the Bond and Marvel films.
08 Feb 2021
UCA Film Production graduate Emma Harding can tell you stories from the sets of blockbuster movies such as Doctor Strange, Avengers: Age of Ultron, Guardians of the Galaxy, Bohemian Rhapsody and upcoming Bond film No Time To Die. Since completing her degree in 2009, she's gone on to make her career as costumer, dressing film actors for their on-screen appearances.
We caught up with Emma to find out what it's like working on such big-budget productions, and how she got into costuming in the first place.
Hi Emma, thank you so much for talking to us. We're curious to know — how did you get into costuming from your film degree?
I made some costumes for my final degree film, and for one of my fellow students, Alex Wong. I am self-taught, and I really enjoyed the process of clothing the characters. I decided to try out working before I thought about going back to university to study costume, and I haven't stopped working since!
You've worked on a number of amazing films — what does a say at work look like for you?
"It's a very fluid thing — there's no such thing as a typical day on a film set. I mostly work with the crowd, which means everyone in the background. If we are in prep, maybe we will be fitting people for upcoming scenes — it might be for modern-day streets, or I could preparing period costumes — women's corsets, petticoats, dresses; all the many layers of detail that come along with period films. Or, if it's sci-fi, I might be kitting out alien armies with armour!
"Whatever it is, when we are fitting, we need to make sure we are perfectly selling the scene as the Costume Designer wants us to. This can go on for weeks at a time, with teams of people doing alterations, and some costumes being broken down to look old and worn. Everything needs to come together ready for shooting.
"Shoot days are nearly always long, often at least 12 hours! My record for the earliest start time was 2.45am! They are a flurry of dressing and then maintenance on set. It's a constant back and forth with ADs (assistant directors), getting people on set at the right times and making sure they look perfect when they are in front of the camera.
"On days when we're shooting crowds, we might just be looking after two or three people, or hundreds. The biggest day I've ever done involved about 750 background artists, all in period costume. The costume team alone was huge! There are films that have had thousands of background artists on set; that's a lot of people-wrangling! Once we wrap shooting for the day, it's then about getting everyone undressed. Often large films will have a crew working through the night to launder everything so that it's ready for the next day, when we do it all over again."
That is a huge job. So what's the biggest thrill — and what stresses you out most?
The biggest thrill is always seeing hundreds of background artists in costume on a huge set. It's great to see the costumes we've fitted working to tell a story with the beautifully crafted sets.
"What stresses me out most is not having a schedule, so not being able to fully absorb myself in that moment's task, secure in the knowledge that I know what's coming up next, and when. Or people spilling coffee down themselves — which happens a lot!
Do you have any exciting projects coming up that you can share with us?
I wish I could share my latest news, but you always have to sign an NDA the second you walk through the door so, sadly, I can't talk about future projects. I did work on No Time To Die last year, though. It was a great experience and I feel like having a Bond on the CV is not a bad thing!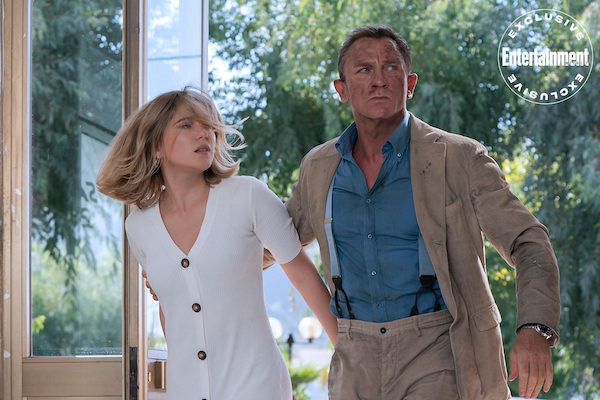 How has the pandemic affected your work — do you have to consider new restrictions now because of hygiene and social distancing?
We do have a lot more restrictions. We can't be as hands-on as we would normally, which makes the job a bit more challenging. We have to wear full PPE when we are fitting or dressing people. We now have to think about things we never had to before — for example, if someone tries a jacket on, I can't then just put that jacket back into stock or ask someone else to try it on. It must be decontaminated first.
Coronavirus has meant we have extra steps in our process that we didn't have before. But it's essential, and if it means we can all continue to work safely, then it's definitely for the best.
So, what advice would you give to anyone thinking of going down a similar career path?
Firstly, you're a morning person now! I was never a morning person at university but you're going to have to be — so, start now. Also, learn to drive. Finally, don't make the mistake of thinking that just because you have a film degree, you shouldn't need to go in at the bottom. Trust me when I say you've only just started learning when you graduate.
What do you like getting up to outside of work?
Well, my hobbies include hiking, skiing, food and drink (both consuming and making), and doing pretty poor DIY!
Finally, what were your favourite experiences at UCA?
The best part of the experience was definitely the people I met. l'm still close to a lot of them now, and I know they will be friends for life.