Superhuman Shoe earns Anna a
prestigious work placement
UCA product design student Anna Lis has won a prestigious work placement thanks to her innovative adaptive shoe concept and design.
21 May 2021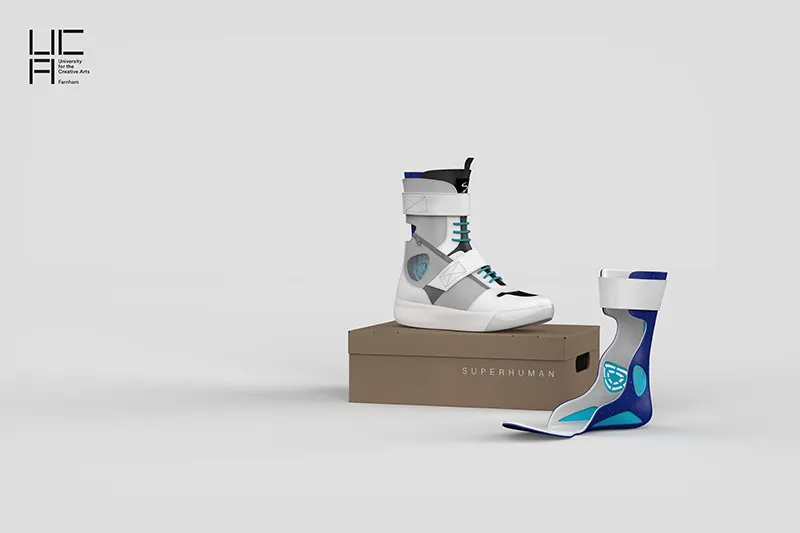 A final year BA (Hons) Product Design student at the University for the Creative Arts (UCA) has won a prestigious work placement after her design for a "Superhuman Shoe" caught the eyes of competition judges.
Anna Lis, who studies at UCA's Farnham campus, won a Special Commendation Award in the Design the Change Competition, run by law firm Bolt Burdon Kemp in association with charity partner Cerebra, which helps families with children who have a brain injury or condition.
Her design, which can incorporate an ankle-foot orthosis (AFO) if required, was in response to the creative brief – to invent a product aimed at improving the lives of people with a spinal cord injury. You can see Anna's product proposal below:
Entries were received from university students nationwide and judged by a specialist panel of experts, including wheelchair rugby player and chairman of Stoke Mandeville Wheelchair Rugby Club, Ian Hoskings, and Doug Neville, the Head of Mechanical Design at Williams F1.
Anna's entry was so strong that the judges wanted to offer her a work placement at the Cerebra Innovation Centre in Swansea.
Anna, who will be exhibiting her design at the 2021 Graduation Show, said: "This was my favourite and most meaningful project in my time at university and the placement opportunity at the Cerebra Innovation Centre is something I would love to experience. I've been working on Accessible Design projects ever since I took up Product Design at A-level, and these projects have given me the most purpose in my work.
"I want to thank a few people who supported me during the project - Mark Gower and Natasha Benn who provided me with primary insights to understand what it's like to live with a spinal cord injury, Rentaro Nishimura, for his enthusiasm and feedback during our tutorials and Emma Rawson and Jim Casey, for their help in the workshops."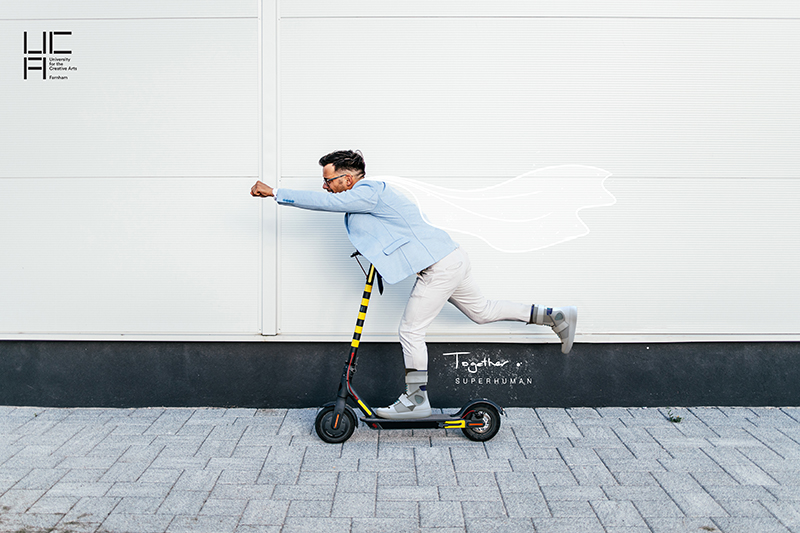 Mark Gower, Programme Director for Product and Furniture Design and Interiors, said: "We are delighted to hear that Anna's 'Superhuman Shoe' proposal received a special commendation, we thought it was an outstanding piece of work that was informed by some incredible research.
"She really got under this skin of the issues that face those with 'Drop-Foot' and her product will make a huge difference to people who suffer from this condition. We are so proud that she received recognition for her creativity, innovation, empathy and hard work."
Victoria Oliver, Head of the Spinal Injury team at Bolt Burdon Kemp, said: "The quality of entries for this year's Design the Change competition was incredibly high, but Anna's was one that really stood out. The judges thought Anna's design was well thought out and incredibly practical and would not only help those with a spinal cord injury but other disabilities as well, such as stroke sufferers. Anna also showed a high level of commercial insight which impressed the judges. I would also like to extend my thanks to the teaching staff at the Product and Furniture Design course at UCA Farnham who have been so enthusiastic about the competition and supportive of our aim to increase disability awareness among future designers."