A Day in the Life — How Lucy lives and breathes art

UCA creative web design technician Lucy Sabin talks to us about using lockdown to explore our relationship to that most curious of elements — the air around us.
14 Jul 2020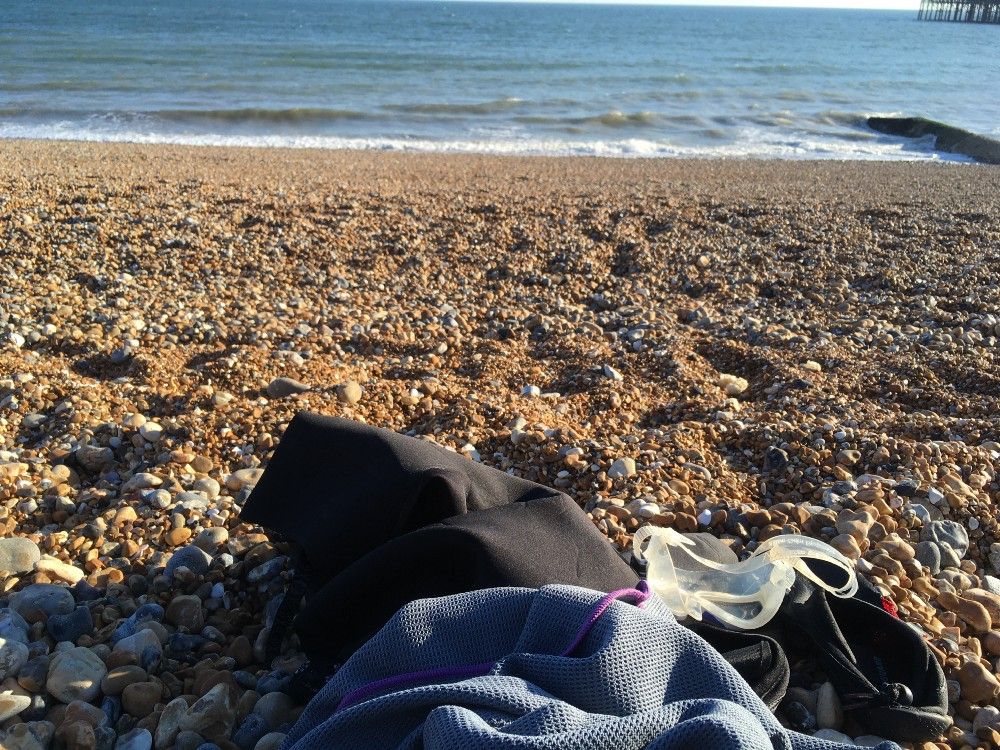 Lockdown has given UCA technician Lucy Sabin a new perspective. Being at home in Brighton, the creative web design technician and artist is spending her days juggling her work, her practice and her wellness, spending time outdoors and gaining a new appreciation for her surroundings.
"At lunchtime, I'll do some low impact movement, like walking up to the allotments on top of the hill while listening to an audiobook," she tells us. "If it's sunny, I might go for a socially distanced swim in the sea with friends who live nearby. I don't know about you, but lockdown has encouraged me to explore natural beauties and trails on my doorstep that I never knew existed before."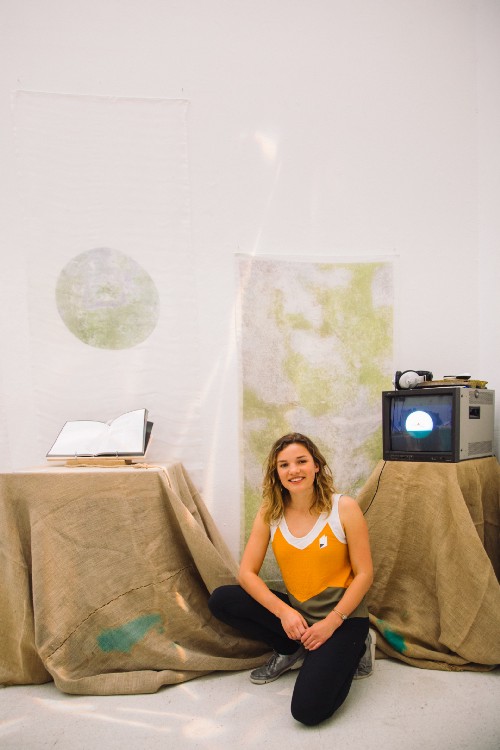 As a technician, Lucy is currently helping students to set up their professional portfolios online, and to tackle experimental digital aspects of their coursework.
In her own work as an artist, Lucy works primarily with mixed media installations, using her knowledge of digital interfaces to produce immersive, embodied experiences for gallery visitors. Her approach to making is research-led; she is particularly inspired by the element of air and concepts of 'the atmosphere' within our current geological age.
"I am an insatiable learner and feel as though my creative practice is constantly shape-shifting in response to emerging technologies and contemporary debates," she says. "Fortunately, during my Masters, I had the time and space to discover a thematic focus for my work. That focus is air. I am fascinated by the techniques we use for measuring, mapping and monitoring this invisible element.
"Beyond working with UCA, I am currently fulfilling a commission for Modern Art Oxford," she says. "As the Creative Associate (Digital), I am working with the contemporary art gallery to develop a participatory programme called Breathworks, which will invite visitors and online audiences to 'get creative' with their breath in August and September 2020. I can't give away too many details at this early stage, but suffice to say that Breathworks will explore our relationship with air as breathing beings, reflecting upon the unprecedented challenges of COVID-19."
When we asked Lucy to give us a run-down of what a typical day is like for her, she picked a "Breathworks Day" to tell us how she's preparing.
"Thursday is Breathworks day. Typically I'm up at 6.30 and walk to my partner's office, which his business rents from Brighton Youth Centre (BYC), which has a certain homeliness, together with its ubiquitous graffiti! I have been using some desk space there since lockdown began.
"After practising yoga and preparing breakfast, I settle at my desk to answer emails, perhaps check for opportunities on Arts Council England's site and generate a to-do list. I've learned that being a freelancer requires serious project management skills, as you are often juggling multiple tasks and deadlines for different individuals or departments.
"I might then engage in a task like researching a topic or technology, designing an installation in SketchUp or writing a blog post for a gallery. I'll often ask my partner to glance at what I'm producing, just so that I can get some instant feedback. Or I may ask one of the curators for some input. I think it's important to keep airing your ideas with collaborators, or anyone who'll listen!
"In the afternoon, I will probably have a meeting about funding, partnerships or production. I am collaborating across several teams at the gallery — curation, communications, production, development and learning. It's amazing to receive guidance and supervision from individuals who are experts in these areas. I have learned so much from them already.
"To wind down for the day, I might read on the sofa, go for another walk or do some DIY. It depends on the amount of energy I have left! My partner and I are currently converting a Luton van into a motorhome, so that keeps us busy. We're looking forward to a more outdoorsy lifestyle, once that's possible."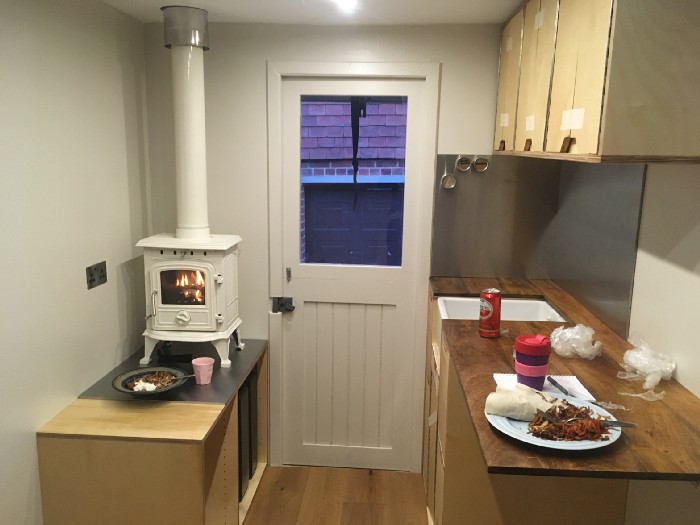 Lucy, who has featured on BBC Radio 4's Art of Now series, has a Masters in Communication from the Royal College of Art and a first-class BA in Liberal Arts from Durham University. While Lucy majored in French, Spanish and Philosophy during her undergraduate degree, she was lucky enough to spend a year abroad studying fine art at the Universidad de Vigo. She also took software development courses with Code First: Girls and Founders and Coders, carving a niche for herself as a digital artist.
You can see Lucy's work on her website, and find out more about the Breathworks project here.