Botanical artist's life
showcased by Lucy's book
The life and work of botanical artist and traveller Marianne North has been explored by BA (Hons) Illustration graduate Lucy Panraker for her Final Major Project.
01 Jul 2022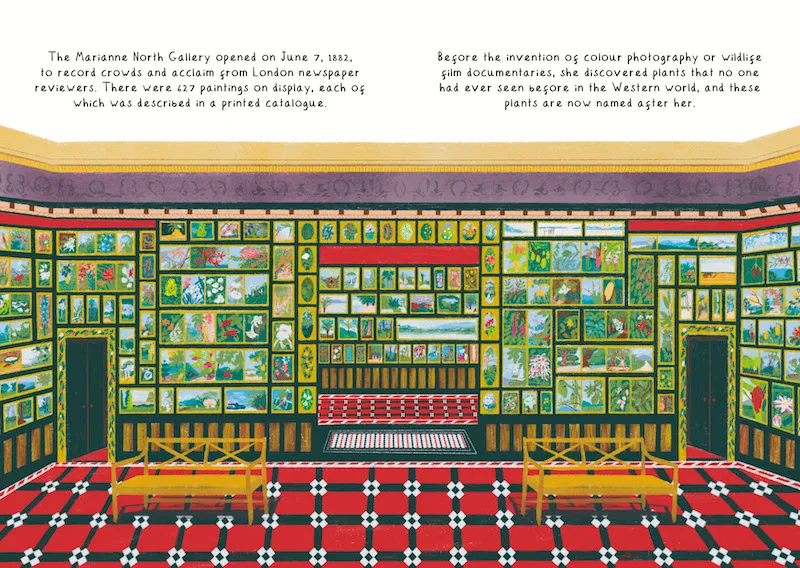 Lucy's depiction of the Marianne North Gallery at Kew Gardens, above.
Lucy has created a picture book, entitled "The Marvellous Marianne North: Adventure, Botanist & Rulebreaker", to showcase Marianne's legacy, both as an artist and as a woman, who challenged the constraints of Victorian society to advance what was known about the natural world.
"I chose Marianne North as my subject after visiting Kew Gardens in London," said Lucy. "I came across a small building called The Marianne North Gallery. What I saw made quite an impression on me, with her paintings were all crammed together. It was unlike any other gallery I'd ever seen. It's like walking into a giant "globe" covered in paintings of faraway places and plants. I was immediately drawn in and intrigued by the various scenes depicted in the paintings, the subject mainly plants.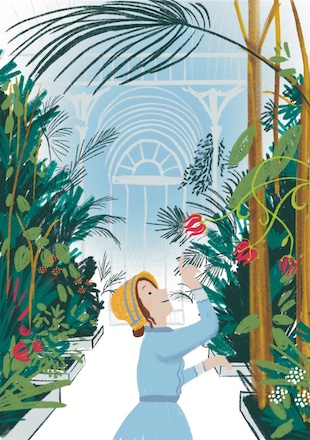 An image from Lucy Panraker's picture book.
"Unlike a traditional botanical artist, Marianne chose to paint plants 'in their homes.' It seemed incredible that all these paintings, numbering over 800, were created by a single woman. When I discovered that the paintings were completed over 14 years and that she funded and oversaw the gallery herself, the achievement became even more impressive."
Lucy's picture book pays homage to the work Marianne produced from her travels around the globe, but also showcases how she defied the expectations of the Victorian woman to fulfil her ambitions. The book re-tells Marianne's story, with her as an omniscient third-person narrator.
"I wanted to create something that would explore the importance of nature as well as discuss a subject where women were overlooked," said Lucy. "And I wanted to provide an interesting role model like Marianne for anyone who doesn't often see themselves reflected in history books. I also hoped to bring her narrative to the imagination of all genders - about curiosity overcoming perceived limitations. Breaking down the invisible barriers that still exist around gender issues today."
Lucy, who is hoping to take her illustration through to postgraduate study, said she's excited, but nervous, to be showing her work in public at this year's Graduation Show, taking place across UCA throughout June. But, she added, her UCA experience, despite the disruption and pressures of the pandemic, has been great.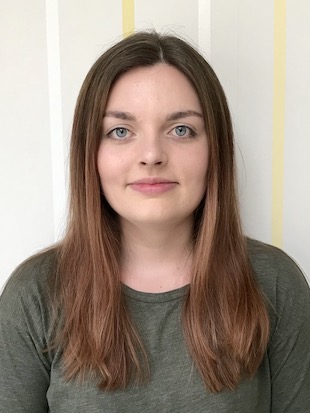 Lucy Panraker
"At the start of the course, I used to think that illustration was just about making pretty pictures. It wasn't until I was at UCA that I realised the connection between history, philosophy, politics, and art. I think the best thing about illustration is that it is versatile, you can do drawing, text, sequential design, ceramics, book production, animation, and more. The one thing UCA has helped me in my study is staying curious and remaining open to the world. That means trying different things, reading, and going to exhibitions and museums."
And Lucy isn't the only student to look back in time and study the life and works of women who dared to challenge the norms.
Take Matilda Flood, a BA (Hons) Illustration & Animation graduate from UCA Canterbury, whose final project focused on circus performer and "Lion Queen" Ellen Chapman, through wallpaper designs. Or Katherine Williams, another BA (Hons) Illustration graduate, who researched the life of Sarah Baring, a linguist at Bletchley Park during the Second World War.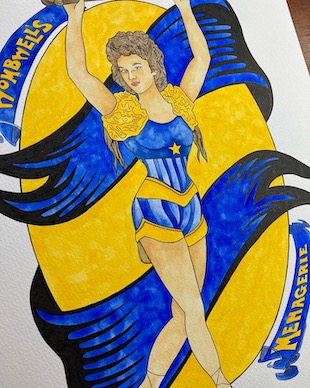 Work by Matilda Flood on circus performer Ellen Chapman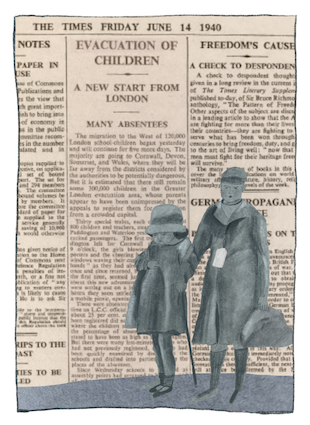 Work by Katherine Williams on Sarah Baring and the women of Bletchley Park.
You can see more of our graduates' work at this year's Graduation Show throughout June and early July, and on our online portal.