A trip with Seoul – UCA
students head to South Korea
Your university experience doesn't have to stay on campus – there's a whole world to explore! Take 13 of our students who recently travelled to South Korea to attend the Hanyang International Summer School – we spoke to two of them to find out more about their time in Seoul.
17 Oct 2022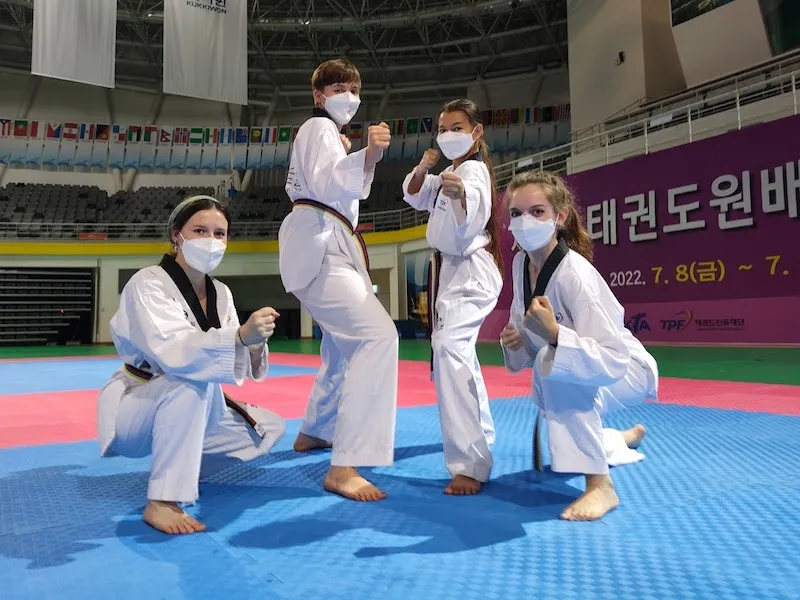 Above, trying out Taekwondo, from left, Mari Fox-Harwood, Daisy-Mai Hammond, Andrea Nield and Sophie Brown. (All pictures courtesy of Mari Fox-Harwood and Sophie Brown)
BA (Hons) Illustration & Animation student Sophie Brown, and BA (Hons) Fine Art student Mari Fox-Harwood, were part of the UCA contingent who spent a month in Seoul, where they learned new things, made new friends, and experienced fascinating culture, history and a glimpse into South Korean life.
Sophie studied Ceramic Arts and Brand Design, while Mari learned Ceramic Arts and Korean Language Level 1.
Hi Sophie and Mari! What was a typical day like at the summer school?
Sophie: "Classes ran from Monday to Thursdays. My morning class was ceramic arts, which started at 9am. The class started with a demonstration of the technique we would be focusing on that day. We then had a chance to experiment for the rest of the class. The class finished around noon, but this would vary depending on what technique we were focusing on that day. My afternoon Brand Design class started at 1pm, and we would work on projects like creating and branding a makgeolli (a Korean rice wine) product.
"After my afternoon class had finished, I would go and do my homework in a café on campus. If I did not have homework that day, my friends and I would head out into Seoul. We then would either eat dinner out or cook back at our accommodation, often ending the day with a run to a convenience store for some ice cream.
"On the days when I did not have classes, my friends and I would explore Seoul, visit the palaces and temples, doing shopping and even going on weekend trips to visit some of the other cities in Korea."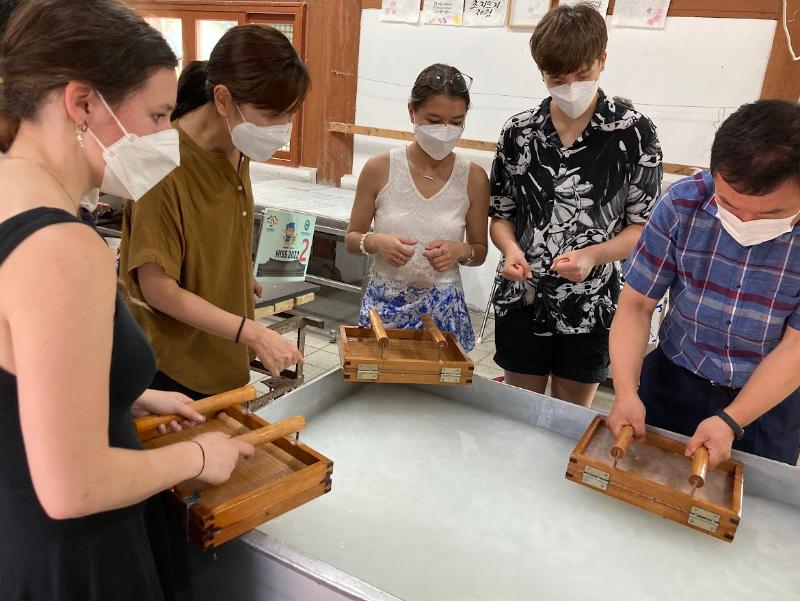 Mari: "For me a typical day was waking up early so we could leave before the rush hours begin. As we were early, we'd stop by one of many university cafes to grab breakfast and a nice cool drink. Then it was off to my first lesson Korean language at 9 to 11.30 and after this I'd meet the others back at the cafe for lunch. By 1pm the others had their second set of lessons so I would stay in the cafe to sketch, review the work from before or chat to classmates. By 4pm I had ceramics that ran to 6.30pm. Following this i would regroup with the others and we would head out for dinner and would then explore the area, shop, visit a bar, watch busking, or even visit a karaoke room. Fridays and weekends were free and would consist of cafe hopping, exploring the culture and history, meeting up with friends we had made out there and much more."
Outside of the classroom, what did you learn about the culture there, and about yourselves?
Sophie: "I think it was so interesting to learn about the culture. I did not have much knowledge on the culture before travelling out to Korea, apart from a small part of history I had studied when I was back in school! Outside of the classroom, I learned I was able to cope in a wide range of situations and that I can stay calm when things may be going wrong, especially the times we got lost. I think that I was surprised how much my confidence grew throughout the trip through the fact I was so open to experiencing new things, so much so that by the end I felt confident to travel round the city on my own."
Mari: "Both within and outside the classroom it was clear that Koreans care a lot about those who are visiting their country and make a great effort to help, assist and care for you in any way. I realised that I could be suited to a busy city life when everything was as convenient as it was there. I also liked how rich the history was and how modern life was well integrated with the natural landscape and historical landmarks and features."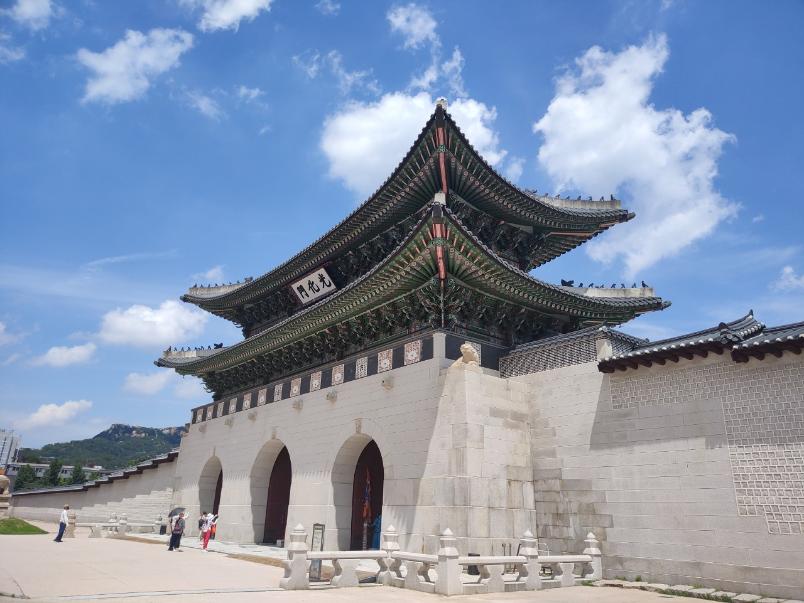 What were the most surprising discoveries from your experience?
Sophie: "The food was amazing! Even though it was sometimes challenging to find meat free options, I really loved everything I ate, especially the Korean pancakes and the tteokbokki in particular.
"The subway system was also amazing too! After a few missed stops and travelling in the wrong direction, the subways were really easy to easy to navigate, and it wasn't long before I got used to the commute to campus."
Mari: "For me it was convenience, along with how many people were understanding of English too – although we tried our best to use what we knew of the language. The food as well was incredible, as well as the beautiful aesthetic desserts and snacks in themed cafes."
Did you have set activities outside the school or were you just free to explore?
Sophie: "As part of the summer school, you were able to sign up for three activities or an overnight trip. I signed up for an overnight trip to Jeonju, where we attended a cooking class and made Bibimbap, then went to Jeonju Hanok Heritage Village featuring the Gyeonggijeon Shrine, before having the opportunity to wear the traditional Korean dress, the Hanbok.
"Getting to wear the traditional dress and explore a traditional Korean city was the best way to experience the culture as it truly felt like I had stepped back in time. It was a really beautiful experience.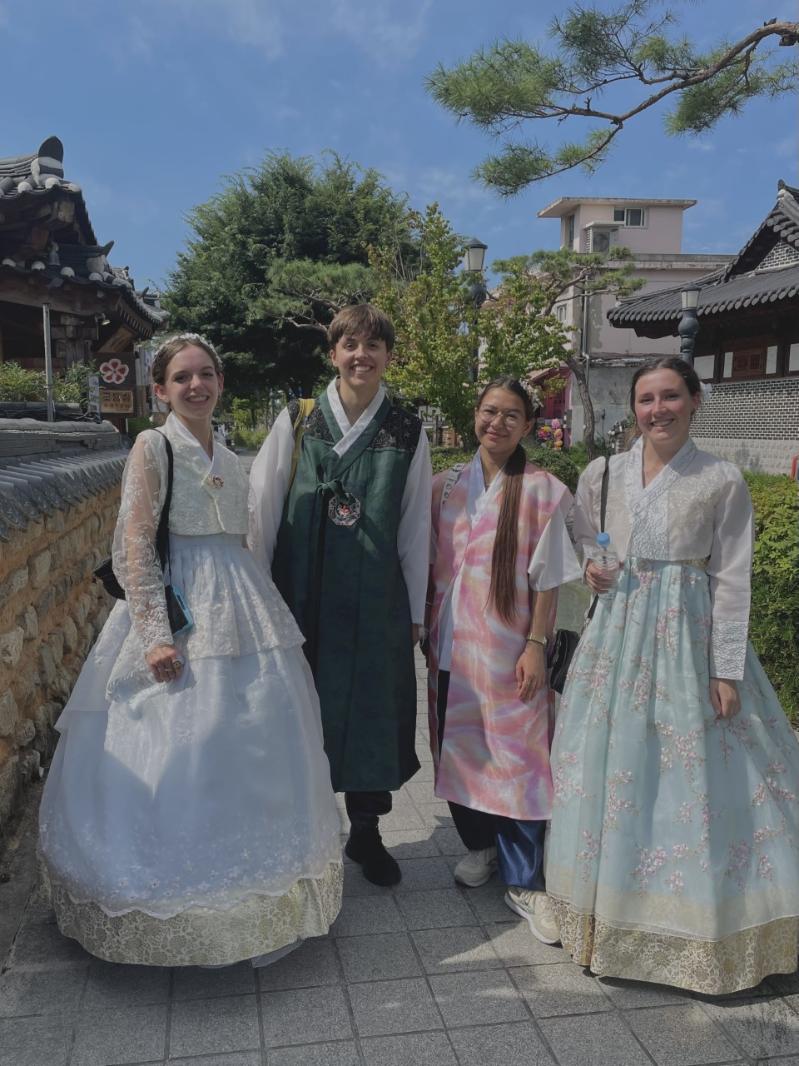 The UCA students in traditional Hanbok dress
"We then moved on to making Korean paper in Wanju-gun, Jeollabuk-do. Having made paper previous as part of my uni studies, it was so interesting to lean about making Korean traditional paper called hanji.
"On the second day we visited the Taekwondowo. First, we had the chance to walk around the Taekwondo museum before we went to see a performance, and then our own taekwondo class. I had no previous experience in taekwondo but the class was really fun, and even the Hanyang staff members got involved.
"This was the highlight of my trip as it combined so many of the great parts of the Korean culture. This was only enhanced further by the kind members of staff everywhere we went who were so enthusiastic about sharing their culture with us."
Mari: "The highlight for me was the Taekwondo class, as well as watching an amazing performance. We were in mountainous countryside, and it gave a whole new outlook on Korea away from city life. Along with this was being able to experience Hanbok. These were both experiences set up by Hanyang, however in our own free time I would say exploring the palaces and temples was also a highlight, as it was such a contrast from what we have in the UK and even Europe."
How do you feel the trip has enhanced your university experience?
Sophie: "As an illustrator, I am constantly recording and reflecting my surroundings, as it feeds a lot into my personal practice. I think the brand design class taught me a lot about teamwork, especially thinking about pitching our ideas and working with clients. The ceramics class allowed me to start thinking about how I can work with different mediums and that I should try and experiment more. I am excited to go back to campus and use the facilities there to continue to develop these skills.
"I also think that the trip has made me grow a lot in confidence in myself and talking with others, which at times I have struggled with being quite an introverted person. Coming home, I feel really inspired to capture and record my experience through my creative practice.
"I do truly believe that this trip has changed my life, in terms of both my studies and focusing on creative subjects that I hope to implement into my third year of study, but also in terms of my confidence. Throwing myself into this experience has really pushed me outside of my comfort zone in terms of meeting new people from both other UCA campuses and from around the world, and also in terms of proving to myself what I can do."
Mari: "This trip has given me a taste of university life but not as I already knew. It felt more like what you expect as a young kid walking into a huge campus, with its own little village and community, so much diversity of cultures and people from different areas in the world. At UCA we have a different university experience as we are a smaller closer knit community so it felt like I got to experience something new."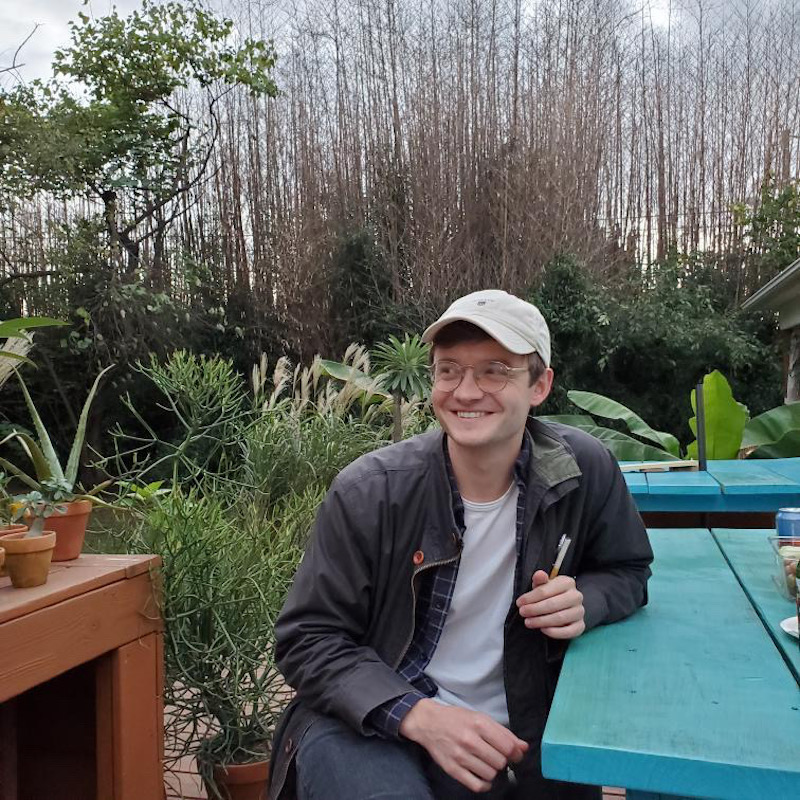 The Hanyang University campus was far larger than anything our students had experienced, giving them a new perspective
Finally, what advice would you give to other students thinking of going on one of UCAs overseas programmes?
Sophie: "I think it is natural to feel quite nervous when applying for an overseas opportunity. For me, I live at home when studying, so I haven't had the opportunity to live away from home for such an extended period of time, nor had I travelled that much before so when applying, it was definitely a daunting experience.
"I would say reaching out to my other peers from UCA definitely made a difference. Setting up a group chat, for example, before travelling helped me feel less nervous as I knew others were feeling the same as me and we all had each other for support. Helping each other out can make a massive difference especially preparing for a whole new experience. I would recommend this experience to anyone who is interested in applying!"
Mari: "For anyone thinking about taking one of these opportunities I would say it is worth every penny, as long as you are willing to make the most of it to get the best experience. The more you make of it the better it will be. There's nothing better than visiting somewhere new but being able to fully immerse yourself in the place as well as speak and learn from those who live there - I will remember it forever! And I've been inspired to take up ceramics classes back here in the UK, and continue my Korean language studies, too."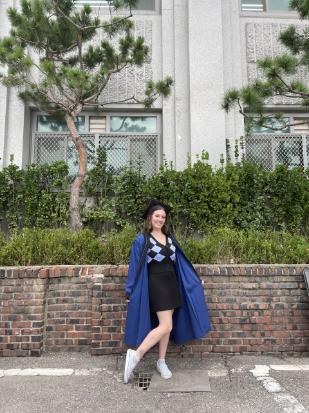 Mari Fox-Harwood in her graduation gown after completing the Hanyang International Summer School.
If you're interested in the overseas opportunities you could explore, visit our Study Abroad page!