Senior Lecturer – Product and Furniture Design
Academic
Professional Practice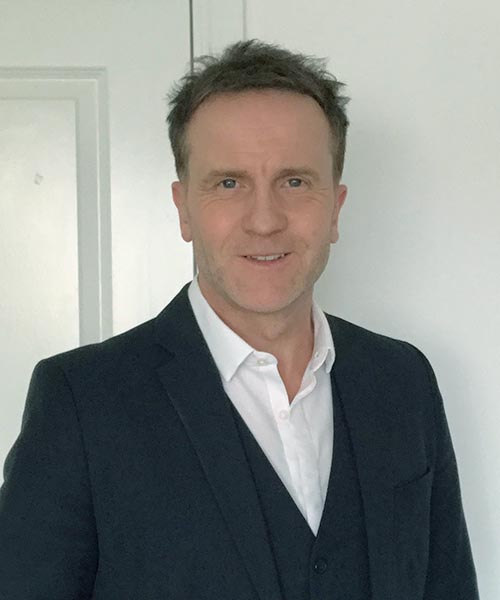 Stephen has more than 20 years teaching experience, including 14 years at UCA, alongside both Industry experience and self-employed professional practice. As well teaching on and being the first-year coordinator for the BA (Hons) Product & Furniture Design, BSc (Hons) Industrial Design and BA (Hons) Modelmaking, he also teaches on the MA Product Design course.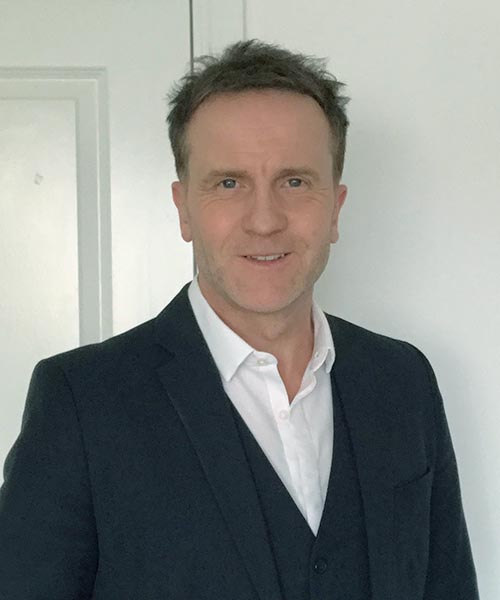 Bio
Stephen has worked as a Product Designer for Dyson, presenting design research to James Dyson and creating patented work. As a Design Consultant work includes a fire door safety product used in buildings including Tate Britain, and an NHS Innovations-nominated product that was a Highly Commended Finalist in the Medical Diagnostic and Laboratory Category. Stephen has industry experience, knowledge of design for disability/inclusive design and experience of self-employment/design business start-up. His work has featured in London's Design Museum, in newspapers/magazines including the Independent, the Guardian, Living Etc and Elle Decoration, and featured on Channel 5 Breakfast News and a pilot programme for Channel 4, 'Gimme the Money'. Stephen has also represented the UK in government sponsored design and trade exhibitions in Dubai & Kuala Lumpur.
Gaining a 1st class BA (Hons) in Three-Dimensional Design with Applied Technology, including Business & Marketing Studies, Stephen has also achieved an MA (RCA) in Industrial Design Engineering from the joint course at the Royal College of Art and Imperial College London. On this course he was awarded the James Dyson Scholarship. In addition, he has also gained a PGCE (Post Compulsory Education) and is a Fellow of the Royal Society of Arts and a Fellow of the Higher Education Academy
As well as teaching at UCA, Stephen is busy with his practice based design research projects. He is currently working on a project that explores creativity, ideas generation, nostalgia and creative motivation, through the design of a flat-packed children's garden toy that engages the child in simple assembly/building, outdoor physical activity, connection with the natural environment and the option to interact with parents, other adults or friends. The project includes a patent pending application and plan to commercialise the idea through an on-going interest in creative enterprise and entrepreneurship.
His other current and past projects and roles include:
Vintage Toy Restoration and Upcycling Commercial Project, October 2020 – Present.
Design for Safety, Western Horse Riding Safety Hat/Helmet, January 2020 – Present
Product Designer / Design Engineer, Dyson, Full-time. June 2011 – August 2013
Product Designer and Design Researcher, Volunteer, MERU (Medical Engineering Resource Unit). Charity, New Product Development, Feb 2010 – August 2010
Freelance Design Consultant, Royal Hospital for Neuro Disability. Feb 2006 – August 2008.
Research statement
Stephen's current research is related to childhood interests, playfulness, creativity and the link to innovation and new product development.
Research Outputs
Patents:
Stephen has been granted and is pursuing a number of patents as follows:
Developing a new training device for the discipline of western horse riding. Proposed Patent Pending Application for 2022.
Patent Pending Application. Children's Toy. 2021.
Meeting with the Intellectual Property Patent Lawyer with regard to patented technology whist working in NPI (New Product Innovation) as a Product Designer at Dyson. 2013.
UK Patent Granted – Plumbed-in 'HOT1' water cooker. 2004.
International Patent Granted - Whilst working as a Product Design Engineer at Dyson, responsible for inventing and designing the first prototype of the patented 'tool holster' used on both the DC05 and DC08. 1997.
Registered Designs:
Stephen has achieved a number of Registered Designs granted through the UK Intellectual Property Office.
Collaborative Research Projects:
'Sense of Place', 2014: Part of a team involved in an INTERREG funded project, 'Sense of Place' a collaborative project between UCA and the French University ESADHaR. Involved a trip to Le Havre, the publication of a book, 'Sense of Place' and a collaborative exhibition. Sense of Place: Le Havre ISBN: 978-0-9576828-4-9.
Professional Membership, Affiliation and Consultancy
Professional Membership:
Fellow, Higher Education Academy. 2019 to present.
Fellow, Royal Society of Arts. 2008 to present.
Member, Institute for Learning. 2009 to 2014.
Consultancy:
Design Consultant, Barton Marine, December 2020.
Freelance Designer, Mechanical Horse Head Prop Design, A Company of Little Acts, Woyzech, Lumley Studio, University of Kent. January 2016 – April 2016
Freelance Design Consultant, Eden Fields Film Project. April 2010 – February 2011.
Freelance Design Consultant, Royal Hospital for Neuro Disability. Feb 2006 – August 2008.
Design Director, Ovo Design Ltd. 1998 - 2004
Conference Attendance:
– QAA Celebration of Enterprise and Entrepreneurship in HE. Launch of 2018 'Guidance for UK Higher Education. Providers'. One day conference and training, Royal Academy of Engineers, London. January 2018.
- Invited to speak/presentation on Inclusive Design and Ethnographic Research at the NIHR Clinical Research Network Kent Surrey and Sussex, 6th Strategic Collaboration Meeting, Higher Education Institution (HEI) Engagement Workshop and conference. December 2017.
- Inclusivity and Mental Health. University for the Creative Arts, One day conference and training. 2014.
External Examiner, University of East London, BA (Hons) Product Design and Foundation Degree in Three-Dimensional Design, March 2019 - Present
Honours and Awards:
Honorary Lectureship, Division of Industrial Design, University of Liverpool. 2020.
Part of a multidisciplinary team working on The SMART which was NHS Innovations nominated and was a Highly Commended Finalist in the Medical Diagnostic and Laboratory Category, October 2008.
Finalist, James Dyson Product Innovation Awards, 2001
Finalist, Living etc magazine Bright New Things Awards, 2001
Awarded the James Dyson Scholarship whilst at the Royal College of Art. 1997
Finalist, Trophy Design, Race in the Media Awards, 1996