Associate Lecturer Film & Digital Art BA
Academic
Creative Education, Research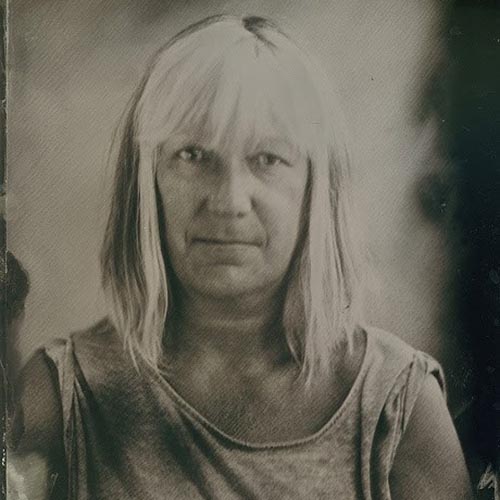 Rosie Gunn is our Link Tutor for the Film & Digital Art BA and Interactive Media BA delivered with UCA's partner The Millennium Universal College in Pakistan.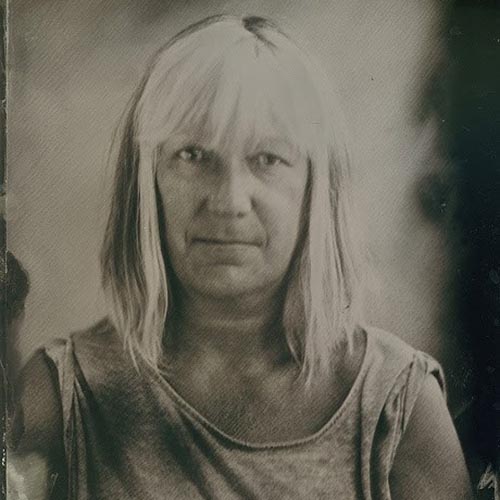 Bio
As an Associate Lecturer at UCA she focuses on research as an independent academic, artist and activist on climate change.
She is a member of the Board of Trustees for Creative Response in Farnham - a charity supporting vulnerable adults with mental health issues, including addictions, learning and physical disabilities.
Research statement
Rosie Gunn works with photography and moving image for single screen, multi-screen, projection and print. In 2017 her artwork 'Chain of Resistance' was carried in the recreation of a protest march as part of the Gestures of Resistance exhibition curated by Jean Wainwright at Romantso Cultural Centre, Athens, Greece.

Throughout her career she has frequently collaborated with dancers. In summer 2016 she choreographed a dance performance 'In Our Minds' for the Arts Council funded project Everyday People in collaboration with a research project between the National Archive and UCA. Video documentation of the performance is touring UCA galleries and finishing at the National Archive in Kew in January 2017. In 2013 she collaborated on The Birth Of Stars, an interdisciplinary Arts Council funded dance project, to create and light the performances with a digital video projection that interacts with the music and choreography.

Her early videos and photography established the male body as a site of female erotic fascination. In 1993, she co-founded Exposures (with Grace Lau, Del La Grace Volcano and Robin Shaw), where she led a number of workshops including the popular Women Photo Men. Her photography was discussed and published in Emmanuel Cooper's Routledge publication Fully Exposed, as well as in national publications such as The Sunday Times Culture supplement and Time Out magazine, and international publications from Norway to Brazil. BBC Two's Everyman featured Rosie, her photography and workshops in Sauce For The Goose. In 1994, she took Exposures' photography and workshop programme to the Melkweg in Amsterdam.

Exposures' archive was accepted into the Women's Art Library at Goldsmiths, University of London in 2008. Rosie's early work continues to be shown regularly, most recently in 2015 as part of the group exhibition The Nude Male at the AVA Gallery, University of East London with works by Sarah Ainslie, Laure Albin Guillot, Julie Cook, Alexis Hunter, Minna Kantonen, Nerys Mathias, Emma Mcguire, Nicoletta Tortone.

With Reconnection in 2003, Rosie began to explore images of childhood and family life in randomly changing digital photo grids, and in 2007, she made the three-screen HD video 'Living Room' for the National Review of Live Art.

In 2009, Rosie was awarded a Teaching Fellowship for 'My School', and became a Fellow of the Higher Education Academy in 2012.
Professional Membership, Affiliation and Consultancy
Fellow of the Higher Education Academy (2012)


External Examiner (Subject & Principle) – Lens Based Media - University Of Hertfordshire Sept 2002 – Sept 2007
Arts Council Funding for Open Submission Exhibition What She Wants 1992

Citation:
Male gays in the female gaze: women who watch m/m pornography - Lucy Neville, Department of Criminology & Sociology, Middlesex University,UK Published online: 07 Sep 2015.
Commissioned & Commercial Work:
Bartle Bogle Hegarty Limited/Scottish Power (stills photographer on film shoot)
Baby Bolsters (photography for packaging)
BDP Productions/Gunn Shots/RTL (director/research – body piercing documentary)
BBC2 Everyman – A Time To Die (stills)
BBC2 Everyman – Sauce For The Goose (video and stills)
Siobahn Cleary - Female DJs Documentary (publicity stills)
Mail & Female Catalogue, Holland (centrefold photography)
Marshall Cavendish (editorial photography - 40 week contract on part work collections)
Opzij – Dutch Feminist Magazine (editorial photography)
Ludus (two editorials and one cover)
Fruits Of Fire (publicity stills)
Rockers' Reunion/Gunn Shots (interviewer/director/editor)
Body Politic (editorial photography)
Ludus (two editorials and one cover)
Courses Magazine (two covers)
Courses Magazine (cover)
Business & Professional Womens' Federation (portraits)
Legend Television, Pinewood Studios Bucks (director - corporate video)
Portman Films, Pinewood Studios, Bucks (research/co-director – Alternative Miss World)
Research outputs
Find links to all Rosie's research outputs and activities available at UCA's online research portal UCARO