Programme Director Design
Academic
Professional Practice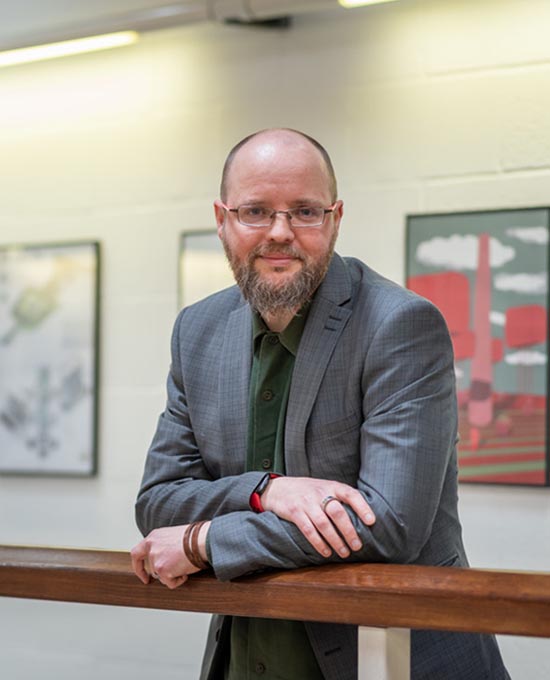 John Joe (JJ) Brophy leads our undergraduate and postgraduate Design courses in the School of Architecture at UCA Canterbury.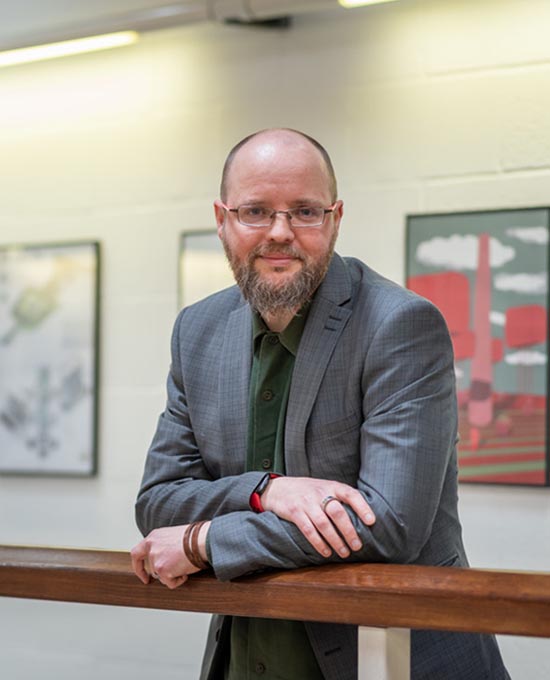 Bio
JJ has been teaching at UCA since 2005 and specialises in digital media and technology, he has been the leader of the digital media and communication units across the School of Architecture.
A graduate of the University of Huddersfield, JJ completed his MA in 3D Digital Design in 2004, for which he received a distinction and the COEDD (Centre of Excellence in Digital Design) Award.
In 2006 he co-founded Alchemation Studios, a multidisciplinary media arts and design practice based in the south east of England. JJ is also a fully qualified teacher, holding a PGCE from UCA and has over 10 years of teaching experience in higher education.
Research statement
Much of JJ's research is technology focused and centred around themes of human-machine interaction and the 'digital view'. Previous research projects have explored large scale 3D scanning and mapping visualisations, which aimed to depict spaces through a visual language unique to the process of LIDAR scanning.
As founder of the CSA Digital Futures Lab, JJ's research and teaching interests include creative coding, LIDAR scanning, rapid fabrication and virtual reality; specifically, how they can become more embedded elements in student design workflows.
Professional Membership, Affiliation and Consultancy
Fellow of the Higher Education Academy (2010).
2004 - COEDD (Centre of Excellence in Digital Design) Award.
Projects:
JJ's research interests in creative coding and computer vision have led to collaborations on larger scale exhibitions and installations such as:
Centipede - a part of the Folkestone Triennial 2014
Bandwidth, an Arts Council funded research project with John Bell, exploring digital tracking in large public spaces.
Research Outputs
Find links to all JJ's research outputs and activities available at UCA's online research portal UCARO