Students showcased tailoring at
Golden Shears 2023
Two final-year students from the University for the Creative Arts (UCA) showcased their tailoring projects at the Golden Shears 2023 competition, celebrating the UK's next generation of tailors.
22 Mar 2023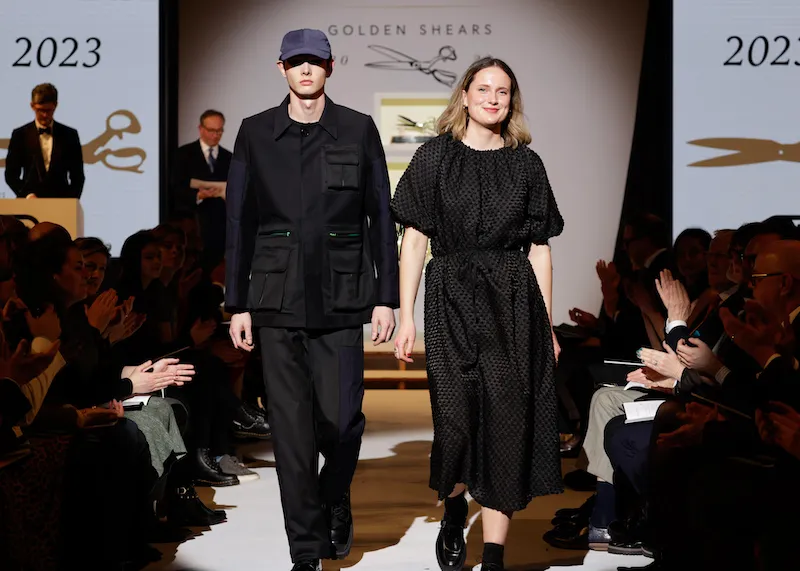 © Maisy Roles. Image courtesy of Golden Shears at Merchant Talyors' Hall
Held every two years, Golden Shears brings together the best fashion students and apprentice tailors from around the country and showcases their creative and technical excellence. Together with the overall title, the winner takes home £3,000.
BA (Hons) Fashion Atelier students Imogen Lemm and Maisy Roles made the final 22 after being initially shortlisted for their second-year tailoring projects.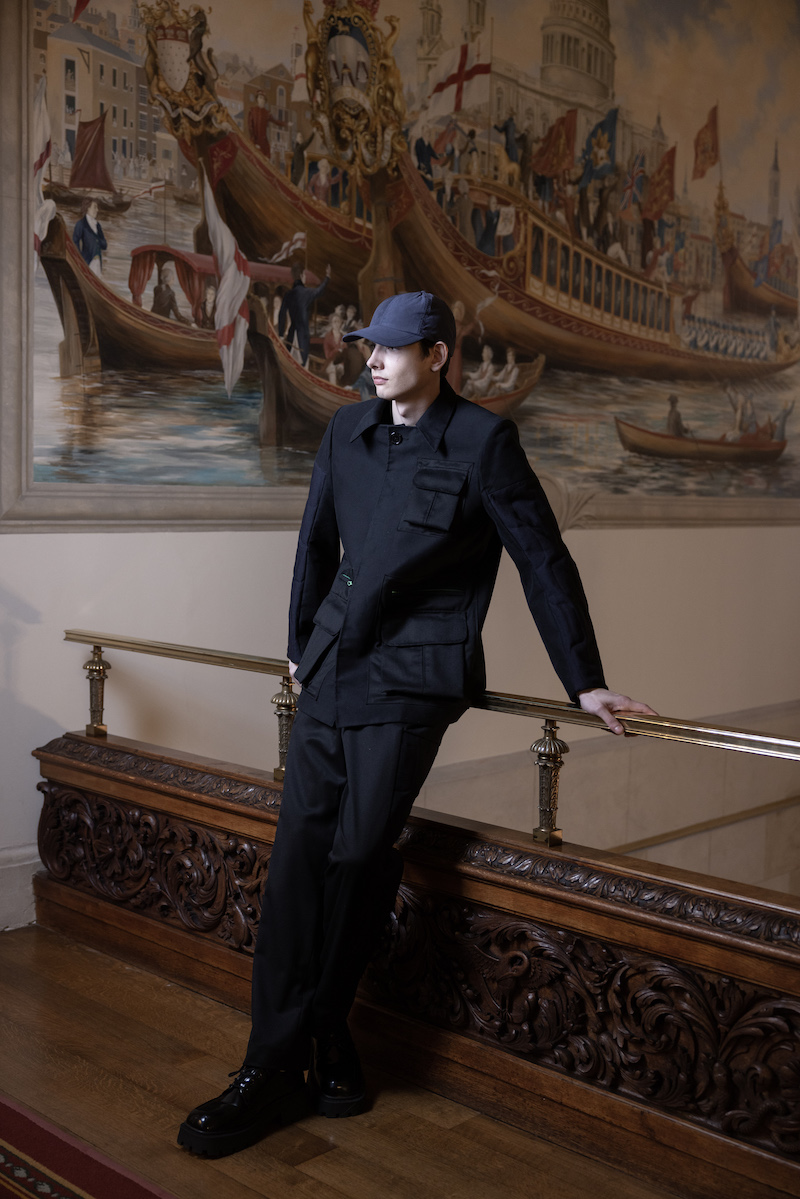 Maisy Roles. Image © Golden Shears at Merchant Taylors' Hall
The concept behind Imogen's garment stems from a reference to angular cracks in historic paintings, such as Michelangelo's The Creation of Adam. Titled, Cracking the Renaissance, she used traditional Savile Row methods to create her final look, combining navy wool and a light blue cloth for the panelling.
"Fashion Atelier has been very inspiring. I have always been interested in pattern cutting and the construction of garments," she said. "Through practical work, I explored the new techniques and bespoke tailoring processes the course taught me: sparking a desire to master them."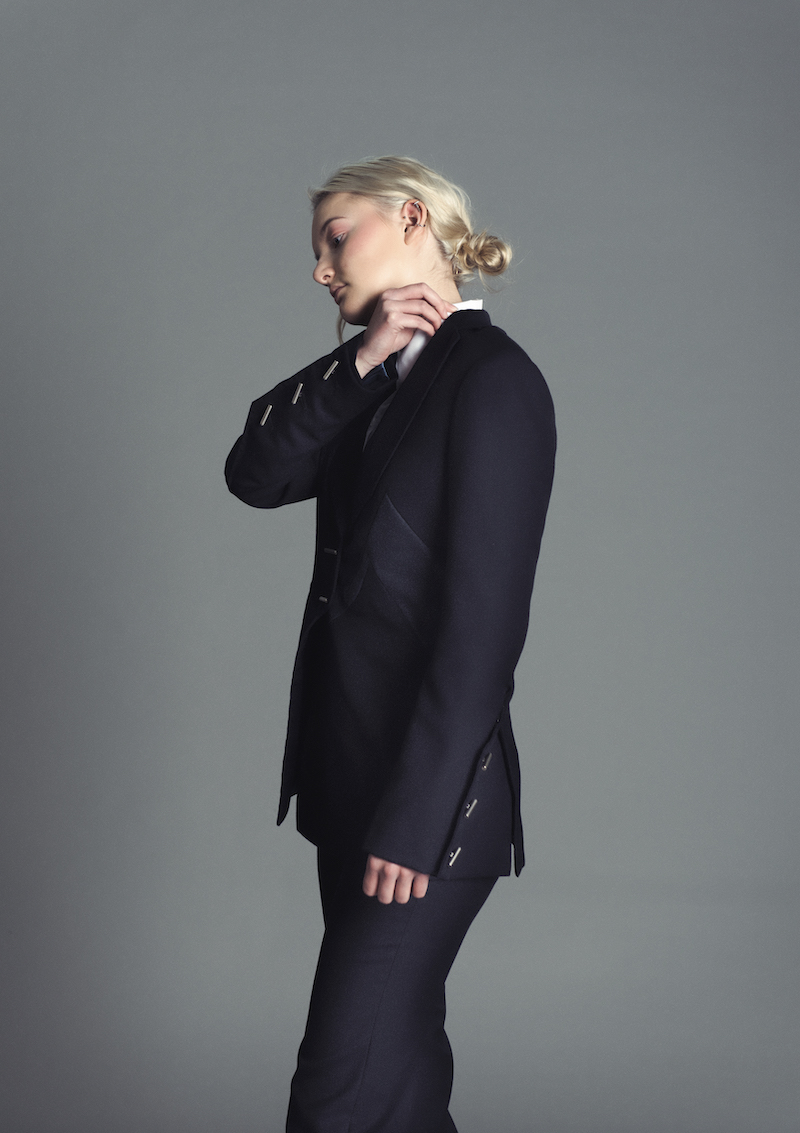 Cracking the Renaissance ©Imogen Lemm
Maisy was similarly inspired by the arts, a film called La Haine, set in the suburbs of Paris in the mid-90s. It explores issues of racial injustice and police brutality. Taking these two groups as her influence, she combined the two looks: police uniform tailoring with 90s streetwear. Using heritage tailoring techniques such as pad stitching, canvasing, and hand finishing she created a contemporary, bespoke piece.
"I have always been more interested in making rather than designing, so I knew that I wanted to find a degree with a strong practical focus," she said. "I love that my course naturally leans into sustainability through its focus on craftsmanship and creating garments with longevity."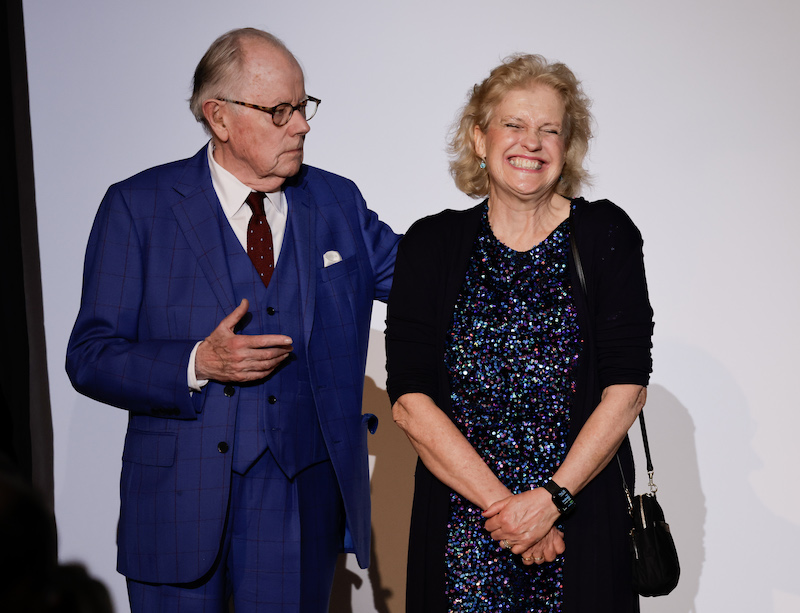 ©Golden Globes 2023 at Merchant Taylors' Hall
The winners were chosen by a panel of technical judges and a panel of style judges, including Hilary and Michael Whitehall (parents of comedian and actor Jack Whitehall), and announced at Merchant Taylor's Hall in London on 20 March. As well as the Golden Shears two other prizes - The Silver Shears and £2,500, and The Rising Star and £2,000, were also awarded.
To learn more about studying Fashion Atelier & Tailoring at UCA, visit the course pages.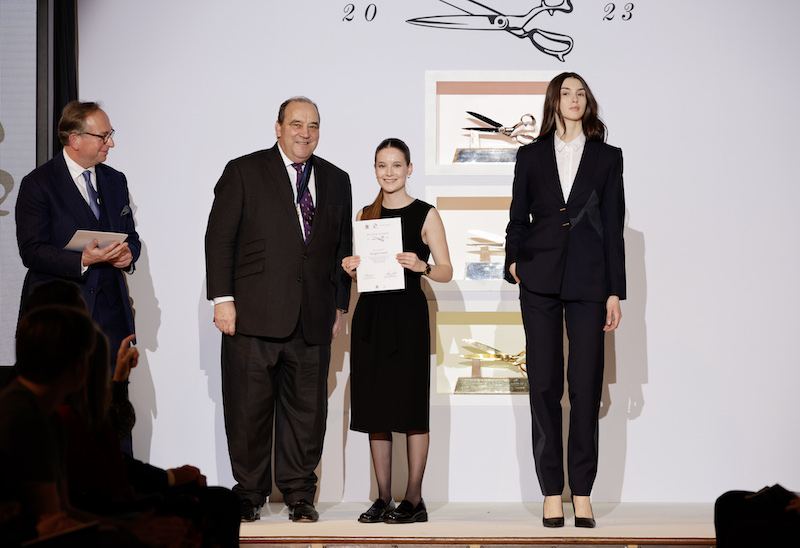 Imogen Lemm. Image © Golden Shears at Merchant Taylors' Hall