Fine Art students rise to
the challenge
A competition by the Surrey Sculpture Society (SSS) to challenge UCA Farnham's final year Fine Art students has been won by Hebe McKenzie.
29 Jun 2023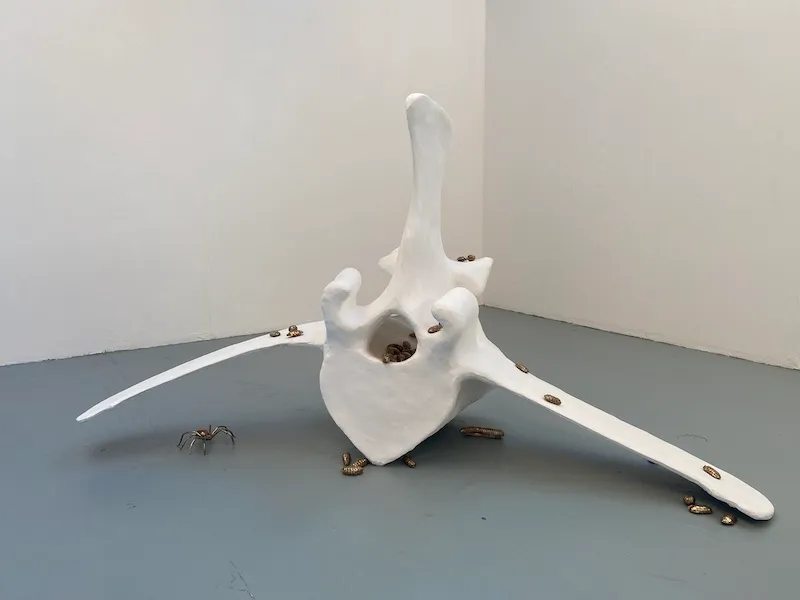 ©Hebe McKenzie
The competition, which helps graduates emerge onto the art scene and launch their careers as professional artists, asked the artists to show imaginative use of 3D materials and creative use of technical process and fabrication.
Hebe worked with MDF, chicken wire, and plaster to create her pure-white vertebrae sculpture, which was accompanied by insects cast in bronze, giving them a sense of value and beauty. Inspired by the natural world, she recreated objects from nature that showcased their beauty in life as well as in death.
"I wanted my viewers to see just how beautiful the natural world is, no matter how small, how morbid, and how uncomfortable," she said. "The natural world is outstanding, and every element of it should be embraced and admired. I wanted my artwork to help people see this, to help people fall back in love with nature and appreciate everything it does for us."
The judges, Nick Baker and Abby Martin, Chair and Vice-Chair of SSS, liked how evident the concept of beauty in death was in her final piece and made for a coherent story.
They said of Hebe's work: "[It is] A beautifully conceived and presented piece of art. The contrast of the materials worked; the "bleached" deer vertebra offset the bronze metallic sheen of the insects. One devoid of life and the other glistening and sated, having fed upon the first.
"The overall quality of execution was also of the highest order. Her attention to detail with scaling up from actual, real-world sizes was most impressive. She is genuinely passionate about the subject maker, and this too helped make the piece more approachable."
Hebe won £500, free SSS membership for 2024 and free entry to one of their exhibitions.
"I plan to use this money to grow my art skills and knowledge," said Hebe. "I love experimenting with different mediums and materials, so this money will allow me to do just that. I will be able to take different art classes and purchase new materials to allow myself to grow and learn more about the art world and learn more about what I love doing."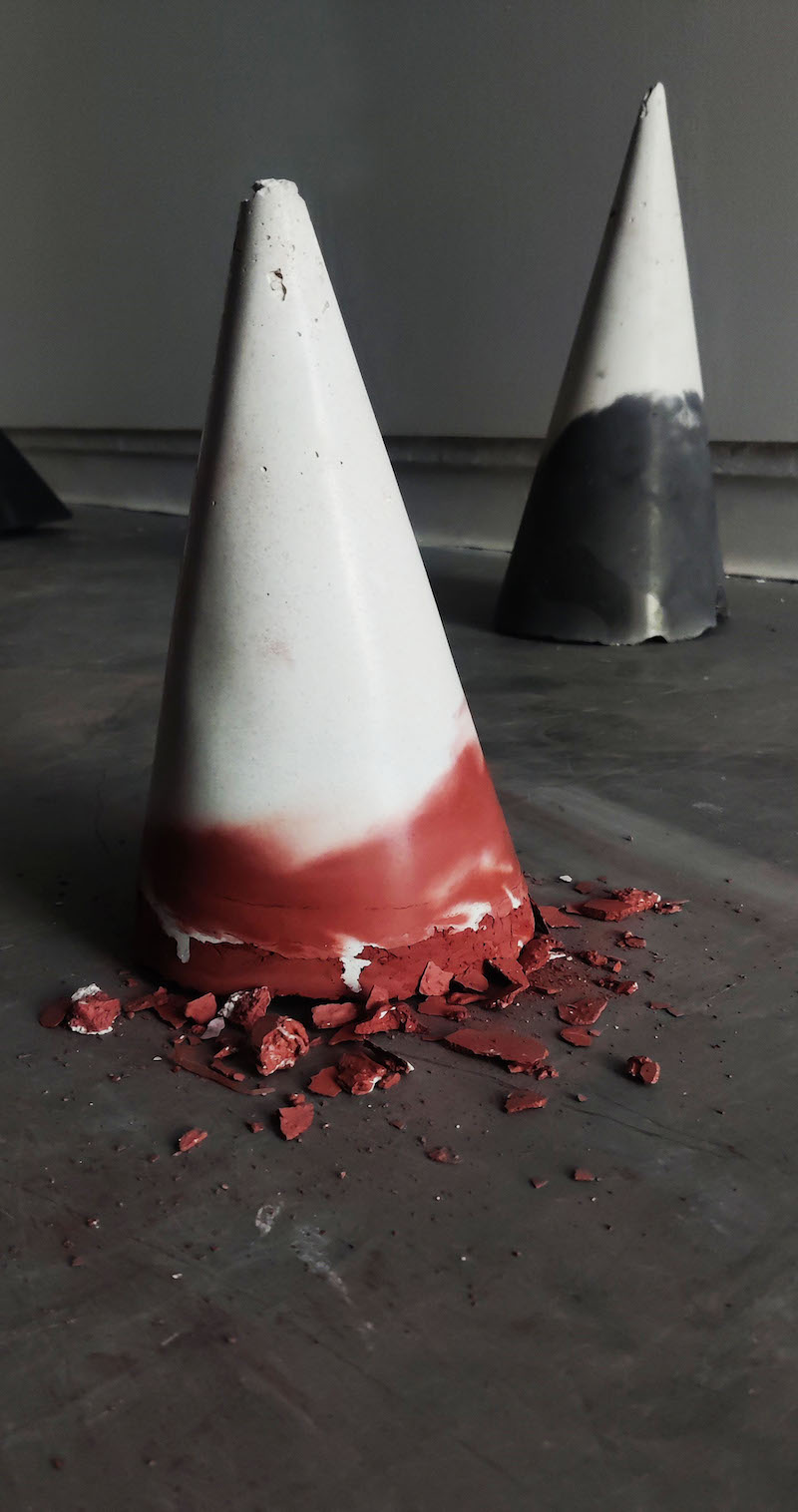 ©Christina Richards
The runner-up was Christina Richards, who received recognition for her installation called What is in the Now, is Spoilt. Hoping for viewers to experience an alternative landscape, her work uses a mixture of film (performance art) and sculptural forms, such as concrete cones, to create a landscape around the limbo state between the conscious self and the subconscious self: a state where vulnerability exists.
Post-graduation, she hopes to extend her practice into the theatrical industry, building upon her navigable landscapes to create experiences that capture an audience.
The judges said: "[Christina's] depth of thought and bubbling enthusiasm made the whole concept come alive. By taking a simple initial shape (the cone) and adapting it to each of the facets of her concept, we were able to anchor the art in that shape and then watch its progress through her manipulation of the bigger space. She is exploring the potential that virtual reality offers, which is simultaneously exciting and challenging."
Christina wins free membership to SSS for a year and free admission for one piece of work to an SSS exhibition in 2023.
Commenting on her prize, Christina said: "Membership to the SSS will be a critical step as I graduate. It has given a direction and network of like-minded makers to be encompassed by. Being a creative, a huge part of the making process, is having an artistically fuelled environment to bounce off and with. Speaking with Abby and Nick, I not only showed them my practice but learnt more about the SSS, the work, and curation. An exciting convergence."
To learn more about studying fine art, visit the course pages.