Talented fashion graduates shortlisted
for GFF Awards
Five UCA fashion graduates have been shortlisted for the 2022 Graduate Fashion Foundation (GFF) Awards, highlighting the very best in graduate talent and awarding excellence.
17 Jun 2022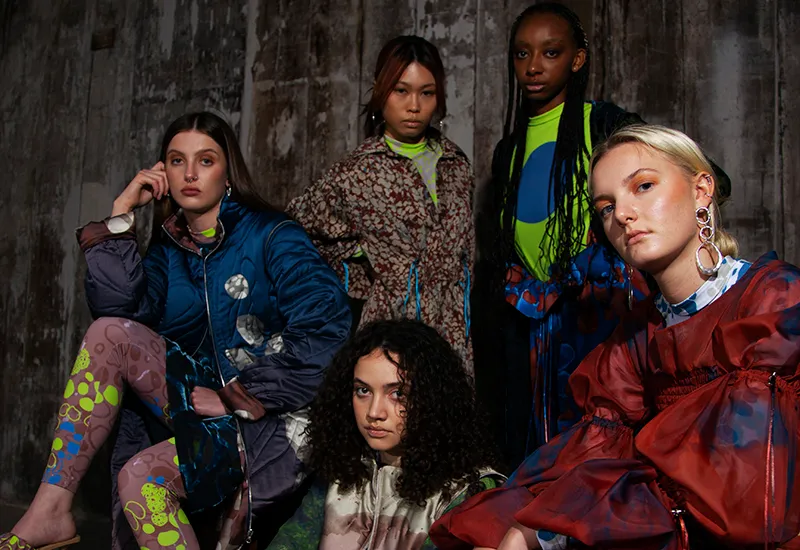 Image: ©Grace Moore
AnnaMarie Salazar-Wheeler, a graduate of BA Fashion Design, was shortlisted for the Fashion Innovation Award, which was created to celebrate groundbreaking and visionary thinking, and champion pioneering influencers of the future.
AnnaMarie's graduate collection is called 'Aeons'. The collection revolves around the movement of time, inspiration was pulled from three points, the past (prehistory), the modern age (her family) and the future (C.M. Kösemen's All Tomorrows). Using corsetry, leatherwork, traditional tailoring techniques and hand knitting, AnnaMarie created a non-gendered collection that asks the question: "What has humanity become, and what could we evolve or devolve into?"
"My aspiration is to make conceptual and avant-garde fashion more inclusive regardless of gender identity or size. I believe that beautiful and interesting clothes should be able to be worn by anyone at any stage of their life," added AnnaMarie.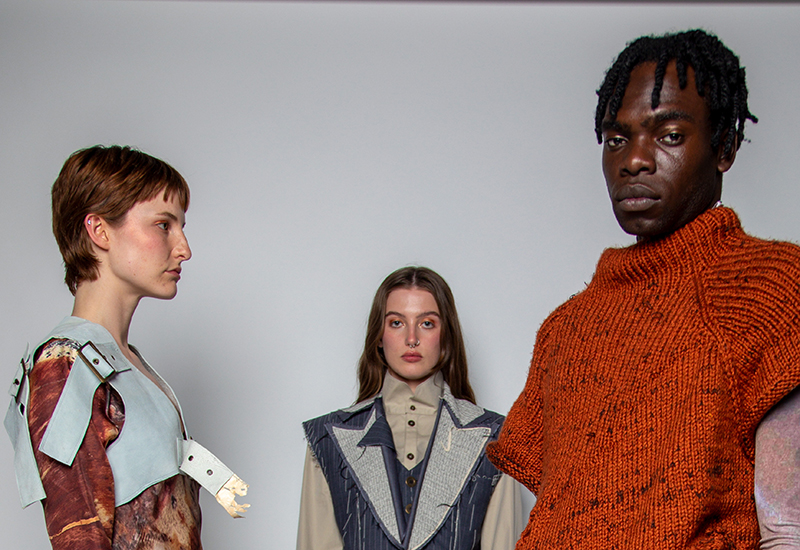 AnnaMarie Salazar-Wheeler. Photographer: Sonny @sonnetdreamz
Alex Rahneva, a Fashion Management and Marketing graduate, has been shortlisted for the Fashion Marketing Award. Her Uknown app is a personalised and tangible solution to allow sexual abuse (SA) survivors to feel seen and validated. It uses VR technology, real-life therapeutic tools, and chromotherapy to create bespoke, safe spaces for therapy and to combat the after-effects of SA.
Alex said: "Shedding light on the SA epidemic has been my goal from the start. I'm elated that the project has received such high recognition from GFF.

"One in four women experience some form of SA throughout their life, yet the taboo culture we have created around it has prevented us from seeking open, radical change – this is when I began conceptualising Uknown. Only by acknowledging the nuances of each SA experience can we help every SA survivor."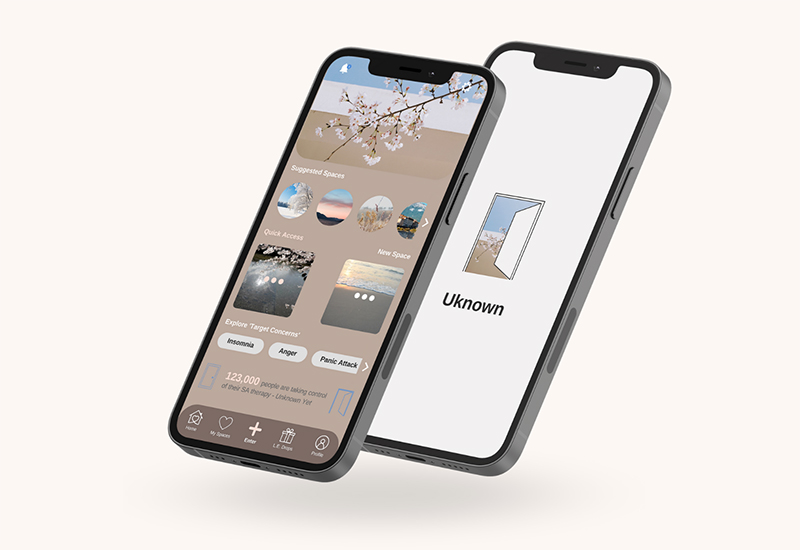 Image: ©Alex Rahneva
Grace Moore, a Fashion Textiles graduate, has been shortlisted for the Range Plan Award. It showcases and celebrates a cohesive range that works well as a whole collection and shows creativity and imagination.
Her final collection, 'Never Within Your Control', explores different forms of cancer that can ravage the human body. She created an adjustable range of graphically printed and textured womenswear that can be layered up to represent the various stages of the disease. She started with technical drawings of each of her garments, which she later visualised in CLO3D, digital fashion design software, to express the print, fabric and textural details more accurately.
"My collection expresses the human skin, what lies beneath the surface, and how it changes over time. It highlights a taboo subject and raises awareness of conditions such as mesothelioma, Hodgkin's Lymphoma and breast cancer. The range of womenswear is designed for all skin tones, ages and sizes, to express themselves through different combinations of the garments," explained Grace.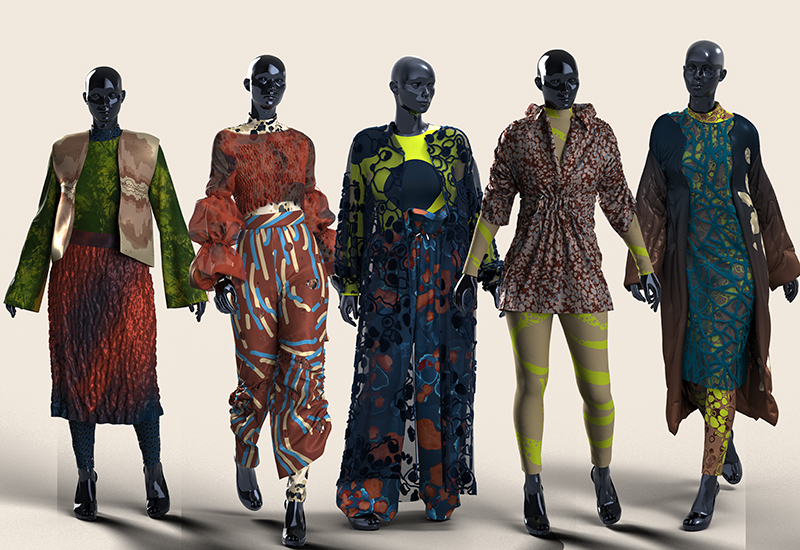 Image: ©Grace Moore
Jone Vžesniauskaitė, a Fashion Design graduate, is shortlisted for the Fashion Concept Award, which celebrates the research and concept development that must take place to produce a cohesive and well-thought-out collection.
Jone's collection is inspired by and dedicated to her late grandma and the stories of her life in Lithuania, after fleeing the USSR to avoid exile to Siberia. With only the clothes on their backs, Jone explored clothing examples from that era, which included military wear, Lithuanian folklore, and photographs from a childhood spent in her grandma's garden.
"It feels unbelievable to know there is someone who appreciates my grandma's story, and I hope that people will see my collection not only for how it looks but what it means," said Jone. "There will be people that can connect to my collection because every family has their own story to tell or has gone through a similar experience – fashion design is so much more than clothing!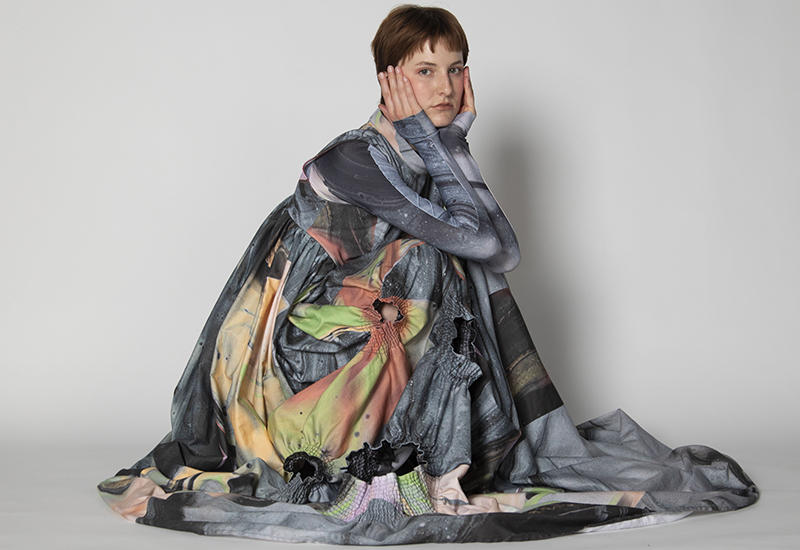 Jone Vžesniauskaitė. Photographer: Sonny @sonnetdreamz
Inge Van Doorn, a Fashion Textiles graduate, has been shortlisted for the Zandra Rhodes Textiles Award. Awarded for a distinctive or thought-provoking fashion statement in printed or constructed textiles, which challenges the established boundaries of technical excellence.
Inge's final collection of menswear incorporates the use of hand screen printing and digital printing and hand-crafted fabric manipulation techniques.
"Within my work I want to create an environment in which menswear creates a new perspective on masculinity and high-end fashion," said Inge.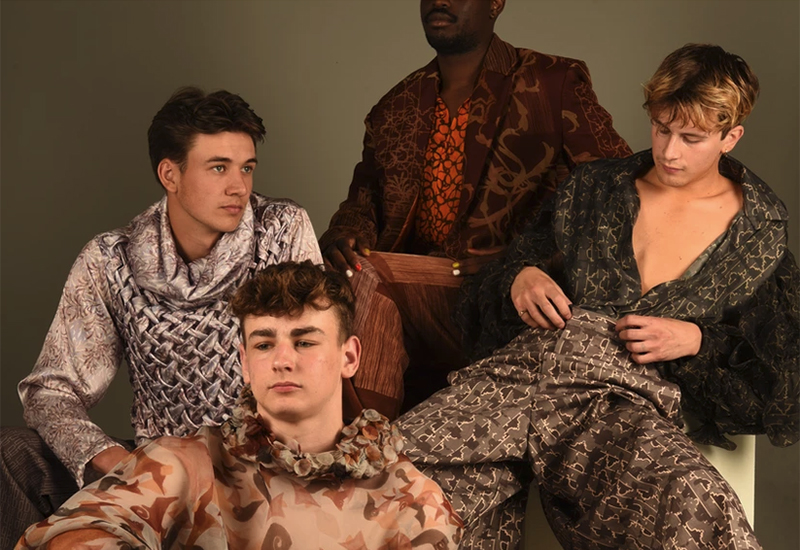 Inge Van Doorn. Photography by @annaross.photography
Winners will be chosen by a small panel of industry experts and announced each evening throughout Graduate Fashion Week (GFW), which runs from 20 to 24 June at Coal Drop Yards, Kings Cross, London.
For more information on our fashion degrees, visit the UCA course pages.