Fashion alumna crowned winner at
Study UK Alumni Awards
Fashion alumna Edelina Joyce Issa has been crowned the winner of the Culture and Creativity Award at the prestigious British Council's Study UK Alumni Awards 2021-22 ceremony.
01 Feb 2022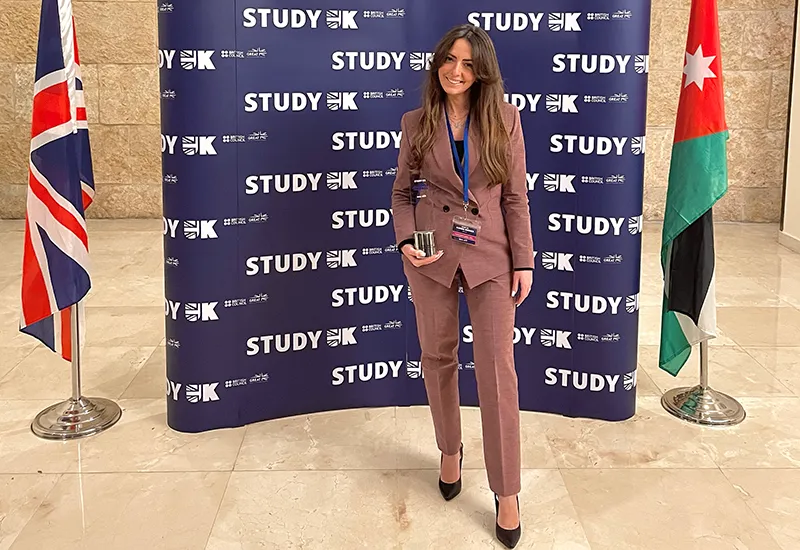 "I feel very privileged to be awarded for making a positive contribution to my community, industry and country," Edelina told UCA. "I'd like to thank the British council, my educators, UCA, as well as my family and friends who have been a backbone of support. A quote my father has always instilled in me – the one thing that can never be taken from you is your education."
The award recognises alumni who have carved a career for themselves in arts and culture and individuals who demonstrated their artistic ingenuity, influence and creativity.
The British Council's Study UK Alumni Awards are internationally recognised and acknowledge UK alumni who have used their experience of studying at a UK university to make a positive contribution to their communities, industries and countries.
Now in their eight year, this year's awards are celebrating UK alumni in Jordan and the finalists has been chosen for their important contribution to strengthening collaborative ties between the UK and Jordan.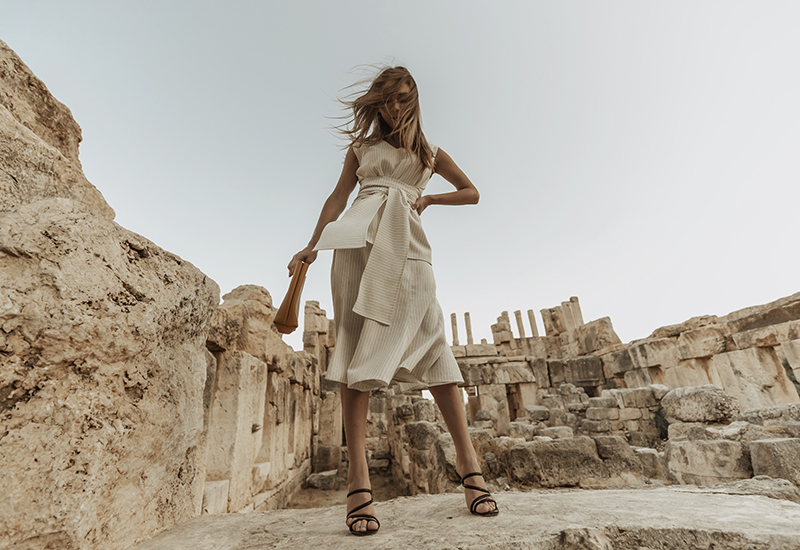 Edelina Joyce - SS20 Collection
Edelina, who graduated in BA (Hons) Fashion at UCA Epsom in 2013, was born and raised in Jordan, she came to the UK to pursue an ambition to understand the fashion industry. After returning to Jordan, she created her own line of clothing – 'Edelina Joyce'.
This Jordanian womenswear brand is a ready-to-wear clothing line that combines a modern conceptual vision with a minimal classic design aesthetic. She has used her British education and experience with recognised brands such as Victoria Beckham Ltd. to flourish in the fashion industry.
"With industry-standard facilities and professionals at the top of their field, my university education combined theory and practice to help me gain a fundamental and uncensored understanding of the global fashion industry and the skills required to make my own mark," revealed Edelina. "It changed my general approach in all aspects of my career, making me ambitious, precise and independent. It gave me skills beyond the design, construction and manufacturing of my product [and] a way of thinking I now work to instil in those I teach, mentor, as well as my staff.

"With a commitment to ethical, sustainable fashion, and to my country, my brand is designed, sourced and manufactured in Jordan – collaborating with small local businesses to produce my designs and employing and training seven refugees to produce high-end luxury garments," she added.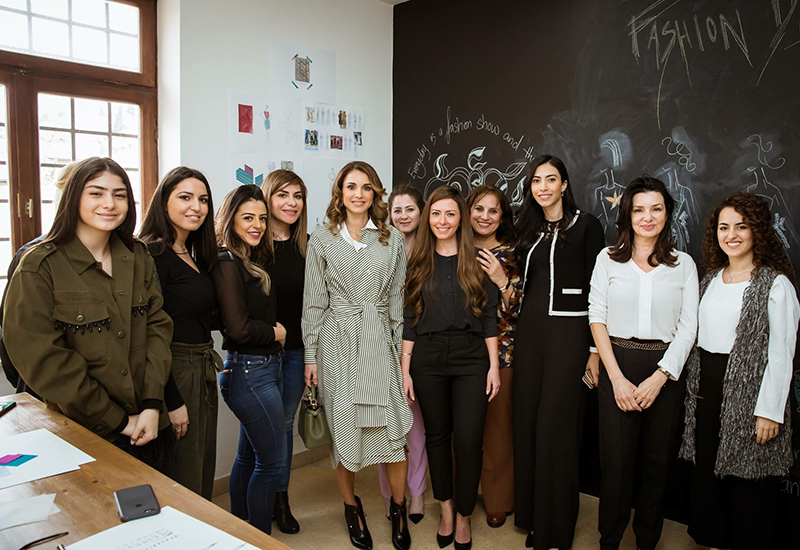 HRH Queen Rania and Edelina with her fashion students at the Design Institute Amman
Edelina also devised the fashion curriculum for the Design Institute Amman, where she has lectured and mentored more than 200 aspiring local designers since 2017.
"I recall that when I was starting out, fashion was perceived as a hobby and 'not a career', it makes me proud and honoured to now be encouraging the development of Jordan's market of local designers and is all testament to an inspiring and fully encompassing UK education," she said.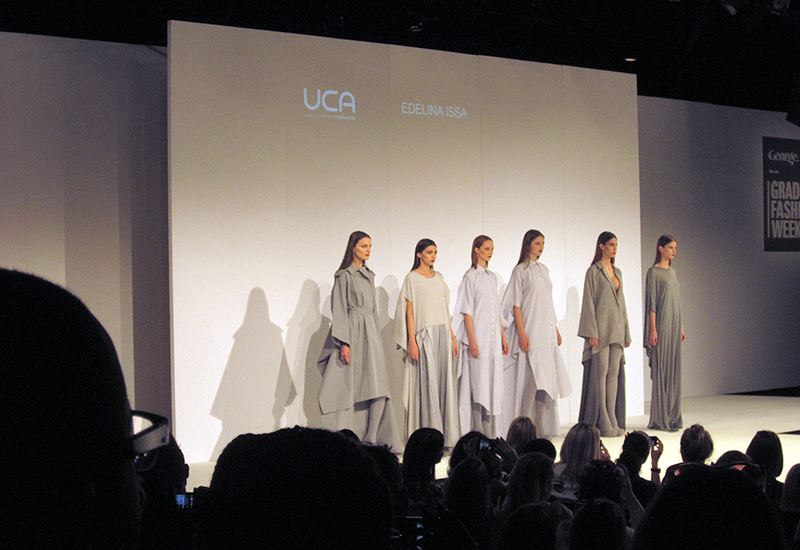 Edelina's Final UCA collection at Graduate Fashion Week
Finally, what advice would Edelina offer international students studying in the UK:
"My advice is always harvest the skills you've gained from University by sharing them and practicing your craft. Never underestimate the positive impact such an education can have on your country, profession and community."
UCA congratulates Edelina on her award.
If you're interested in understanding fashion better, take a look at our course pages.