Empire of Light experience
for TV Production students
UCA BA (Hons) Television Production students tell us about their experiences working on Empire of Light, the latest critically acclaimed feature film from Sam Mendes.
18 Jan 2023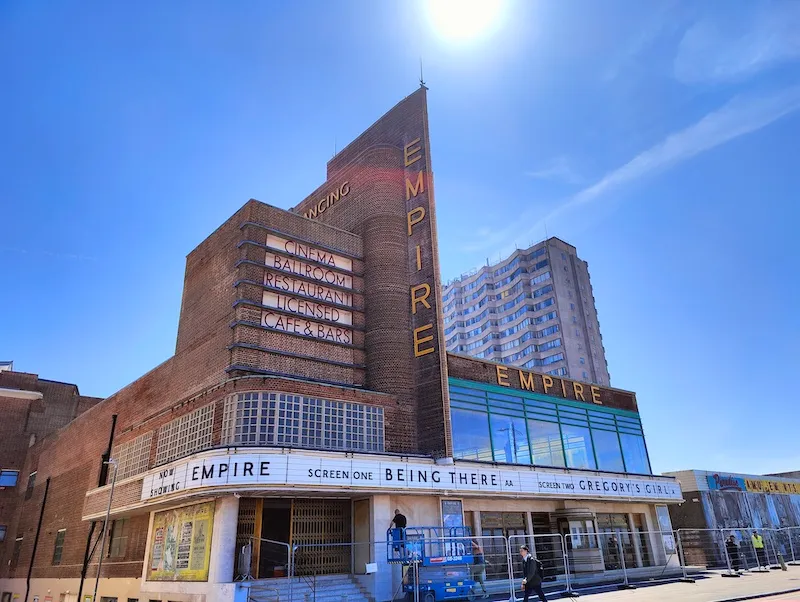 Above, the Margate cinema used as the main location for Empire of Light
UCA undergraduates Marcus Faulkner, Layla O'Callaghan and Lewis Yeates joined the crew on Empire of Light, Mendes' new film celebrating the healing power of cinema, music, and community.
Filmed in Margate and starring Olivia Colman, Micheal Ward, Colin Firth and Toby Jones, the movie hit cinemas and is out this week, so we caught up with all three students to find out what they got up to on set, what they learned and what they've gained from their UCA experience so far.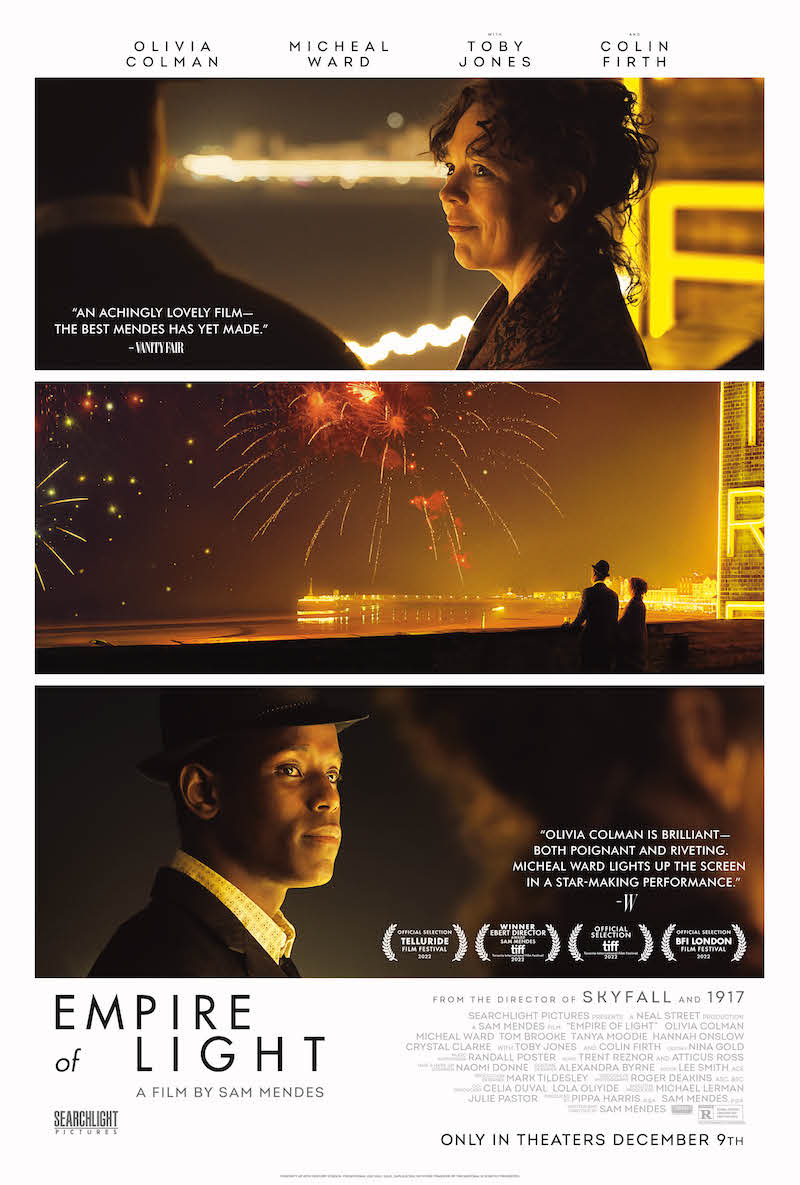 Hi guys, thanks for chatting with us! So, what were your roles on the set of Empire of Light? What was a general day like for you?
Marcus: "I was a runner for one day – it started with crowd control in the morning to keep people from walking on set or through the background. This was due to the beach being in the background, and the need to maintain public access to some footpaths throughout the day - we were only able to close them for short bursts during each take. Then, as filming moved into the afternoon, I helped with more general duties such as moving things about and maintaining facilities. It was great to gain on-set experience and see how everyone worked together to produce the film."
Layla: "I worked as a PA to the AD team as well as a Location Marshal. I was on set for a few days, from 8am until 5pm. My day mainly consisted of blocking off pathways so the public couldn't walk past while filming, getting chairs for the stars of the film and some overall running duties."
Lewis: "I worked on the film for three days a week between February and June as the trainee assistant in the Art Department. My main jobs were delivering technical drawings to the construction teams on set, as well as helping the set-dec department with the creation of props and finishing touches to sets. One of my most frequent jobs was changing the lettering on the lightbox of the cinema, as well as the posters."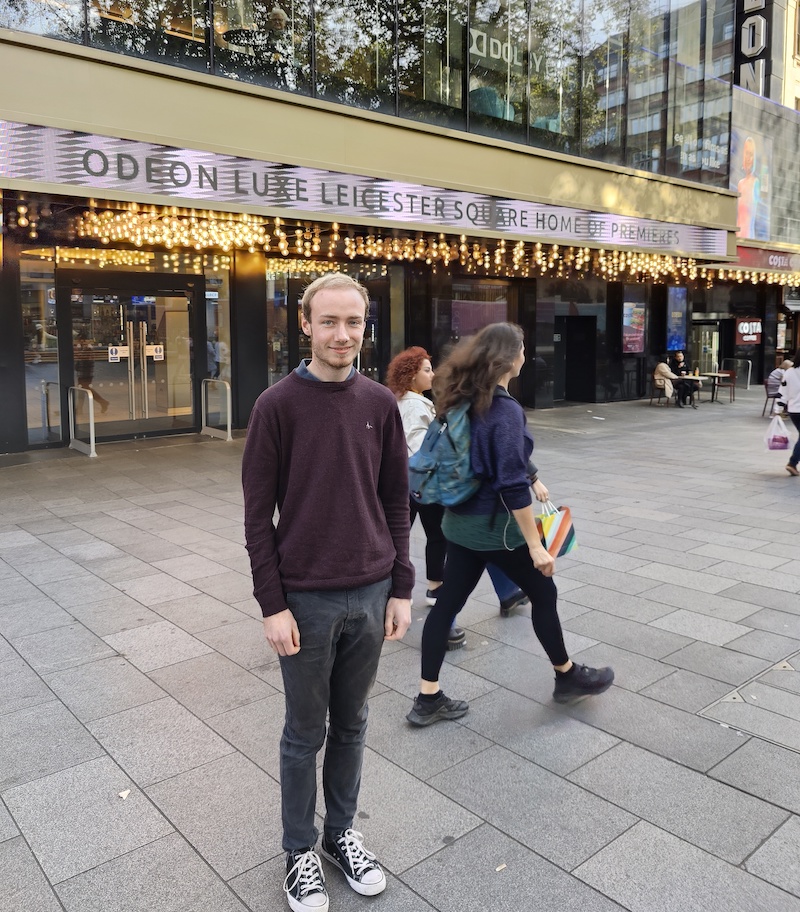 Lewis Yates outside a special screening of the film
What did you learn from the experience – did anything surprise you?
Lewis: "The chance to work on such a big film in my hometown was something I never thought I'd experience. I learned so much about how the pre-production side of such a big film works and how fast paced it is. There was such a high level of detail that went into the set design, the selection and design of props and the location choices."
Marcus: "Working on Empire of Light has given me the skill of dealing with the public. It's something that I hadn't done before this and was interesting to develop. I also got to see how a set is run, and all the components and teams that make it all happen, which is something that I can take forward to any role within the industry."
Layla: " I learned how to use a walkie talkie and listen to instructions through an earpiece known as a cobra. It also taught me some skills in professionalism when it comes to the public, skills I can take forward for future projects."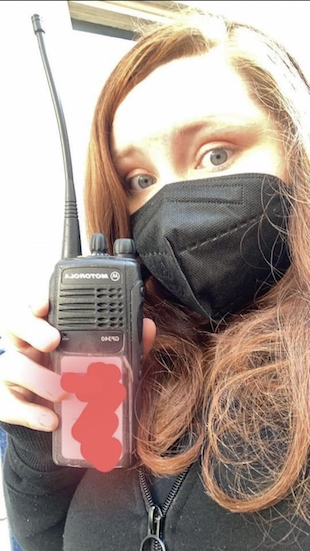 Layla O'Callaghan behind the scenes on set
So, has this experience consolidated your career ambitions or shown you alternative paths in the industry that you'd like to explore?
Lewis: "I've always wanted to work more in the 'shooting crew' rather than pre-production, however my experience on Empire Of Light has opened my eyes to a whole extra section of the industry that I wouldn't hesitate to explore further."
Layla: "It really solidified that this is the industry that I want to go into in the future."
Marcus: "Talking to colleagues while on set has helped show me that working from contract to contract within the industry is possible. This is something that I like the idea of as it allows you to work on multiple different projects in a year and choose what you do. Working on this project shows that it can be done."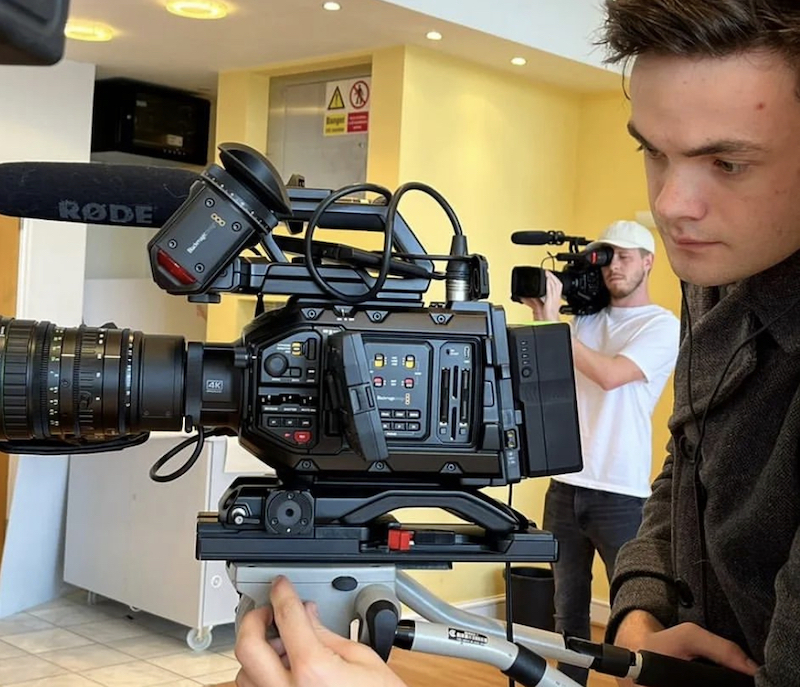 Marcus Faulkner behind the camera
Finally, what has your UCA experience been like so far, and what advice would you give to anyone considering studying TV Production?
Marcus: "My experience of TV Production at UCA so far has been great, and it has given me hands on experience and technical skills. It's great being based in a professional studio at Maidstone Studios, and it gives us access to great facilities and industry links. I can't wait to see where the rest of the course takes me, as I can see myself improving every week with the help of lecturers. Anyone considering studying this industry should definitely consider coming to UCA to learn all about it."
Layla: "My UCA experience so far has been incredible. The opportunities that I have had in my first year have been a dream come true. To anyone considering studying Television Production, take every opportunity you can, no matter how small it is. It's definitely worth it!"
Lewis: "I enjoyed every second of being at UCA in the TV Production course. We covered such a varied range of genres, cameras and job roles that prepare us for working in the industry after uni. The course staff are very supportive and encouraged and helped me to work on Empire Of Light alongside my studies."
If you're interested in studying Television Production visit our course pages.
Empire of Light is in cinemas now.