McEvoy explores musical
inspiration in PhD study
Award-winning film composer Mike McEvoy is among the latest to embark on groundbreaking creative research as a UCA PhD candidate.
30 Aug 2023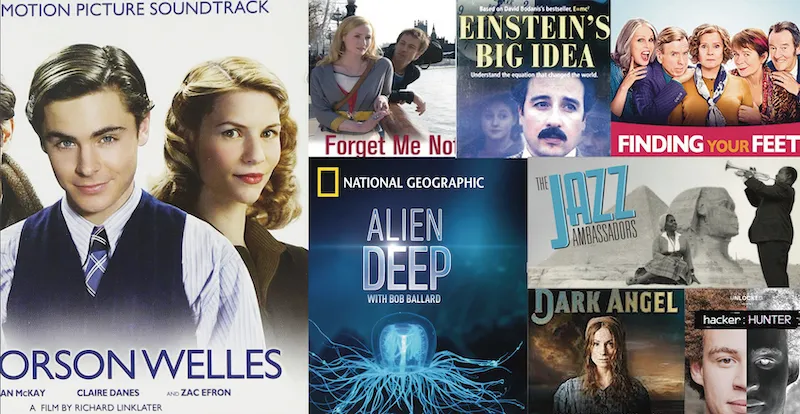 Above, a selection of the many film and television projects Mike McEvoy has worked on in his career
Emmy award-winning and Ivor Novello-nominated Mike McEvoy has set out on a new musical journey as he undertakes PhD studies at UCA, investigating how images can influence musicians' compositional choices.
Mike, who hails from America, has worked alongside the likes of Richard Linklater, Paul Oakenfold and Ricky Gervais, but has now come to UCA to fulfil his long-term ambition of studying a research degree.
"I had been thinking about doing a PhD for several years," he says. "When I came across UCA, I felt a resonance with the creative ethos. As my professional practice is multidisciplinary – working in film/TV scoring, jazz, songwriting and production, I was attracted by UCA's innovative and open approach.
"The experience has been very positive so far; it's challenged me. I'm growing enormously through the process. I have two fantastic supervisors who are experts in their fields. The facilities are amazing, and all the staff are dedicated and highly skilled."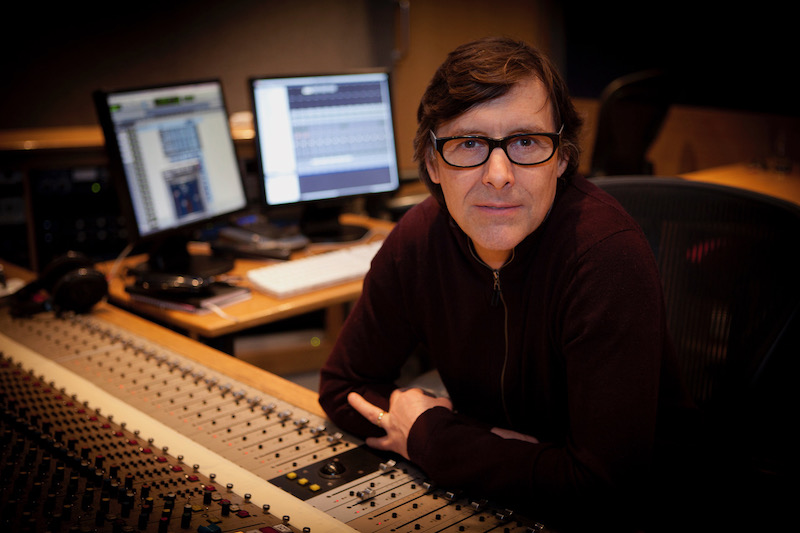 Mike's PhD is entitled Indeterminacy, Improvisation and Process in Music Performance to Moving Image.
"If we take the example of a film or TV show, music is often used to create emotion and drive the narrative forward," he says. "Instrumental music can take us on a journey and tell stories. In place of words, visuals can provide inspiration for musicians. Film and TV music is essentially the organising of musical decisions made by a composer in response to given visual sequences. Pieces are most often strictly notated and performed verbatim.
"What I'm exploring in my research is how musicians respond to compositions that I've made differently. In these pieces I have integrated moving images and loose written directions; I am looking at how the musicians respond in collaborative setting; how the images and directions might guide the groups' collective intentions."
Through his research, he hopes to uncover experimental techniques that will provide tools for collaborative processes between composers and musicians, and to develop a series of compositions for performance.
Over the years, Mike has worked on a multitude of different musical projects, traversing the boundaries between film, documentary, television and popular music.
In 2019 he was nominated for an Ivor Novello award for a piece he wrote for a small jazz ensemble called Mother Medusae. His music for the documentary Tennessee Yearbook won an Emmy Award (Mid-South Region). But what musical score is he most proud of?
"This is a difficult question, because each film and TV project I work on is unique," he says. "What I'd say is that there are many projects that I'm equally proud of and feel privileged to have worked on, largely due to the subject matter and the vision of the director. The Peabody Award-winning feature documentary The Jazz Ambassadors is a case in point. But there are others: Alien Deep, a NatGeo documentary series about the deepest parts of our oceans, and E=mc2, a docu-drama based on David Bodanis's book about the famous equation. All were amazing projects that gave me a lot of creative scope and, as a result, I learned so much from the process."
Before his work in film and television, Mike also made his name in the world of pop music, working with the likes of Scritti Politti, Ian Dury, Mark Morrison, and Steve Winwood/Traffic. In the 1980s he was a keyboard player for the band Curiosity Killed the Cat, and he also worked on Soul II Soul's second album Volume II: 1990 New Decade.
"I started my career in as a songwriter, arranger, and musician in the pop music industry. This was back in the 1980s and things were very different, as you can imagine! I had some amazing experiences working with many diverse artists in the studio. Because I knew music theory, due to my classical training, and was a multi-instrumentalist, I was able to bring skills that many artists and producers found useful. I was never very interested in becoming an artist in my own right though – I enjoy the creative process working behind the scenes in a supporting role.
"My experience as an arranger/musical director laid the groundwork for me to focus on film and TV composition, which I did after completing a Masters in Composition for Screen at the Royal College of Music in 2005. Writing for live orchestral musicians and having the chance to experiment with aspects of sound design was exciting and creatively refreshing. My decision to transition into film and TV composing was also motivated by the feeling that pop music had changed substantially. In many respects, I no longer felt connected to the music. I was looking for new challenges, which film and TV composition provided."
You can read more about Mike's career, and his PhD study, on his student profile page . If you're interested in taking your own passions to a research study level, why not take a look at UCA's Doctoral College.