British Animation Awards 2020 — celebrating our star nominees

Learn more about the UCA students and graduates dominating the nominations for this year's British Animation Awards.
09 Mar 2020
Our Animation course at UCA has a lot to shout about. Whether it's our students taking part in prestigious film festivals or alumni taking home Golden Globe awards, there's always something rather special going on.
The latest cause for celebration is the sheer number of UCA students, recent graduates and alumni making the shortlist for the 2020 British Animation Awards (BAAs). In all, there are 13 UCA-linked nominees across nine categories —almost all of whom were taught by Programme Director Lesley Adams.
We spoke to three of the nominees — current student Phoebe Morrison, nominated in the Public Choice Short Film category, and recent graduates Marta Lemos and Meg Earls, both nominated for Best Undergraduate Film — about their work and how it feels to be part of the list.
Phoebe Morrison's two-minute short animation Hand Made, explores the animation process and has already captured imaginations abroad after being selected for two international animation festivals in Slovenia and the USA.
Phoebe, in her final year of study, was inspired by the layered frames of Jack Fried's work and William Kentridge's use of charcoal.
"I wanted the audience to think about animation and its' potential," she says. "It's an experiment in animation techniques. To think that other people have seen it — and hopefully enjoyed it — well, it's hard to believe.
Phoebe got into animation through studying a foundation diploma at UCA, where she got to explore the many ways she could develop her art skills.
"I did painting and Fine Art at school, but when I moved on to the foundation course I found studying animation really fun." she says. "As I continued through the course I discovered the variety of animation styles and how much there is to it, and that's how my passion for it grew.
From her foundation course, Phoebe moved on to BA (Hons) Animation, and is enjoying the process of learning all the different ways she can create, even if she hasn't quite finalised her own style.
"My style is still evolving. My first film was a kind of digital collage and with my second film I wanted to return to the kinds of materials I was more comfortable using — charcoal, oil pastel, paint. While I work digitally too, I am much more comfortable with physical materials. I suppose I found my style in realising that I enjoy exploring what I can do with materials, how I can push them, what kinds of emotions I can evoke with them."
Marta Lemos's film, Dear England, is a break-up letter, outlining the relationship that the Portuguese-born creator now has with her country of residence in a post-Brexit era.
Marta wanted to convey the feelings she's had since the vote to leave the European Union, and combines digital and paper animation techniques to show viewers how she feels about the environment and society around her.
"I wanted to explore the idea that living in this country sometimes feels like being in a bad and emotionally abusive relationship," she says. "I want viewers to step into my immigrant shoes. I want them to understand what it feels like to step into your local Sainsburys and see newspaper headlines that accuse you of not belonging, even if you have tried to assimilate.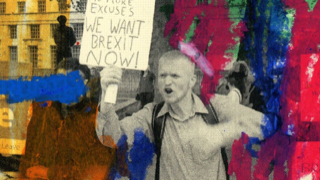 "Making this film was an introspective process, and I hope that when people see it they understand what it feels like to move countries and look for a better life, acceptance, and appreciation, only to realise that this might never be a reality."
Marta discovered a passion for animation when looking for a degree course that would challenge her and compliment her academic drawing background. She picked UCA Farnham after attending an Open Day, and went on to direct three animated shorts during her degree course.
"I knew I wanted to make something that had an important message and reflected my core values as a person, and animation was the perfect way to do that," she says. "I have to thank Lesley Adams, an absolute force of nature, for pushing me to make a film that I cared about, exploring a really sensitive and personal topic. (Lecturer) Stuart Hilton is another person I want to thank for all his hard work and support when things got messy (as they tend to when you are making your graduation film!). And finally, (lecturer) Vida Vega, for understanding the context of this film and giving her absolute best in guiding my journey as I made it.
"It feels a little bit unreal, but I welcome this nomination and the doors it might open for my career. It was honestly a 'bucket list' nomination that I never dreamed would actually happen, and I'm so excited to attend the ceremony!"
Alongside Marta in the all-female shortlist for Best Undergraduate Film is Megan Earls, who graduated last year. Her piece, Border/Line, looks at abortion rights in Northern Ireland, and was selected to feature in last year's Manchester Animation Festival.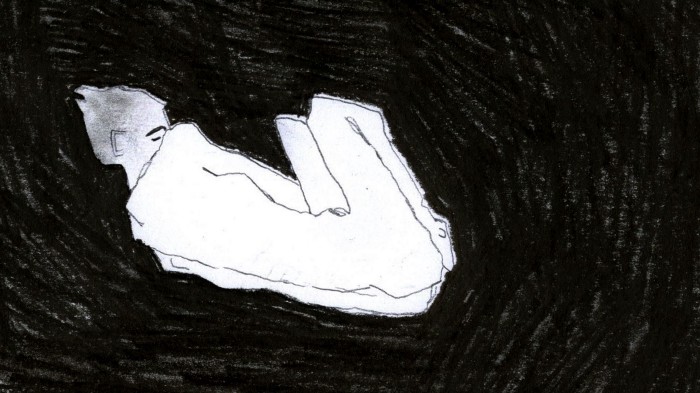 Meg says that making Border/Line was far from easy.
"I hoped that telling the story of these women would bring the issue to light. As for the process, I found it quite tough to make. It's a very sensitive, raw subject and I wanted the film to reflect that.
"Production took around nine months and there were countless versions of the film during this time. I created a lot of material, trying to get the feeling of the film and figure out what I wanted it to be.
"There were times when I worried I'd taken on too big a subject matter — I felt the weight. It scared me and that tells you something. When the reality of the film overwhelmed me, I realised its importance. It was saying something that needed to be said."
Meg said it felt "crazy" to be nominated, especially given the film's controversial subject matter.
"To be recognised like this and given a platform means more than I can say," she said. "I feel very proud of having been part of the course at Farnham. Without my tutors giving me the support I needed, this film would simply not exist. And there is no way I would miss the award ceremony — it is the BAA's after all!"
The rest of our nominated animators have created everything from short films to Christmas specials.
Steve Edge, who graduated in 2006 directed Aliens Love Underpants And…Panta Claus, which is nominated in both the Best Longform and Best Original Music categories.
Also nominated for Best Longform is The Tiger Who Came To Tea, which aired on Channel 4 last Christmas. UCA alumni Sharon Liu and Laura Nailor both worked on the film.
Alumnus and regular lecturer Katie Steed is nominated in the Best Social Good category for Voicing CSA: The Mouse, which she directed.
Moth Studio, whose directors include alumni Daniel Chester and Ifor Ashton, is nominated for Best Animation in a Commercial with Marie Curie's Whatever You Call It, and for Best Commissioned Animation with Conception: Catie & Jen.
Also nominated in the Best Commissioned Animation category is 1995 graduate Adam Foulkes, who worked with colleague Adam Smith to create The Mystical Journey of Jimmy Page's '59 Telecaster for Led Zeppelin's 50th anniversary.
Hey Duggee creator Grant Orchard is nominated the Best Children's Pre-School prize, while another Studio AKA production, Black Earth Rising, is nominated for Best Short Film. It features animation by alumnus Marcus Armitage and Kristian Andrews.
Finally, three UCA graduates have made the list of nominees in the Public Choice Awards alongside current student and Hand Made creator Phoebe Morrison: Michelle Brand is nominated for Synchronicity, Joanne Salmon for Chin Up, and Chris Shepherd for Brexicuted.
The winners will be announced on March 12 at London's BFI Southbank.