Advertising
BA/BSc (Hons)
with or without Professional Practice Year
Course overview
The best advertisements don't just sell products - they become part of a wider conversation, taking on a life of their own. On our BA/BSc (Hons) Advertising degree, we'll give you the tools to turn your ideas into eye-catching campaigns.
Taught at our Business School for the Creative Industries, this course offers you a unique opportunity to blend academic excellence with professional experience, taught by highly experienced practitioners with connections to some of the biggest names in the industry.

You'll be encouraged to create fresh and attention-grabbing projects across a range of platforms, working collaboratively with students from other courses to bring them to life. You'll build skills in critical analysis, research, production and communication, and graduate with high-level skills in art direction, copywriting and digital media.

You have the option to complete a Professional Practice Year as part of this course. This will give you the opportunity to develop your professional, academic and personal potential, equipping you to be confident and engaged in creative workplaces. Employers widely recognise these qualities, and a significant proportion of placement students are offered graduate-level jobs or go onto postgraduate study.
Apply now through Clearing
| | |
| --- | --- |
| Length of study | 3 years full-time or, 4 years full-time with Professional Practice Year |
| Campus | Epsom |
| Entry requirements | 112 UCAS tariff points |
| Course entry options | Sept 2021, Sept 2022 |
| UCAS institution code | C93 |
| UCAS code | N561 |
| UCAS code for course with Professional Practice | N562 |
Course details
Year 1 focuses on developing your analogue and digital design skills. Alongside this you will explore the historical and current place of advertising in a crowded digital marketing landscape and its use as an integral part of marketing campaigns.
Business Bootcamp 1: Design Thinking & Orientation
This introductory unit welcomes you to the Business School for the Creative Industries, its learning community and professional global network and gets you started design thinking.
Advertising: Theories & Histories
How does advertising sit within broader economic and political practices? In this unit, you'll look at how advertising helps audiences & consumers value and engage with brands and organisations. .
Foundations of Marketing and Communications
You will be introduced to the concepts, theories and models used within marketing and communications, providing the basis for further study within the course.
Creative Studio 1 Analogue Design
The focus of this unit is to create appropriate and industry proficient outcomes through the approach of concept, vision and idea making.
Business Seminar 1 – Understanding Consumers
This unit explores what happens before, during, and after the point when someone buys a product or service. It investigates how having (or not having) certain products affect our lives and specifically, how these items influence how we feel about ourselves and each other, especially with the influence of social media and digital consumption.
Business Bootcamp 2: Research and Development
The Bootcamp is an orientation unit designed to build a highly effective learning community.
Brand Identity
This unit will introduce you to key approaches to developing effective "Brand Identity". Based on research and analysis you will underpin your Brand Identity decisions and negotiated outcomes to create and apply solutions to a set problem.
Understanding Trends & Forecasting
You'll explore the concepts, theories and practices of trend forecasting within the creative industries, and examine the role of the futurologist whose task it is to research, define and develop a forecast of the future and map the structure of ongoing trends. You'll also look at the direction society is moving in, with emphasis on product and experience trends.
Creative Studio 2 Digital Design
In order to develop your understanding of how digital design relates to advertising, you will undertake a series of design projects - solo and in teams - using digital tools and processes. You will use approaches and methodologies appropriate to the digital processes you use.
Business Seminar 2 – Business Analytics
This unit provides general knowledge about business analytics, illustrated with case studies and examples from various creative industries. In order to use the above-mentioned methods and models effectively, an understanding of underlying probability theory and statistics is needed.
Year 2 deepens your investigation into the creative, personal and business aspects of advertising. While you will continue to focus on your creative development, your exploration of advertising begins to focus on client requirements and your role as an advertising professional.
Business Bootcamp 3: Storytelling and Narrative
The importance of developing storytelling skills in the creative industries is explored in this bootcamp. You'll explore narrative structures and how they have been used within advertising, particularly in the changing landscape of digital marketing.
Art Direction
Through workshops, discussions and critique you'll be introduced to practical and technical skills in order to craft visual layouts of your ideas for maximum impact and effect. The relationship between image and typography will be examined together with the concept of visual hierarchy and the juxtaposition of image, headline and body copy in relation to one another and the creative and practice processes involved in creating a successful advertising campaign.
Copywriting
How to make your words powerfully effective and persuasive is at the core of this unit as you learn the craft of copywriting for advertising. Different approaches and techniques for grabbing the reader's attention and maintaining it will be explored together with methods for engaging the imagination and emotions of your audience and strengthening their relationship with the brand.
Gamification & Marketing (elective unit)
This unit approaches the subject of gamification and marketing, investigating the practical, critical and theoretical contexts surrounding this subject. You'll also assess the more well-known intersections in this field, in the forms of production, distribution, commerce and consumer experience.
Wearable Technology (elective unit)
The rise in popularity of wearable technology and how it could intersect with future careers is explored in this unit. You'll learn about the historic and theoretical contexts surrounding wearable technology, and how the particular area of industry fits in within the creative industries as a whole.
Business Seminar 3: Professional Practice
Through a series of lectures, workshops and seminars you'll begin your preparations for industry experience. We'll ask you to self-assess your interests, strengths, areas for development and your future career ambitions; building and creating your network, how you can make a positive contribution to the industry and how you see yourself and others.
Business Bootcamp 4: Exploring Innovation
Through a series of exciting and engaging fast-paced workshops, tasks and peer sessions you will be introduced and welcomed to professional practice and conduct in the creative industries through the BSCI Honeycomb Lens where we facilitate self-motivation, exploration, empowerment, and support development and recognition of skills for learning as you experience your business school journey.
Creative Studio 3: Creative Advertising
Building on our art direction unit and your creative thinking and application skills attained throughout the programme, you will learn about the extra possibilities that creative advertising and implementation offers; from the capacity to exponentially increase the reach of advertising message to the potential it has for enriching the narrative and user experience.
Identity & Marketing (elective unit)
This unit will introduce you to how identity and marketing work in tandem. It will look at the symbolism of brand identity and its importance in attracting a loyal customer and the ways marketing utilises data to target segmented consumer groups attracting niche audiences with customised promotions.
Media Planning & Buying (elective unit)
This unit will introduce you to the roles of Media Planner and Media Buyer.
Behavioural Studies and Consumption (elective unit)
This unit aims to introduce students to the theory and practice of consumer behaviour and consumption. You will explore how perceptions, learning, memory, personality, and culture influence consumer behaviour and how consumption changes by cultural and subcultural influences.
Professional Placement (for students not on Professional Practice Year pathway)
This unit is self-initiated and will involve you taking a legitimate Industry placement opportunity, regarded by you and your unit leader as an appropriate and unique professional experience.
Creative Innovation (for students on the Professional Practice Year pathway)
This unit is designed for you to investigate the real-world, relevant issues that are impacting your industry while challenging well-established theory and/or principles with which these contemporary issues conflict.
Industry Lecture Series (for students on the Professional Practice Year pathway)
The series will include industry expert lectures, group workshops and group working, in order to test and explore industry sectors.
If you opt to complete a professional practice year, this will take place in year three. You will undertake a placement within the creative industries to further develop your skills and CV.
While on your Professional Practice Year, you will be required to pay a reduced tuition fee for that year. This fee will be determined using government funding regulations. Based on current regulations, we expect this to be a maximum of 20% of the tuition fee rate that you are charged for your second year of study. You will also incur additional travel and accommodation costs during this year. The University will provide you with further advice and guidance about this as you approach your Professional Practice Year.
Year 3 provides an opportunity to explore the cutting edge of advertising as a global industry, developing your major degree project, undertaking trips to major international centres of advertising and preparing for your career in professional practice.
Business Bootcamp 5: Research & Methodologies
In most of today's industries, data is king. This bootcamp provides you with an opportunity to understand how data gathering through effective research can support your studies. We shall also discuss the different methods by which you can gather information either quantitatively (informing by data) or qualitatively (informing from opinions).
Advertising: Contemporary Issues
In this unit, you will gain understandings of cutting-edge influences affecting consumers' lifestyles, free time, self-image, and choices to enable you to advise clients credibly. Equally important is developing your ability to use contemporary knowledge to understand how creatives work sustainably in specialised industries and to integrate your colleagues' contributions ethically.
Advertising: Global Industry & Futures
This unit explores the concept of future thinking and its influence on the global advertising industry. You will be analysing influence from culture and society, and predicting through recognition of global shifts and emerging trend manifestations. Your work involves an in-depth study of the current macro environment, using the findings of this study to translate, validate and communicate a vision for the future of your industry.
Creative Business Start-up (BA course)
In this unit, you will learn the process of creating and building a new business venture. You will explore a range of case studies and identify and evaluate the role of creativity in business start-ups.
Data Mining for Marketers (BSc course)
Data Mining focuses on the use of automation to uncover relationships within datasets that can be used to support improved decision processes. When employed in marketing, data mining will use customer, potential customer, supplier and population data to reveal patterns in the data that have potential to improve the marketing process and outcomes.
Business Seminar 4: Strategy & Decision Making
This unit provides knowledge about strategic Decision Making for Management and will enable you to transform decision making into a smart and insightful process, providing a robust framework of effective and replicable solutions for better decisions and awareness of decision traps, as well as learning how to assess and choose high-value strategic options under the current climate of enormous uncertainty.
Business Bootcamp 6: Developing Enterprise
This unit will provide you with the opportunity to develop your creative thinking skills in a collaborative environment, bringing greater understanding to how those ideas may develop and transform through product or enterprise development.
Degree Project
In this final unit, you will create a distinctive piece of work for your degree project. Your final portfolio will implement a series of outcomes that evaluates and analyses the ideation of your concept.
This course offers the opportunity to study abroad for part of your second year. To find out more about studying abroad as part of your course please see the Study Abroad section:
Tuition fees
The course fees per year for 2021 entry are:
UK students - £9,250

EU students - £9,250 (see fee discount information)

International students - £16,950 (standard fee)

International students - £16,270 (full early payment fee)
The course fees for 2022 entry will be available here shortly.
Additional course costs
In addition to the tuition fees please see the additional course costs for 2021 entry. The details for 2022 entry will be available here in due course.

Further information
Find out more about our course fees and any financial support you may be entitled to:
These fees are correct for the stated academic year only. Costs may increase each year during a student's period of continued registration on course in line with inflation (subject to any maximum regulated tuition fee limit). Any adjustment for continuing students will be at or below the RPI-X forecast rate.
Course specifications
Please note, syllabus content indicated is provided as a guide. The content of the course may be subject to change in line with our Student Terms and Conditions for example, as required by external professional bodies or to improve the quality of the course.
The UCA Business School for the Creative Industries, based at our Epsom campus, is the first of its kind in the UK. There's dedicated studios and study areas, digital media suites equipped with Macs and PCs which are programmed with specialist software including Adobe Creative Suite, Dreamweaver and After Effects. There's a modern library with a wealth of books and thanks to its location, many collaborative opportunities with students from other courses.
Business School Studios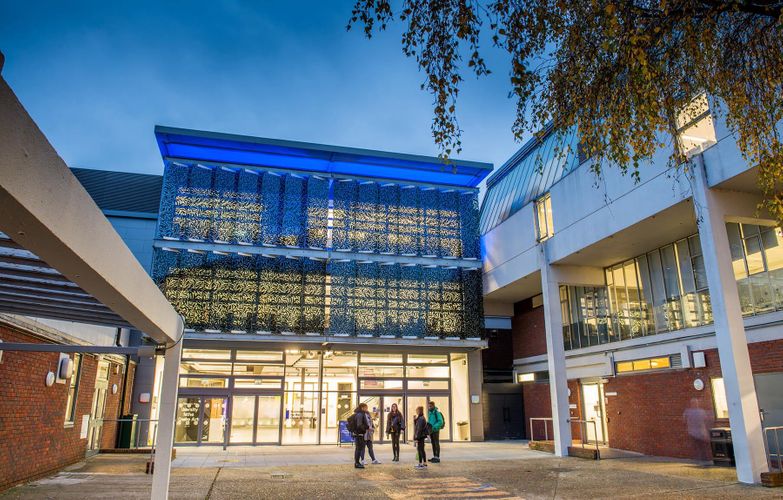 Business School, UCA Epsom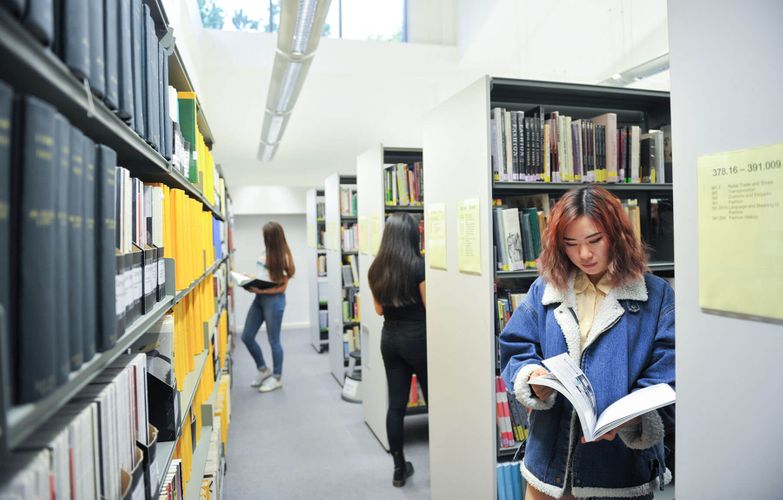 Library, UCA Epsom
Digital media suite, UCA Epsom
Course connections
Our BA/BSc (Hons) Advertising course has links with some of the biggest names in the advertising industry, including:
Ogilvy & Mather
Bartle Bogle Hegarty
JWT
Y&R
Wieden+Kennedy
Publicis
CHI & Partners
Beattie McGuinness Bungay
Mother
TBWA.
Our graduates are equipped to work in a multitude of advertising roles, and have secured rewarding positions across the sector, including as:
Art directors
Copywriters
Account managers
Account planners
Media buyers and planners
Producers and creative service managers.
Visit our 2021 grad show site to see the incredible work created by our graduating students
Visit the 2021 Gradshow
Archie Challen
"The collaborative aspect of UCA allowed me to build contacts with other creatives who I could end up working with again in the future."
Entry requirements
The standard entry requirements* for this course are:
One of the following:
112 new UCAS tariff points, see accepted qualifications
Pass at Foundation Diploma in Art & Design (Level 3 or 4)
Distinction, Merit, Merit at BTEC Extended Diploma / BTEC National Extended Diploma
Merit at UAL Extended Diploma
112 new UCAS tariff points from an accredited Access to Higher Education Diploma in appropriate subject
27-30 total points in the International Baccalaureate Diploma with at least 15 IB points at Higher level, see more information about IB entry requirements.
And four GCSE passes at grade A*-C and/or grade 4-9 including English (or Functional Skills English/Key Skills Communication Level 2).
Other relevant and equivalent Level 3 UK and international qualifications are considered on an individual basis, and we encourage students from diverse educational backgrounds to apply.
*We occasionally make offers which are lower than the standard entry criteria, to students who have faced difficulties that have affected their performance and who were expected to achieve higher results. We consider the strength of our applicants' portfolios, as well as their grades - in these cases, a strong portfolio is especially important.
To view the equivalent entry requirements for your country please select it in the list below.
This course doesn't require a portfolio. If you receive an offer, you'll be invited to attend an Offer Holder Webinar where you can meet the course team and learn more about the course. We welcome students with a broad range of A-level subjects, as well as students with appropriate Art & Design Foundations or BTEC/UALAB diplomas which allow you to demonstrate your ability to research, evaluate and produce creative solutions.
UK applications
Apply for full-time study - starting September 2021:

Apply for full-time study - starting September 2022:
International & EU applications
Apply for full-time study - Year 1 - starting September 2021:

Apply for full-time study - Year 2 - starting September 2021:

Apply for full-time study - starting September 2022:
If you're interested in joining Year 3 of this course, please contact our International Admissions Team on +44 (0) 1252 892838 or internationaladmissions@uca.ac.uk
When to apply:
We are still accepting applications for 2021 entry - get your application in now.
If applying directly to us, you can apply throughout the year but we recommend you apply as early as possible so you have time to arrange accommodation and visas.
For more information visit our how to apply pages
UK Applications
Apply for full-time study - starting September 2021:

Apply for full-time study - starting September 2022:
International Applications
Apply for full-time study - starting September 2021:

Apply for full-time study - starting September 2022:
When to apply:
We are still accepting applications for 2021 entry - get your application in now.
If applying directly to us, you can apply throughout the year but we recommend you apply as early as possible so you have time to arrange accommodation and visas.
For more information visit our how to apply pages