What is
Creative HE like?
Choosing a creative Higher Education course allows you to explore your creative passion through study.
Higher Education, often shortened to HE, is all level 4 or above courses in university or in a further education college.
Creative HE courses not only provide you with the opportunity to expand your knowledge of your chosen creative subject, but they also encourage you to experiment and support you in developing your hands-on practical skills. Creative HE allows you to explore your creative interests and find your style, whilst also providing you with the skills you need to be a professional artist or designer in your field. There are lots of different creative HE courses to choose from such as architecture, fine art, fashion, or graphic design just to name a few. It's important that you do your research and look at different options to help you choose which course you would like to do.
More information about choosing and applying for Creative HE can be found at the links below:
You can view all of the creative Higher Education courses offered by UCA here.
Find out more about what it's like to study a creative HE course below!
If you have found a course you are interested in, it's always a good idea to visit the university where it is based. This can give you a feel of the campus atmosphere and help you to decide whether you might like to study there. You might also find out more about the course you're interested in, get a chance to see the studios and equipment you'll get to use and maybe even meet some of the tutors.
Lots of universities offer open days and campus tours. To find out more about UCA's, please visit the links below:
To take a virtual campus tour of the UCA campuses, click here.
To find out more about Open Days, click here.
A crit, (short for critique), is a common feature of many creative HE courses. In a crit, students usually meet in small groups with a tutor and take it in turns to present what they have been working on and share their ideas with the group. The tutor and the rest of the group will then provide feedback about each person's work and offer suggestions, comments and critiques.
Crits are a fantastic way for Creative HE students to share their ideas and gain an understanding of how their work is being received by an audience. They are also a great way for students to see what their peers are working on and provide valuable feedback and suggestions for others. Crits are key to how creative HE students develop their creative style and practise, and they also help to prepare students for their professional career where they might be required to take on board feedback about their work.
Sharing artwork can sometimes be an intimidating thought for students but crits are a great way to build confidence. The advice and suggestions from tutors and peers also often inspires students and plays a valuable role in how they develop their work.
An important part of creative HE courses for many students is studio space. Different creative courses require different types of studio spaces. For example, Fine Art students might need a large area with lots of wall space to create large scale paintings, Graphic Design students might need a designated desk space with a computer for digital work, or Architecture students might need a large desk and drawing board to create detailed and accurate building designs.
Creative HE students use their studios to create work and develop their creative practice. Studios are often exciting, creative environments where many students experiment and explore their ideas- there are often lots of interesting projects on the go! Most creative HE students will have their own individual space within a shared studio, meaning that they are also able to socialise and discuss ideas with their peers.
Different universities offer different types of studio spaces for their creative HE courses. It's important to visit universities and check out their studio spaces before you apply to make sure it's right for you.
If you decide you would like to go to university to study a creative HE course, you might choose to either commute from home, or move into university accommodation.
Many students spend the first year of their course living in university accommodation and different universities offer different accommodation options such as student halls, flats, studios, or houses. Moving away from home and into student accommodation is a great way to build independence and develop other key life skills such as money management or organisation. Living in shared accommodation is also a great way to make friends and is usually a very fun experience!
However, living in student accommodation is not for everyone students can certainly still have an exciting and fun student experience when commuting to university from home. It is important to look into your options to help you decide whether living in student accommodation is right for you and many universities offer accommodation tours on their open days.
You can find out more about UCA's accommodation options here.
When studying a creative HE course, students are often given briefs to respond to. A brief is like a project, and students usually work on them over the duration of a term. Students may each interpret briefs differently, using their own research methods and inspirations to help them as they work towards a final outcome.
Below are some examples of creative briefs covering different creative subjects, similar to those that creative HE students might be given on their courses. Why not download one and give it a go? Feel free to share your outcomes with us at outreach@uca.ac.uk, we'd love to see what you create!
Many creative HE courses require students to use specific creative materials and equipment to create their work. To avoid any excessive expenses, there are lots of ways that students cut costs and save money on their materials.
Some of our current UCA students have shared some of their best money-saving tips below. Feel free to download and check them out!
For further information about finance and how UCA can support you, please visit here.
Exhibitions are an exciting part of creative HE courses as students get to showcase their artwork or designs! Students usually have several opportunities to present their work in an exhibition throughout their course and doing this helps them to develop skills in:
Presentation
Curation
Decision making
Teamwork
Organisation
Networking
Students often work collaboratively with their peers to decide how their work will be best displayed. Once all the work is on display, exhibitions usually open with a private view or opening night event. Private views are often organised by students and are usually attended by family and friends who come along to see their work.
Most creative HE courses end with a final exhibition known as a graduation show. A grad show is an exhibition of everyone's work together and is usually a highly anticipated event. Students use the grad show to showcase all of their hard work from their time on their course and the private view is an exciting celebration that offers lots of opportunities for students to network and share their work.
You can find out more about the exhibition spaces at UCA here.
You can view this year's UCA Virtual Grad Show here.
When researching or studying at university, you might encounter some new words or terms that you haven't come across before. Below is a list of commonly used university terms to give you an idea of the kind of things university life involves.
Art course terms
Artist Statement:
An artist's statement is a written description of an artist's work. Artists often use their statements to explain their work or inspiration, aiming to give the viewers a better understanding of it.
Networking:
Networking is the act of socialising with others to form a professional relationship. Art and design students are often encouraged to network with their peers, tutors, or visitors to their exhibitions to help them make contacts for when they begin their career after graduating from university.
Portfolio:
A portfolio is a physical or digital edited collection of an artist or designer's best work which showcases their style and methods. Artists and designers often use their portfolios to show their work in an interview situation, and art students may submit portfolios at the end of a project to show their tutor what they have been working on. Find out more about portfolios.
Technician:
Technicians on creative university courses are members of staff who specialise in different creative mediums and support students with creating their work. Technicians are usually experts in their field and students can work with them to learn new skills or ask questions and seek technical advice about their work. At creative universities, you might find technicians for painting, printing, welding, sculpture, textiles, digital software, woodwork or photography to name a few examples.
General university terms
1st, 2.1, 2.2, 3rd:
This is the grading system that is used when students hand in their university work at the end of a project or term. Their work is marked and given a percentage, and the percentage determines which grade they will receive. Most UK undergraduate courses follow the follow this grade system:
Work that is marked as 70% or above is awarded a 1st (First class). This is pronounced as a 'first' and is equivalent in school terms to an A grade.
Work that is marked from 60-69% is awarded a 2.1 (upper second-class). This is pronounced as a 'two-one' and is equivalent in school terms to a B grade.
Work that is marked from 50-59% is awarded a 2.2 (lower second-class). This is pronounced as a 'two-two' and is equivalent in school terms to a C grade.
Work that is marked from 40-49% is awarded a 3rd (Third class). This is pronounced as a 'third' and is equivalent in school terms to a D grade.
Bachelor's Degree:
The official title for a 3-4 year university degree is a bachelor's degree. There are two different types of bachelor's degrees and every university course is categorised as either of the following:
BA (Bachelor of the Arts)
BSc (Bachelor of Science)
BA's and BSc's offer different types of learning. For example, BA's are generally more writing and creative based, whereas BSc's can be more mathematical or analytical based.
Dissertation:
A dissertation, (known sometimes as a thesis), is a piece of writing that students complete towards the end of their university degree. On most university courses, students choose their own dissertation topic and must research and write it themselves, often with the guidance of a tutor.
Independent study time:
As well as lectures and seminars, an average week for a university student also usually contains some independent study time. During this time, students manage their own learning by working on their projects, completing any written assignments, or carrying out research. Many students on creative courses also use this time to create work in their studios.
Lecture:
A university lecture is an educational talk that is given by an academic, tutor, or speaker. On most university courses, students are required to attend lectures to learn about their degree subject and they often take notes which they use throughout their studies.
Postgraduate:
A postgraduate student is someone who has completed a bachelor's degree. Postgraduate courses are qualifications that allow students to further their study, research and specialise in a specific area of their field. Postgraduate courses include postgraduate diploma's, master's degrees and PhD's. Many students choose to undertake a postgraduate course after they complete their undergraduate/bachelor's degree.
Pre-degree:
A pre-degree is a 1 or 2-year course offered by some universities in which students can receive a diploma qualification. Many students undertake pre-degree courses to prepare themselves for higher education and undergraduate university courses as they can bridge the gap between school and university.
Reading week:
Some universities have reading weeks, which are 1 or 2-week breaks in the term. Reading weeks are similar to school half-terms, however, they are intended to allow time for students to catch up on their research and studies.
Seminar:
A seminar is a small, focused session that most university students are required to attend during their course. Seminars are usually attended by a small group of students and an academic or tutor and in them, they discuss topics relating to the course or the content of lectures. Seminars provide a great opportunity for students to ask their tutor if they have any questions.
Student Services:
Student services, (sometimes known as student affairs or student support), is the department in a university that offers advice and guidance to students. Student services usually offer support with finance, accommodation, counselling, or learning support, and are usually friendly and approachable as they aim to help students get as much support as possible during their time at university. Further information about the student services at UCA.
Student Union:
A student union is an organisation that is created and run by university students. Most universities have their own student unions which put together social events, sports, and societies. Student unions also represent the student voice and raise student issues and concerns to the wider university. More information about the Student Union at UCA.
Student Union Society:
A student union society is a club that has been created by students. Societies can be set up by any student and can be based around any interests, hobbies, lifestyles, or current issues. At UCA there are societies for dance, film, boxing, cheerleading, K-pop, and LGBTQ+ students to name a few examples. They are a great way to socialise outside of your course and meet like-minded people. More information about the Student Union and societies at UCA.
Turnitin:
Turnitin, (pronounced 'turn it in'), is a website that is used by many universities to detect plagiarism in written work. Students are usually required to submit their written work or essays through Turnitin, which then automatically checks that it doesn't contain any information that has been copied from other websites or books. Turnitin provides students with a percentage of how much of their work has been detected as plagiarised- generally, students must have less than 15% plagiarised content in their written work.
Tutor:
A university tutor is an academic who provides support and advice to students throughout their degree. Students are usually assigned a personal tutor each year of their course, and their tutor is their main contact for any advice and support they need with their work. Students usually meet with their tutors multiple times each term to discuss their progress, show them their work and ask them questions.
Undergraduate:
An undergraduate is a student who has not yet completed a bachelor's degree. Most 3–4-year bachelor's degrees are also known as undergraduate courses.
Interested in creative HE? Check out the links below for some further reading:
Creative careers information:
University/careers information:
Sharing work and ideas in exhibitions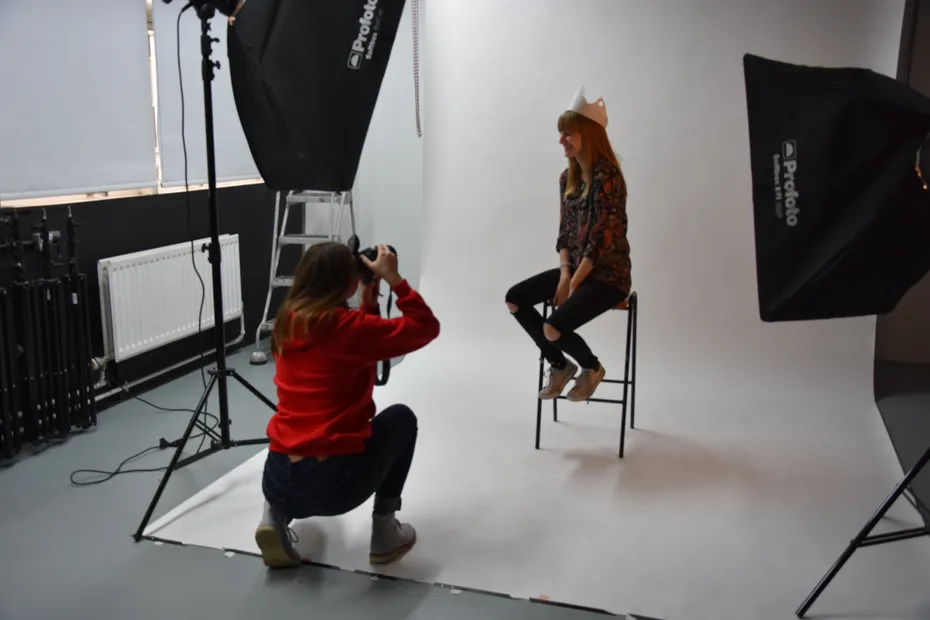 Exploring ideas and collaborating in the studio
Developing independence living in accommodation
Sharing & receiving feedback with peers in crits
Get in touch
If you have any further questions about Creative HE or applying for Creative HE courses, please contact us at outreach@uca.ac.uk.
Get in touch