Fashion students make final of
GFF X Untagged competition
Two final-year BA (Hons) Fashion students from the University for the Creative Arts (UCA) in Epsom are celebrating after being named finalists in the Graduate Fashion Foundation's Untagged competition.
06 Apr 2023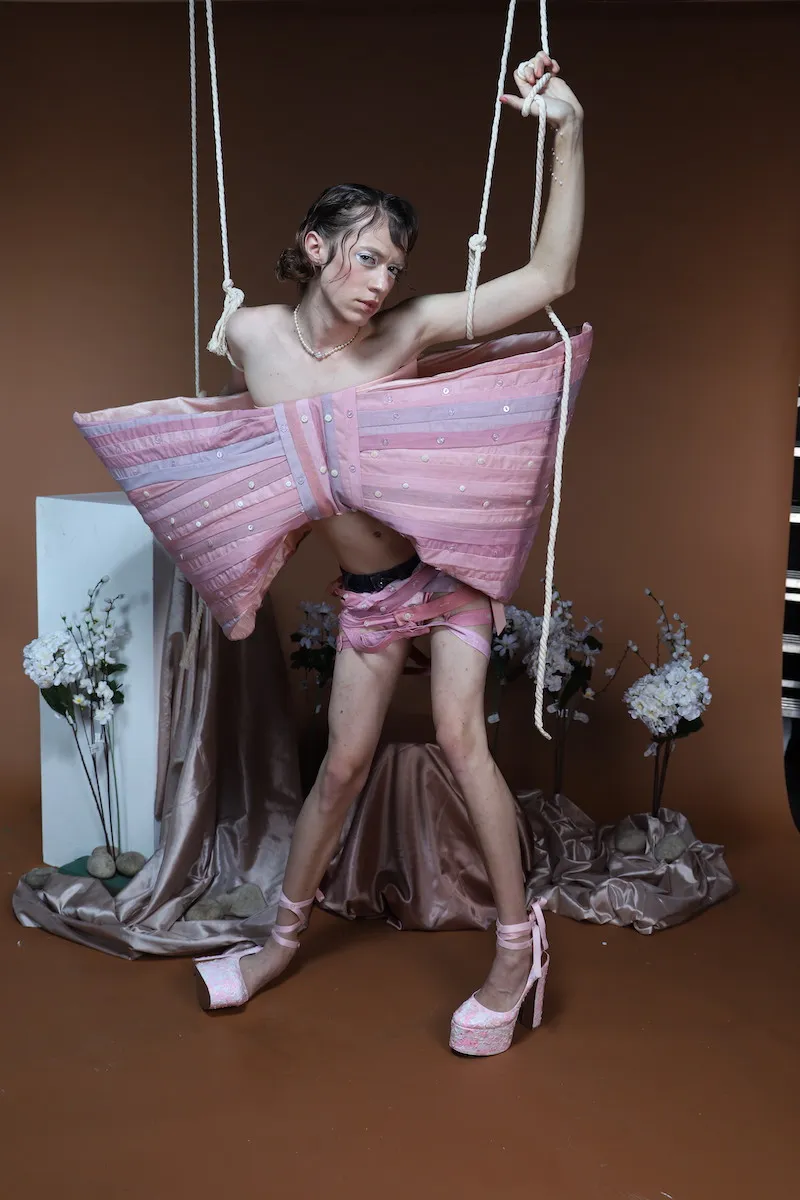 Hanaa Heetun
Jude Nash and Hanaa Heetun entered the upcycling and NFT design competition earlier in the year. Their final collections will be showcased in the Untagged Catwalk Show at GFF's Graduate Fashion Week this June.
Untagged is a new peer-to-peer resale platform that rewards customers for being sustainable. Its aim is to make fashion resale and digital fashion more fun and addictive than fast fashion.
The competition challenged young designers to design and make a physical outfit using materials taken from second-hand clothing – no virgin fabrics were allowed.
Hanaa, who originates from Mauritius, used thrifted clothes and old dried-up paint to create her upcycled outfit. Inspired by the artwork and aesthetic of Tim Walker, her gender-neutral design used clothes in a repeated pattern to represent a time loop, incidentally the name for her final piece.
She said: "In this collection's design, I repeated specific parts of garments, in this case, the plaquettes on a shirt. The [pink] colour palette took inspiration from previous works of photographer Tim Walker.

"In terms of colour, it was quite challenging as I had to get them all to match up. I resorted to using lighter-coloured shirts, which I dyed and did multiple dye samples to ensure they fitted and worked cohesively, giving the garment a nice finish. And despite all the dying, the quality of the fabric was not affected."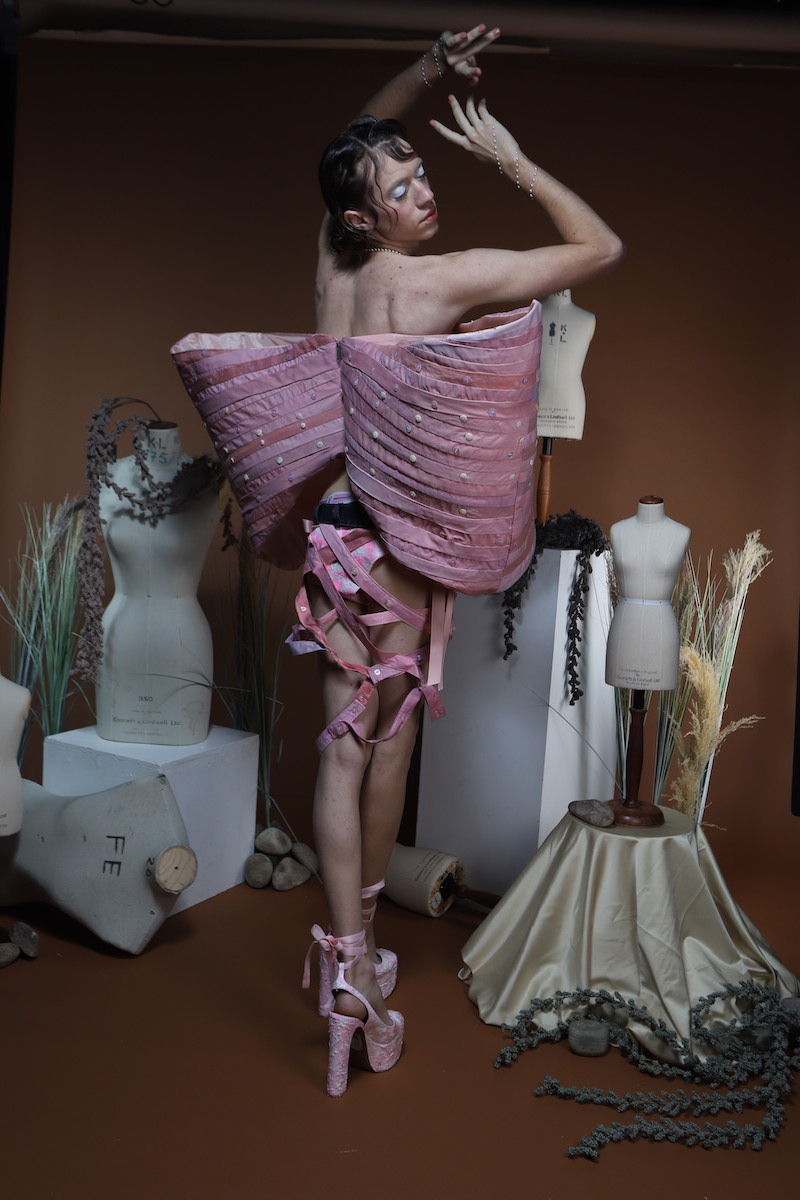 Hanaa Heetun
Most of Hanaa's recycled fabric was donated by people from Mauritius, after posting about the project on her Instagram account and asking people to get involved.
"I am so thrilled to get the opportunity to have my work showcased on the GFW runway," she added. "And to represent my little island of Mauritius, as not everyone gets such an opportunity."
Jude earned his spot in the final with his collection entitled, Make do with what you have, using denim hand-me-downs he inherited growing up. He also collected denim from customers at the pub he works at part-time.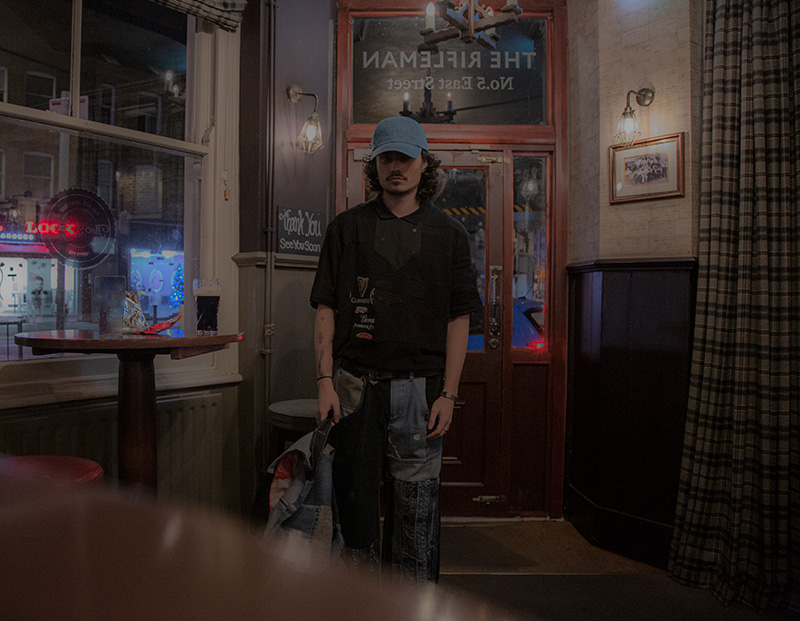 Jude Nash
The inspiration for Jude's design came from course-related research into groups outcast by society. And on learning more about the demonisation of the working classes from Owen Jones' book, Chavs, he reflected on his own social background.
"I was raised in a single-parent, working-class family, all I have known is work," he explained. "I have consistently used workwear as inspiration for my collections. For this project, I revisited the dress of blue-collar workers throughout history."
Jude's final collection comprises a denim anorak, jeans, and a polo shirt, made with a 'make do and mend' mentality instilled in him as a child. Growing up, "waste was scrutinised," said Jude and shopping was seen as a luxury, which explains the overall look of his collection.
"As a family, we had to make do with what we had and so, I carry that mantra with me when designing. My work often features patchwork and panels because I don't always have enough fabric to create one whole garment. Also, I enjoy the challenge of exhausting the fabric as much as possible: juxtaposing fabrics in an aesthetically pleasing way."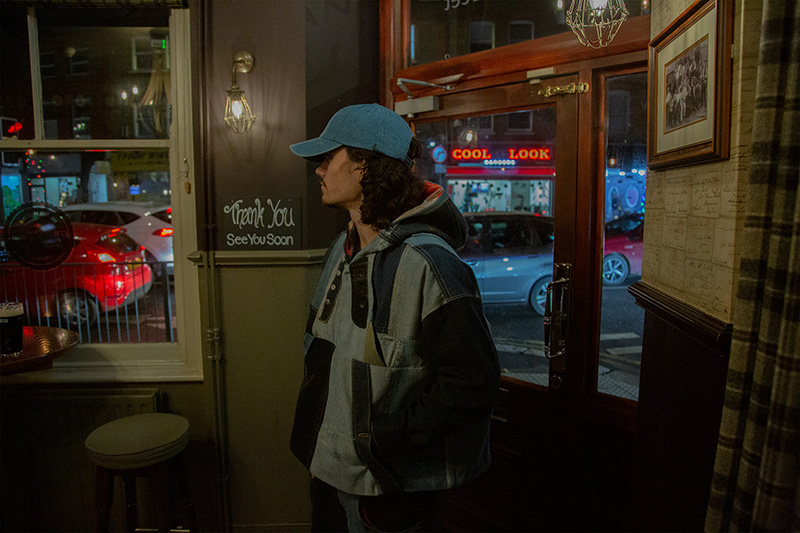 Jude Nash
Jude's problem-solving approach to using second-hand materials led him to create a collection that uses every scrap denim, including fly plackets and waistbands.
"The jeans were patched together with indigo curtain fabric," he added. "This meant that the natural pair of eyelets fell on the hem of the jean as well as multiple waistbands forming patches on the front. The lining for the hood and the pocketing were crafted from bedding fabric that my mum had wanted to get rid of. Again, really trying to use what is already out there to the best of my ability."
Hanna and Jude's final pieces will be showcased in the Untagged Catwalk Show on Wednesday 14 June at 7.45 pm, at Graduate Fashion Week. For tickets click here.
To learn more about studying Fashion at UCA, visit the course pages.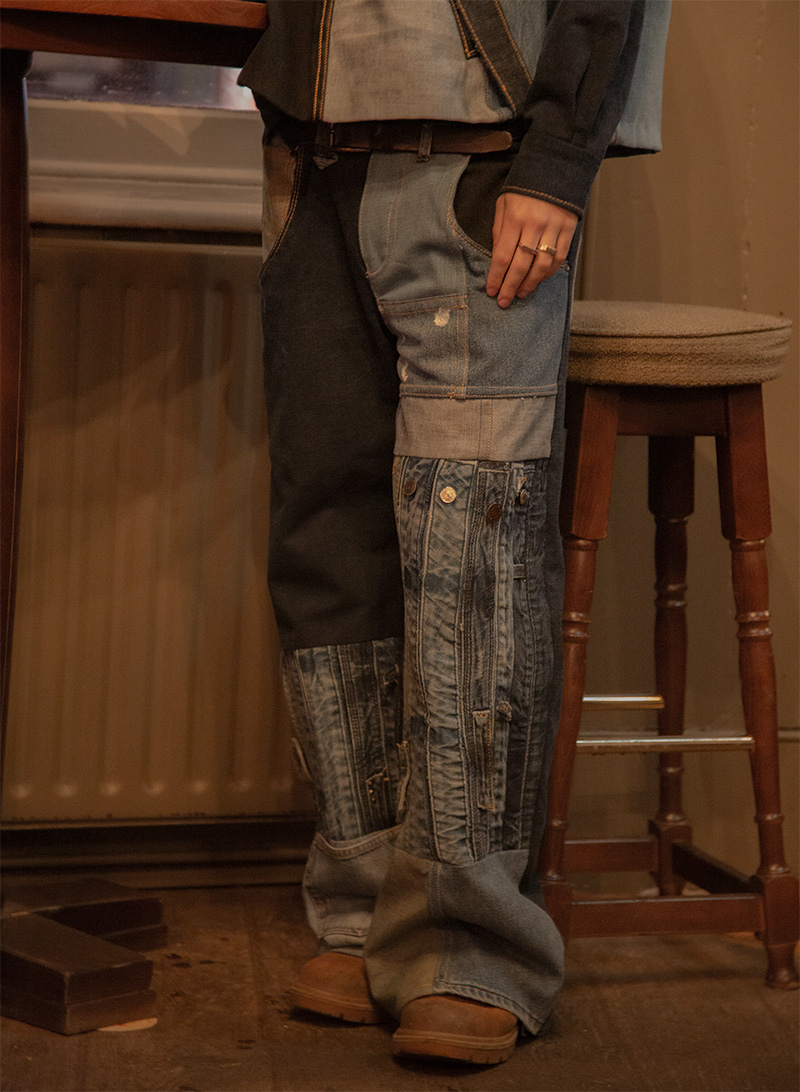 Jude Nash