Textiles alumna awarded MBE for
services to people with disabilities in the arts
Textile Design alumna Omeima Mudawi-Rowlings has been awarded an MBE for her services to people with disabilities in the arts.
08 Feb 2022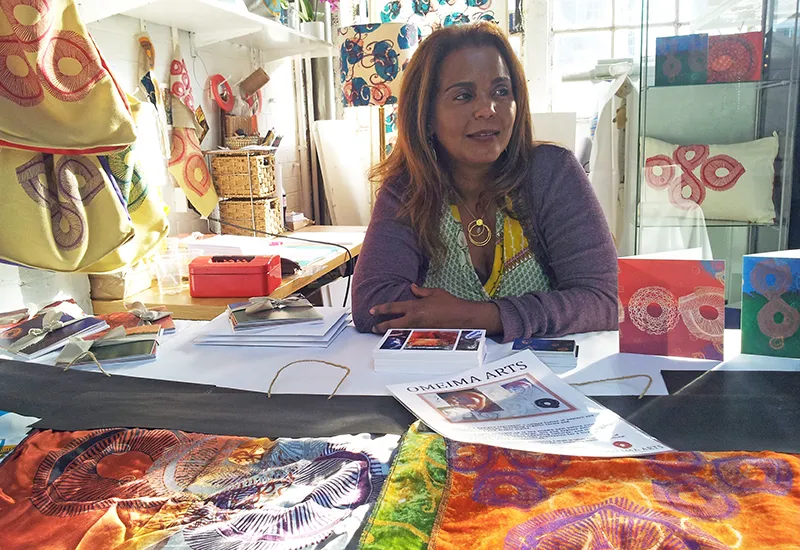 British-Sudanese textile artist Omeima came to the UK aged 12 to attend a Deaf School. With a love of colour, her Arabic heritage, and the freedom to play with so many processes, Omeima was soon drawn into the world of textiles.
Graduating from the Surrey Institute of Art and Design (now UCA) in 1998 with a BA in Textile Design, the course offered Omeima an enriching and tactile experience and the chance to use natural dyes – the only university to do so at the time.
"I remember the smell and feel of the place so well and have many good memories of that time," Omeima recalled. "To be working among other students who were also beginning their journeys was an influence and motivator for me. And seeing their creative practices and how they were developing and experimenting was an exciting thing to be a part of – something I can reflect upon now as being a real privilege."
But how was Omeima's experience of the university as a Deaf student in the 90s?
"It was before the Disability Discrimination Act (DDA) had taken hold so, I was only able to get communication support for the main lectures and not for other activities, which, when I look back on, I'm surprised I managed to get through! It wasn't easy. It's a good reminder of how important the DDA was in terms of supporting both general and specific access to areas of life and study that non-disabled people took for granted.

"My experience also underlines how often it is the non-formal processes and activities in our lives, where most of the interesting and dynamic things happen and where people meet and exchange ideas, can turn out to lead to some of our greatest opportunities and pathways," explained Omeima.
Following her graduation, Omeima's journey into the arts wasn't plain sailing. For a Deaf person there weren't any avenues that supported her freelance aspirations to become an artist. Her breakthrough came through the Access to Work scheme which helped her get on the creative arts career ladder.
"At heart, I've always been a craftsperson, but the barriers to craft still existed even until very recently. Creativity cannot happen without access which is why I became a creative consultant. I wanted to make the pathways into Arts and Crafts more equitable and open than they had been for me.

"I also believe in inequitable, integrated activities and collaboration, for example bringing Deaf and hearing people together into a creative dialogue. That is where the magic happens and the richness of life can be fully celebrated," said Omeima.
From undertaking an MA in Arts Policy Management in 2005, an artist residency in Qatar in 2015, spending time with Deaf and disabled and non-disabled artists from around the world, to being commissioned by Artichoke to make an artwork to mark 100 years of women's suffrage, Omeima was finally beginning to make her mark academically and professionally. This culminated in accepting a Clore fellowship with the Crafts Council in 2019.
"I was welcomed by the Crafts Council into a role that was diversity focussed. The fact that the Crafts Council was so open to making changes was huge!" said Omeima." It gave me the agency to make recommendations and get involved in broader issues around diversity. I was able to bring in my experiences around not only race and ethnicity but also around Deaf/ disabled issues, and this led to me being able to influence changes at the highest level. I felt involved and included in what the Crafts Council were doing and a full member of the craft community."
Finally, for any hearing or Deaf students thinking of studying textiles at UCA, does Omeima have any words of advice?
"I would simply say, follow your passion, keep focussing on your dreams and don't give up, no matter what life throws at you," she said. "You will eventually find your way. Be courageous, build resilience, and reach out to others- you don't have to always go it alone."
You can see Omeima's textile work on display at the Crafts Council's We Gather exhibition (till 12 March 2022), which presents five female artists of Black and Asian heritage and their commitment to craft, its cultural value, and social justice.
To learn more about studying Textiles at UCA, check out our course pages.