Student wins Grand First Prize
in 2022 Student Medal Project
Jana Griffiths, a second-year BA (Hons) Ceramics and Glass student, has won Grand First Prize and £1,000 at this years' British Art Medal Society (BAMS) Student Medal Project, run by the Worshipful Company of Founders.
11 Mar 2022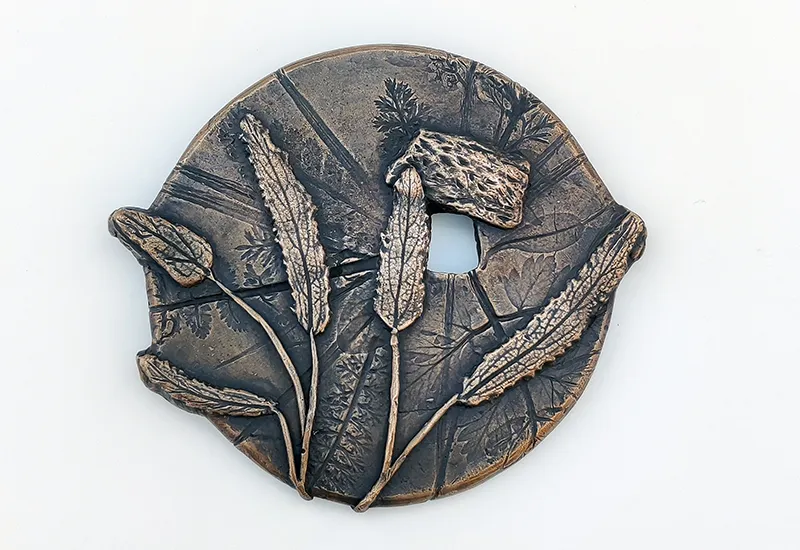 The Student Medal Project, now in its 29th year, had 148 submissions from colleges and universities from around the UK and from Pforzheim in Germany, the invited European university for 2022. The project, by invitation only, challenges entrants to engage with the ancient art of bronze casting to create a work of art of permanence through newly acquired skills.
Modern art medals are small bronze reliefs with two sides and an edge that altogether tells a story. The 2022 Student Medal Project 'brief' suggested that students might make a work that expressed their views on subjects that held significant meaning to them. For Jana, this was nature and forest walks and a fascination with wild plants and weeds, which she used as a metaphor for how she feels being an art student. Her entry, entitled 'Interloper,' tells the story of a wild plant creeping through a gap in a wall through to a civilised domain, while the reverse side shows a brick invading the natural environment.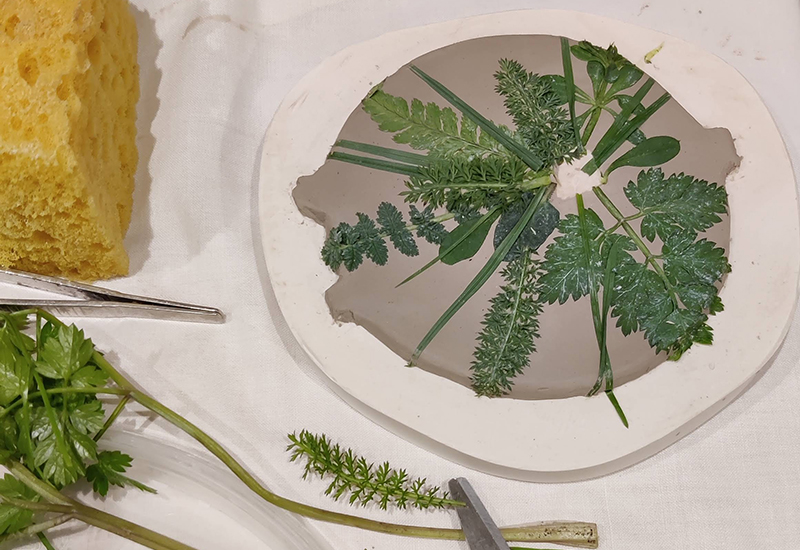 "The two sides of the medal represent how I feel as a mature student and artist – thriving in my environment but with insecurities that make me feel like an interloper. This is the way I imagine a wild plant to feel when it escapes its natural habitat and gate-crashes our domesticated environment to become an unwanted weed," explained Jana. "But the wild plants are slowly creeping over the edge of the brick wall, suggesting the imminent triumph over my insecurities."
To make her medal, Jana, who was new to bronze, first made a model in clay and, from this, a plaster mould was created, into which she cast wax. The wax was then burnt out, and molten bronze poured in. This bronze casting process is called the lost wax technique.
"This project allowed me to not just design but to handle and work with a completely new material," Jana said. "It helped expand my technical knowledge – it doesn't matter what age you are or what background you come from, given the time and the opportunity, we can all expand our knowledge in design, materials, and workmanship.

"I'm a mature student, with no prior art education or any formal higher education. I studied the Access to Higher Education course at UCA Farnham, which allowed me to progress onto the BA (Hons) Ceramics and Glass course. And besides an interest in ceramics, the course has taught me how to approach learning and encouraged me to experiment."
When deliberating the winners, the jury was looking for: the best use of the two sides to create a narrative, good modelling, careful finish, and an interesting and new idea to make a successful art medal.
A range of prizes were awarded for excellence by the jury, and all winners will be made members of BAMS for one year. In addition to Jana's prize money, The Worshipful Company of Founders will also sponsor the casting of her medal for their collection.
Jana's medal will go on display alongside other prize-winning art medals made by students at Farnham's New Ashgate Gallery from 12 March until 23 April 2022.
To learn more about studying Crafts at UCA, visit our course pages.