Jay's hard-hitting art
wins prestigious award
A former UCA student has won the prestigious Adam Reynolds Award from Shape Arts, a disability-led organisation breaking barriers to creative excellence.
06 Jul 2022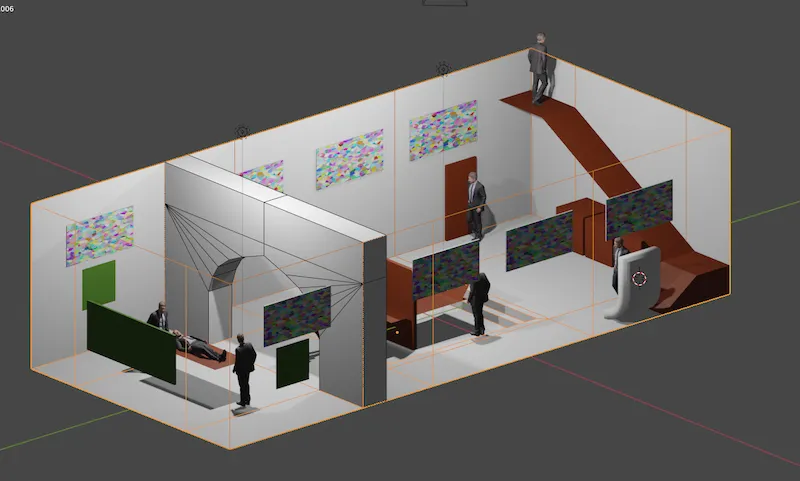 Above, a computer-generated three dimensional model of a gallery-like environment. The room is rectangular, with stairs leading down from an invisible upper level. There are no windows, implying this is an underground space. Placeholder canvases line the walls in most of the space. Toward the opposite end of the room to the stairs is an archway, reminiscent of something you'd see in a place of worship. Inside the smaller room this arch creates, two avatars stand either side of a third who is lying flat on a raised bed.
Jay Price was chosen for the award for their work, The Mine, a virtual and immersive installation which brings to bear the harsh realities of ableist ideologies – from eugenics to everyday inaccessibility, from benefit cuts to the brutal impact of the pandemic.
The Adam Reynolds Award (ARA) offers mid-career disabled artists development opportunities and creative commissions in addition to a £10,000 bursary.
Jay said: "I'm completely honoured to be this year's recipient of the Adam Reynolds Award. I've followed the work of the many incredible artists that have received the award before me and have been highly impacted by their work and that of Adam Reynolds himself, as well as the powerful acts and opportunities he created for artists during his life.
"This award and residency have allowed me to think outside the box and ambitiously, in a way I wouldn't have been able to without this support from Shape Arts and Hot Knife. ARA has offered me a voice and a platform, something I value so, so deeply. I truly hope and endeavour to use this opportunity to offer up something back of equal value. I am immensely grateful."
Jay, who studied at UCA's former Maidstone campus, looks back fondly at their time UCA and to mentor, the late Randal Cooke.
"Working in the printmaking department I learned so many beautiful craft processes for the different methods of printmaking. I was hooked. The act of creating a work is still a key part of my practice today, whether I am working in print, sculpture, video, performance or any other medium. I choose the process and medium that reflect the message of my work, and that originated at UCA.
"Randal was the head of printmaking at Maidstone when I studied, and sadly passed away last year. He was absolutely brilliant. He called me out a lot! I'd have big ideas, and calmly claim I was going to do them, and then quietly never mention them again as I got too nervous or lazy to actually do them.
"He pushed me until I would push myself. And I discovered that there was nothing to lose. The worst that could happen was that I failed. And failing, like in printmaking, is just mastering something. It's just another lesson, and usually the more valuable parts of any practice."
Jay, who has multiple disabilities and health conditions - two of which didn't begin until after graduation - says they form part of their character as well as the work they produce.
"My work is fed by my experiences. I had my own internal experiences with my disabilities, but I've also experienced prejudice, violence and tactical bias in my life linked to my disabilities. These acts imposed on me by others, by society as a whole, or by the way the world is structured for the "normal", "average", "acceptable" person, have inevitably affected my life. I've fought against or succumbed to the negative effects on my paid work, art career, personal life, and right to exist, and this has had lasting effects. By existing it seems I'm a political act, so I'm not sure my work could be anything but the same."
Jay hopes that their work in future has a lasting impact, adjusts perceptions and gives a platform to people without a voice.
Jeff Rowlings, Shape Arts' Head of Programme, said: "In making the 2022 Adam Reynolds Award to Jay Price, we are privileged to be supporting an artist whose skill, talent, and dedication to their practice brings to us work of stark rawness honed with an intricacy of detail that ripples across the senses. We are so happy to be working with Jay on a project in a digital environment where their radical vision can break through new forms and media – leading to a series of fascinating revelations."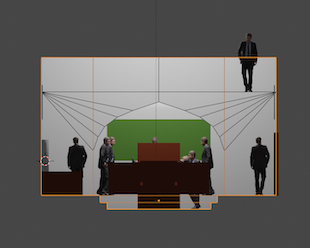 Above, a computer-generated image which shows an underground room from the perspective of one of the furthest walls. An archway is discernible part of the way through the room. Several computer-generated avatars fill the space, with one lying flat on a raised bed. It's unclear if this avatar is meant to be sleeping or is deceased.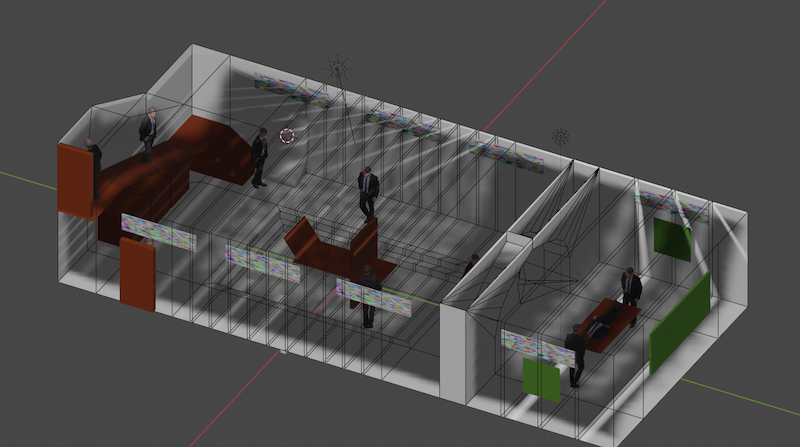 Above, a computer-generated three dimensional model of a gallery-like environment. The room has no windows, implying it is underground. The model is layered with lighting effects which also show light seeping down from an upper level in thin beams, lighting the dark basement patchily. Several avatars appear to be moving around the space. Placeholder canvases line the walls.