Student works selected for
International Fiber Art Biennale
Two international UCA students, currently featured in UCA Farnham's Mother Tongue exhibition, have had their artwork selected for this year's Fiber Art Biennale.
06 May 2022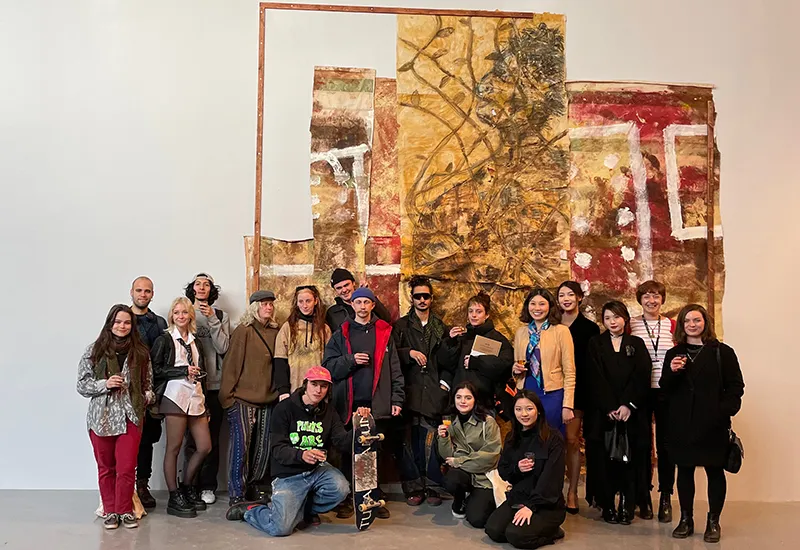 Artwork by Agelos Kotzias
This September, Agelos Kotzias and Yangzi Wang have both been invited to show their work at The 12th From Lausanne to Beijing International Fiber Art Biennale in Yunnan, China. Founded in 1999 and with artists from over 50 countries and regions around the globe, this is the largest international fiber art biennale in the world today.
The pair are currently exhibiting their artwork at the Mother Tongue exhibition at UCA Farnham, a celebration of UCA's diverse and global community and a showcase for our international student's creative work. Each student has created a visual language that explores the concept of 'self-identity' and expresses' their "mother tongue"
Agelos, a second-year BA (Hons) Fine Art student from Greece, described his artwork as a "multi-layered, mixed media installation."
On a collage of cloths – of random bedsheets and stained papers from his studio – he has drawn plant roots symbolising a deep connection, the earth, and solidity. This will be accompanied by a series of handmade books which represent learning and education, either at school or university or learning from one's family.
"Teaching may differ for each individual, but the memories of it are deep-rooted in their minds and character," Agelos added.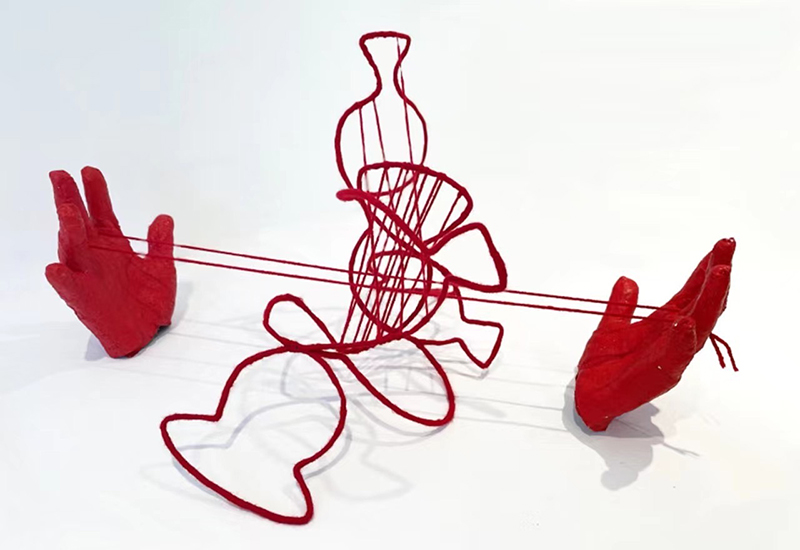 ©Yangzi Wang
Yangzi Wang is currently studying for her PhD and specialises in textile design. Her artwork is a piece called 'co-weave'. The work reinterprets historical Chinese weaving processes within the context of contemporary textile art and performance art and creates a new understanding or way of communicating. Co-weave is a performance involving interactions and collaborations between performers, interweaving silk fibres, improvising communication, and interpreting the meaning behind the patterns.
Yangzi added: "This practice-based performance is a redesign of the weaving processes of the Chinese backstrap loom and the thread lifting technique of Hualou loom, a two-person weaving technique. The performers will creatively coordinate body and hand movements, strength and motion in harmony with the co-weave performance."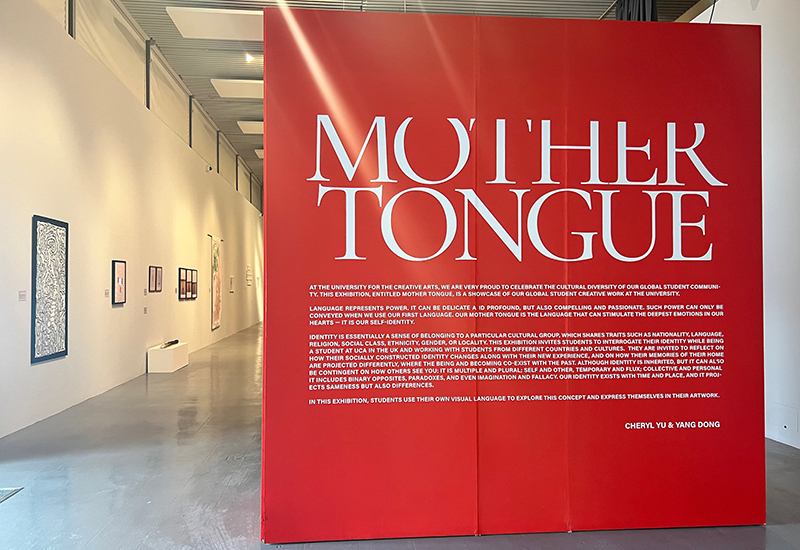 Mother Tongue is now on show at the James Hockey Gallery, UCA Farnham, until Monday 9 May.
The 12th International Fiber Art Biennale runs from 1 September to 31 October 2022.
To join UCA's global student community, visit our International pages.