Graduate selected for
who's who exhibition of contemporary jewellery
UCA graduate Hannah Norris has been selected to exhibit at Munich's oldest exhibition of contemporary jewellery in the world.
05 Dec 2022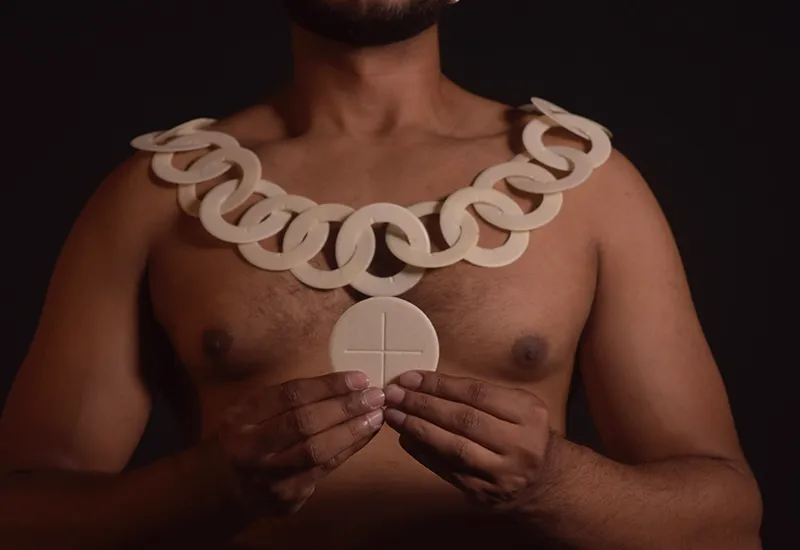 Established in Munich in 1959, Schmuck (meaning jewellery in German) takes place every March alongside the International Crafts Fair and Munich Jewellery Week, and so attracting jewellery enthusiasts from all around the world to see the very best examples of this artistic genre; innovation, craftsmanship, and beauty.
Hannah, who was plucked straight from university, will showcase her 2022 graduate collection of oversized chains, titled Sin, Repent, Absolution. Her work was selected by Caroline Broadhead, Chancellor Emerita at Central Saint Martins and an artist whose work spans many disciplines, including jewellery, performance, and textiles and who has inspired Hannah during her time as an undergraduate.
"This has completely validated my work as an artist," Hannah said. "This is something I thought about achieving sometime in the future but not straight after graduating! It has spring boarded my career and already started opening doors for more opportunities."
By working with unusual materials - graphite (Sin), soap (Repent), and communion wafer (Absolution) - Hannah was able to explore ideas of power structures and societal constraints and question notions about wealth, status, and class. Her final pieces articulate her concerns about current news events and ideas of 'dirty money'.
Her bold choice of materials and its oversized nature means the neck pieces are not only a challenge to wear but are transient. This has symbolic significance and directly informs her ideas of sin, repentance, and absolution.
"I started with a very traditional outlook, but UCA challenged what I thought jewellery was," Hannah added. "I experimented with ceramics, glass, woodwork, filmmaking, anything I could get my hands on and now I make chains out of soap!. It was those opportunities that allowed me to expand my knowledge and shape my work."
Hannah has also been nominated for the Klimt02 New Talent Award, which recognises the work of graduates in the field of art jewellery and contemporary crafts by supporting their careers in the professional world.
Debra Allman, Programme Director for Jewellery, Ceramics and Glass said of her work: "It was the culmination of sustained and extensive exploration of material and process. Bold, thoughtful and contemplative, these pieces use familiar religious connotations to comment on notions of status and power."
Klimt02 New Talent Award results will be announced in January 2023.
Schmuck takes place from 8– 12 March 2023.
If you're interested in learning more about studying crafts at UCA, visit our course pages.